As a follow-up to my last post, "Iloilo City: The Best Place to Live in the Philippines!,"  I decided to bring my asawa's Sony Cyber Shot camera with me this past Monday as I made a trip to the KFC at Robinson's. I was going to meet my American expat friend, Scott B and wanted some possible photos of preparations for the upcoming Dinagyang Festival.  Scott's favorite new hang-out in "The City of Love" is the wharf area not far from the Bureau of Customs and Immigration Department. 
I arrived early at the Robinson Mall and decided to check out the new KFC BBQ Shredder sandwich.  While I love the Zinger Combo and new Man-Sized sandwiches at the Colonel's joint, this new menu item had way too much mayo, only enough chicken for a duwende and hardly any BBQ flavor. Do yourself a favor. Pass on it.  But the fries were good.
I hooked up with Scott and we took a jeepney to the wharf. Stopped at a local eatery and order a couple of bottles of Red Horse beer. I encourage any American expats living in the Philippines to visit a local establishment as opposed to one of the more "refined" restaurants or eateries found near SM City or other locations throughout Iloilo. You'll get an entirely different look at the culture and people of the Philippines. 
You'll see groups of young kids playing games like in the photo above. These boys are more well off as they have actual printed cardboard discs to play with as opposed to children I've seen that are using San Miguel Pale Pilsen or Red Horse bottle caps. The boy in the white t-shirt is keeping a small pile of pesos on the ground near his hand and keeping a close watch on them.
Scott and I had a couple of bottles of Red Horse and went on a tour of Iloilo City. As retired American expats living in the Philippines we have nothing but time on our hands. It was a sunny, breezy day and as we sucked in the diesel fumes from passing jeepneys, we checked out some of the local architecture such as the church pictured below.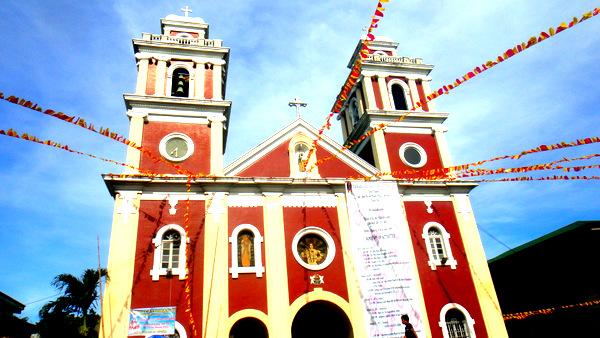 The banner has the following information at the top: Cofradia del Sto Nino,  Iloilo Chapter, San Jose Parish Place, Plaza Libertad, Iloilo City. I loved the architectural design and was amazed to see what I jokingly identified as the "Notre Dame" dome located  in the center of the  next photo.

I yelled out as we passed: "Look! It's the Notre Dame dome!" One of two professional-looking Filipino gentlemen standing near by said: "No, no, Notre Dame is in Paris." "Oh, Ok, thanks," I replied.  My American expat friend and I spoke to the two polite Filipinos. One had lived in Los Angeles back in the States and the other gentleman had lived in Chicago for awhile. We chatted for a few minutes and I informed the pinoy that had been to the Windy City that I was from Illinois. 
We shook hands and moved on further down the street. A barangay tanod was standing nearby. A Barangay Tanod is a local volunteer who has been deputized and received some training to be a Tanod. They carry out basic security functions under the auspice of the Barangay Captain for their barangay (source: wiki.answers.com.) He gladly posed for the next picture.


The next picture is priceless. My new Filipino friend told me to follow him. He directs me to a sleeping pedicab driver. I loved it! The poor guy was just taking his afternoon siesta.  Check out his New York Yankees jersey. 
It's looks like the driver was sleeping with a smile on his face. Maybe he's dreaming of some beautiful Filipina that he picked up. There were plenty of pretty pinays walking around.  I stopped two University of Western Visayas students, shown in the next picture, to ask them what the name of a nearby building was. Nice ladies. So typical of Ilongga girls.
Here's a picture of Scott B underneath the local Beautification Office in Iloilo City. Neither one of us walked in though I don't think that it would have hurt for either one of us to get a little more "beautified." There were a pack of dogs that were running around inside along with a worker that was busy sweeping. 
The dogs were yapping at me and I decided to rattle the gate and annoy them. I shook the gate hard. The dogs barked louder. We went on our way and a minute or two later a car pulled up alongside us. The driver, a Filipino, was someone I had seen a few minutes earlier on the street. It looked to me earlier that he had some kind of official shirt on. Oh, oh, what did he want? Maybe he could tell I had consumed a couple of bottles of Red Horse and wondered about my gate-rattling episode? My asawa would not be happy if her American expat husband got into trouble on his Iloilo City tour.
To be continued