Greetings from Guimaras! They call me "The Kano." Along with my lovely Filipina spouse, "The Sainted Patient Wife," we moved to the Philippines in 2009. I had spent almost 30 years with AT&T and retired at the age of 57. I was ready for a change. Upon our arrival in my spouse's home province, Guimaras, I started a blog, "The Rooster Crows at 4 am!"After that blog came "Lizard Poop."

While writing "Lizard Poop" I was approached by Rich Pawly, Webmaster Supreme. Rich graciously invited me to place this present website "PhilippinesPlus" on his server.
Rich takes care of all the technical aspects and I write. A year or so later after beginning "PhilippinesPlus" I began the publishing arm of this website, "Lizard Poop Productions."
"Lizard Poop Productions" is the home of my best-selling guide to the Philippines, "The Philippines Expat Advisor."
We don't have any children but have eight dogs that live on our three-acre property in rural Guimaras. At one time we had three nieces and a nephew that lived with us. However, we now only have one niece, a teacher, and my father-in-law who reside with us. My wife's Father lives in a nipa hut right behind our house. He's been afflicted with Alzheimer's Disease for years.
Life is good in Guimaras. Its fairly quiet in our neighborhood unless the annual fiesta is going on. We travel to nearby Iloilo City to do our major shopping but since the Iloilo Strait tragedy of August 3, 2019 which claimed 31 souls, we don't get to the big city as much.
It is our sincere hope that you will find information on this website that is informative or entertaining. I strive to present the good, bad, and the ugly side of life in the Philippines through the eyes of an American Expat in the Philippines.
God Bless and take care.
Dave "The Kano" DeWall
(Most locals call me "the kano," which is an abbreviation for "Amerikano" in the local language.)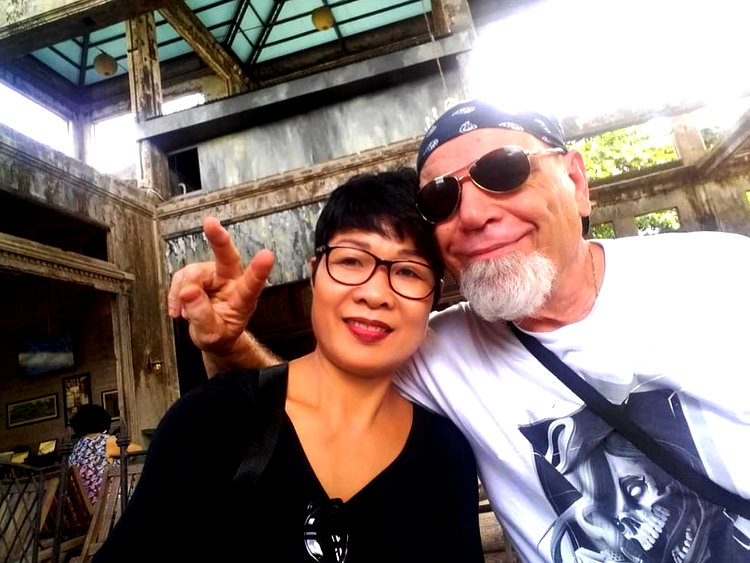 Mrs. and Mr. Kano