Recently did some island island hopping around Guimaras, our island province home in Western Visayas, the heartland of the Philippines. After spending a pleasant day quaffing a few San Miguel Pale Pilsens with our relatives, at the Sto. Nino Island Resort, we paid an extra 500 pesos. 11 bucks,  to check out some nearby islands.  It costs 100 pesos, $2.25 US dollars anyway, to take the boat back to the main island, so why not avail of the complete tour package for a few extra pesos? 
My lovely asawa, on the left in the following picture, is seated next to our niece Michelle. Michelle is very busy helping out at her Tita Alida's Pre-School and also helps out with the housework at "The Compound," the first house my wife had built in the Philippines when she worked as an OCW, Overseas Contract Worker, in Singapore and Taiwan.
OCW's are now called OFW's, Overseas Filipino Workers, and number over 10 million. Jobs are scarce in the archipelago and salaries are low, so many Filipinos are forced to be separated from their families for years.
Unfortunately, many cases of adultery are fueled by the separations of husbands and wives. My asawa informed me that one of her close relatives, that I have met on several occasions in the past, has been cheating on her husband who is deployed overseas. What to go to jail in the Philippines for adultery? You could. Check out this article I wrote about the topic.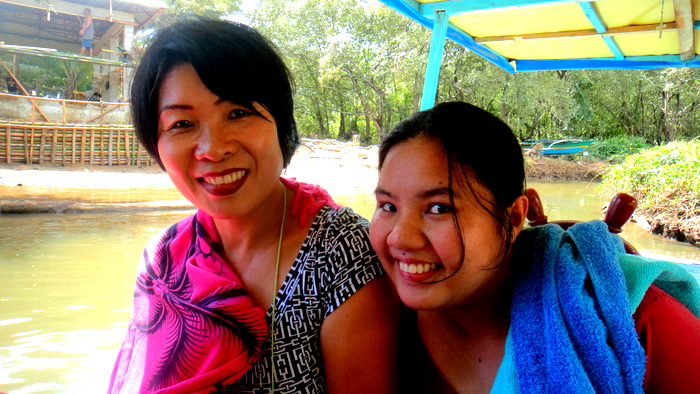 Danit, Cousin Emma's husband (her back is to the camera in the next shot,) went along, as did our newly-married niece from Palawan and her Belgium husband. The newlyweds are about 40 years apart in age, but that's no big deal in most of the Philippines. I wrote about this age disparity in the following post: "How to Find a Filipina Girlfriend 50 Years Your Junior?"  It's one of the most-commented articles I have written with 155 comments.
That's my brother-in-law Joery in the shades along with his wife, Alida, the CEO of Guimaras Joyful Pre-School, Inc., on the far right.
Here's my asawa covering her head to protect herself from the sun that day. The heat was brutal but there was a good breeze making things more tolerable. Brother-in-law Joery is going "gangsta" with his hat tipped sideways.
This is "Crocodile Island" in the next shot. Check out the mouth of the crocodile in the photo after next. If you use your imagination,  it's easy to see how this islet acquired its name.
There were masses of mangroves on our island hopping tour in Guimaras. Mangrove forests are one of the most severely threatened and undervalued ecosystems on Earth. In the Philippines, most mangrove forests were lost due to the creation of fishponds for commercial fish and shrimp farming. Often these fishponds are then left abandoned and by law, this should mean they are returned to the Department of the Environment and Natural Resources, DENR,  for reversion. Unfortunately this rarely happens. (Source: ZSL Living Conservation.)
I've seen mangroves throughout our island province home of Guimaras. Mangroves in our region have been damaged by oil spills, one which occurred in early 2014 from the cargo vessel MV Sportivo, and a major spill which severely harmed the ecosystem on August 11, 2006. when the oil tanker M/T Solar 1 sank off the coast of Guimaras and Negros causing what is considered as the worst oil spill in the Philippines. (Source: Wikipedia)
Our group saw a myriad of islets on our Guimaras island hopping tour, such as the ones shown below. It was a peaceful trip as we checked out some of the beautiful scenery that surrounds the island we call home.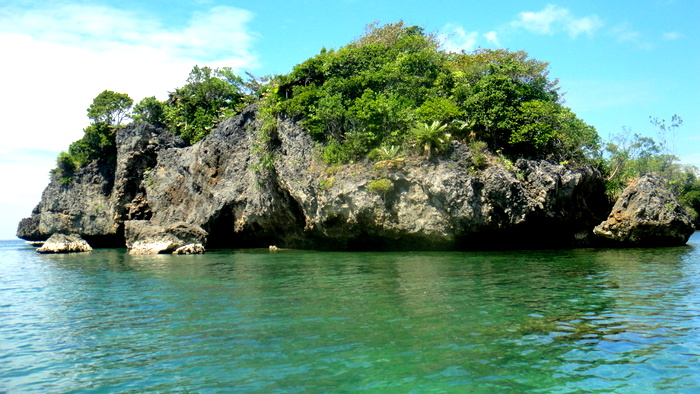 As we neared the end of our tour, we spied this houseboat drifting near the shore. Talk about a different lifestyle! It was a great ending to a very relaxing trip. If you ever have the opportunity to go island hopping in the Philippines, take it. I don't think you'll be disappointed.