(Here's part one of a guest post from Randy who's sharing his recent adventure to the Philippines. Thanks, Randy! Great story and photos. —Dave.)
Our trip from Tupelo, MS. began early enough at 0200 with a 1.5 hour drive to Memphis International Airport. We boarded an American Airlines flight at 0600 bound for Chicago where we connected to Asiana Airlines for the long two legged trip to Manila, via Seoul, Korea.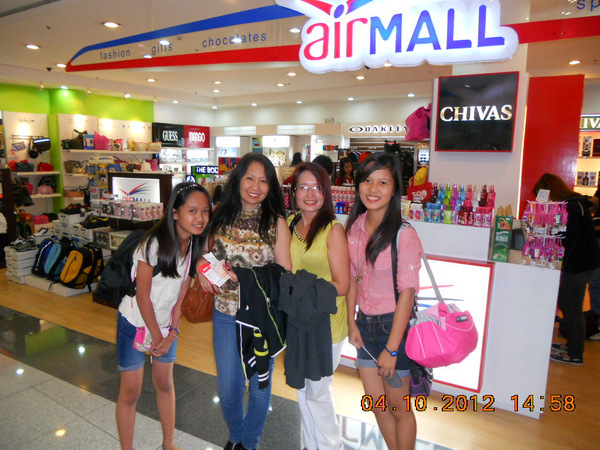 I would have to rate Asiana's customer service as top notch as it is the first time in my flying history that I was given foot slippers for comfort on a coach pass. The two full meals served, along with snacks and complimentary wine, were excellent (anybody that provides me free drinks with refills will always get a thumbs up from me!)
The most noteworthy mention about this Korean carrier was the rather large number of young good looking cabin attendants dishing it all out. Sleeping upright on an airplane has always been difficult for me but, throw in some good food and good scenery, and it was tough just closing my eyes.
I did manage to get in a few Z's before hitting Korean airspace which is always important for me to combat westward flying jet lag. Okay, along with the most noteworthy mention above, comes an honorable mention about the skill set of our cockpit crew. I am happy to report that the men at the helm of this jumbo jet, after a pattern hold of almost 45 minutes, landed this plane in near zero/zero conditions.
For anyone who does not understand aviation flight rules, there are meteorological minimums that must be met before the landing of aircraft of any sort. In this case, and in my professional and honest opinion (my first career I worked in aviation meteorology) this plane was landed with pure courage (and a pinch of luck.)
The low clouds and zero visibility conditions (zero/zero meaning clouds on the ground and visibility 0 nautical miles) were no match for skills of this crew or, maybe it was a case of low fuel conditions that necessitated a muster of courage.Either way, for somebody I've never met, I liked these guys…a lot!
After a several hour layover in Seoul, we departed for Manila. From about 10,000 feet over the South China Sea, an image of Filipino smiles (and many stares) began to dominate my thoughts. As we made our final approach to into NAIA (Manila), and as flickering lights came into view outside the aircraft window, I could only imagine what things were like after a long hiatus from the land I fell in love with over 28 years ago.
Nearing touchdown, I could see the anxiety and emotion buried in my asawa's face. It has been 10 years since Teri last seen her family. She was nervously happy and I was excited for her. As we debarked, we could "feel" the tropical air, laden with that unmistaken feel and smell of the Republic.
For me at least, just being in the Philippines has a distinct physical feel about it and a flavor all its own. The combination of dense warmth and humidity, tainted with the faint smell of diesel, and saturated with "noise" is like nowhere else. It was good to be home (even though we don't live there yet.) Now began the madness of clearing the airport and all that it entails.
To this day I have never understood flight schedules into the Far East. Why arrivals always seem to occur late into the night or early morning hours is beyond me. What also puzzles me is the arrival of multiple international flights at roughly the same time, always clogging up a passenger processing system that has always been somewhat less than efficient.
At this point for me, it was good to know that some things never change. After we collected our baggage, escaped through customs, the melee process of merging a totally unorganized large queue of people into about 10 organized lines at the immigration checkpoint began.
I'd forgotten the first rule of queue etiquette in the Philippines….there are no rules! After some pushing, squeezing, and aggressively inching our way forward to meet the one official who seemingly holds the power of approving your arrival we received the "gaze" over and after fiddling with our passports for some time, we were stamped and on our way. Next stop, the greeting area.
Years ago, when I used to fly around the pacific region on business, and the Philippines being my hub at the time, Manila was my most frequented airport. In all these years, the real change that I noticed was that customs was much more relaxed (easier to clear without the hassle of having your luggage totally emptied and re-packing) and that there were no longer any greeters allowed in the main terminal.
How long have I been gone I wondered? It was always hectic, to say the least, trying to exit the terminal building with your bags to get to the line of taxis outside without being accosted by hoards of good citizen volunteers who kindly offered to carry your luggage for you.
Nowadays, the greeting area is located outside the main terminal across the street (past the taxi/bus staging area) where all the friendly folks with the helping hands gather. This arrangement mostly eliminates the competition for peso's between the terminal and taxis which is a good change. Now, I'm thinking, maybe some change is good?
Teri's younger sister from Mariveles, Bataan, arranged for a driver (with A/C van) and was present with our two young nieces. A cheerful little reunion ensued and at this point was just a prelude to the much larger reception that awaited us at our final destination. Now we had a 5 hour wait for our Air Philippines flight from the domestic terminal, so our nieces (Mary Grace, 16 and Kate, 12) decided we should spend our time at Shakey's Pizza to kill the time, get re-acquainted and caught up with the family chiz miz (Dave's word.)
From here we departed to the other side of the airport and ate and talked, took many pictures (I'd swear that Japanese camera bug genetics are prevalent here), and laughed, and ate some more. When it was time to head back to the airport, I noticed there was very little food left on the table, but here in the Philippines, there is no minimum requirement for taking-it-with you. If it were just one lonely cracker, I guarantee you it was going with us!
The bottom line – a feast for six hungry people consisting of appetizers, chicken, spaghetti, pizza, and unlimited drinks (including my first two SMB's in eons) – P1,125 or about $26 USD (tip included.) Back home, the two of us would spend more for a simple dining out.
After processing through the ("new?") domestic terminal, I couldn't begin to understand why all the negative blog talk about the airport services here in the RP. Okay, so maybe the main terminal building is still not up to international standards, but the domestic terminal is close to being a 1st class facility as far as I was concerned.
[
(Teri, sister Bebe, nieces Mary Grace and Kate)
It wasn't "Seoul fancy," but it was modern, well maintained, clean, and the CR's cleanliness was excellent and was well stocked. The shopping concourse was second to none and the waiting areas were very comfortable. No complaints here. We boarded at just after 6:30 and were off to our final destination, Calbayog City, Samar – The City of Waterfalls.
(Up next, the flight to Samar and the Mt. Mayon Volcano as "Return to Paradise" continues.)