Only in the Philippines would one find a recycling bag, whose stated goal on the tote is to "…save the Marvels of the Earth," decorated with images of Adolf Hitler in close proximity to  Filipino national hero José Rizal. Thanks to my American expat friend, Tom, living in nearby Guimaras who alerted me to this.  Since my asawa and I had to visit our local Robinsons in Iloilo City, I decided to check out this story personally. 
After waiting almost 15 minutes to even enter the shopping mall this Friday morning (see next photo), my asawa and I decided to take advantage of Pizza Hut's Monday-Friday personal pan pizza special first. At P198, 4.87 U.S. Dollars,  it's a good bargain. Our server, Whacky (and that's the name on his badge), quickly served our entrees and drinks. The food was hot and delicious. I commended our server for the excellent service and food and even handed him a P50, $1.23,  tip.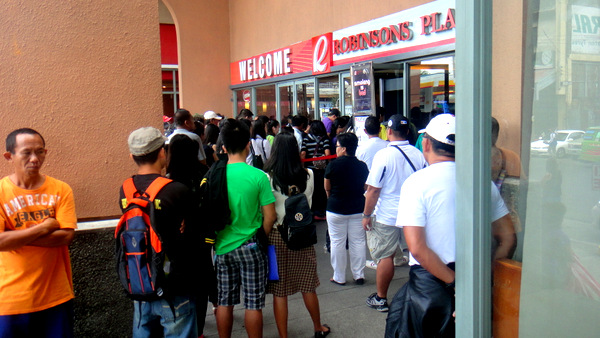 After getting sufficient fuel for the day's activities, I headed over to the Robinsons Department Store while my asawa got her hair trimmed at David's Salon. At P200, it's cheaper than the P280 cut she was getting at the Ricky Reyes outlet at SM City, plus she only has to tip one person as opposed to the three people that waited on her at Ricky's joint. 
I found the nearest cashier that had a suppy of the recyling bags. Paid P40 and took it to the cashier. I pointed to the two images of Hitler, located on each side of the tote, and asked her if she knew who that was. She did, although she did not name him. I went over to a business counter and asked the two Robinsons associates if I could speak to a store manager. I showed them the bag. They did not know who Hitler was. 
The new Robinsons recycling bag. Images of Hitler and Rizal are circled in red.
Close-up of the Robinsons recycling bag
A few minutes later, Adrian and Joseph, members of the management team, came over to the counter. I introduced myself and respectfully explained my concerns with the bag. The two gentlemen were very professional and listened intently. Adrian assured me that he would take pictures of the bag and send them to their marketing department in Manila, the department responsible for the offensive totes.
I explained that I have a website where I write about life in the Philippines and would be posting a story about this. I then thanked them both and shook their hands. I sincerely believe they will follow through on what they said.  It is my personal belief that this was an unintentional gaffe on the part of the marketing department. They probably had no idea that the images they were inserting into their collage for the bag were those of Hitler. Good chance that they, too, have no idea who Adolf Hitler was. 
I approached a group of sales associates in the store and asked if they knew whose picture this was as I pointed to Hitler's image. They did not know. I asked an older Filipino lady who did correctly identify one of the most evil men in history. 
I decided to do a random survey in the Robinsons Mall to find out who else might recognize Adolf's image. A large contingent of students from the University of Iloilo were gathered (see next two photos) and they at least were aware of  who Hitler was. That's better than the answer I got from a sales associates at a kiosk selling silver who said that she had seen the guy (Hitler) in a movie.
I approached an older kano, accompanied by a much younger, beautiful Filipina,  who turned out to be a British citizen and he identified Hitler immediately. I told him how the majority of the people I had questioned had no idea who Hitler was. He said "that's how it is in the Philippines." I have to seriously wonder what is being taught in the history books in the Philippines. Are American students guilty of the same? I hope not.
But it was time to swing by David's Salon to see if my asawa was ready to go. Only had to wait a few minutes before she came out to the front to pay her bill. Great cut. Interesting day. Only in the Philippines? You bet.