Another American expat tour in Iloilo City. This time with a special guest. My asawa. The Sainted Patient Wife. After accompanying me to the Bureau of Immigration, my long suffering spouse decided to submit to another trial of patience and join my friend Scott B and I as we made another trip to the wharf in "The City of Love." As I noted in my previous post,  she must be extremely bored.
My better half and I left the Immigration Office and hopped on a jeepney to Robinsons where we were to meet Scott at 1 pm. My wife was sporting a new leopard tiger print blouse (see next photo) she had purchased at the mall earlier and there was time for more shopping. There's always time for shopping when it involves my asawa. 
After our favorite meal at Pizza Hut, the P198, 4.86 US Dollars, week day lunch special, two bowls of soup, garlic bread, two personal pan pizzas and sodas, we went upstairs. While my wife checked for new bargains, I popped my head into the tattoo parlor (see next photo) to see if the owner "Ta Ta" was there. He wasn't. The crew was working on a couple of clients and weren't even playing their customary heavy metal music. I was disappointed.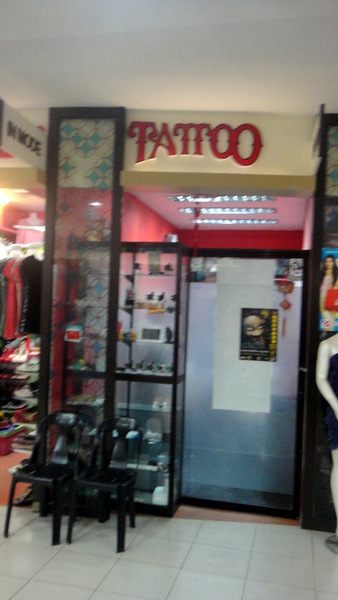 My spouse didn't find any bargains she liked and after a quick visit to the Handyman hardware store we went downstairs to the KFC to wait for my American expat friend. Scott soon showed up. He wasn't expecting my asawa, but no problem. He likes my wife. So do I.
To my utter amazement, he picks up a shake to bring to his new girlfriend at her place of employment which was nearby. I stand nearby with my mouth wide open in amazement, dumbfounded. I've never seen my frugal friend buy something for a girlfriend and deliver it to her.
With Valentine's Day approaching,  love must be in the air. My expat friend also has a banana to bring to a new amigo he met, George.  We'll meet George on the way to the wharf after the milkshake delivery. 
I may jokingly refer to  Scott as frugal. You have to be to live on a budget in the Philippines unless you're independently wealthy. He doesn't give his money to every cute Filipina he meets that smiles at him and gives him one of the standard sob stories.  He's wise to that. Some guys that come here aren't. They think with the wrong head. And that can get you into a lot of trouble in the Philippines.  
We deliver the milkshake and meet his new girlfriend. Nice lady. Pretty. Been working for five years at the store she's employed at. We then head out to find George to deliver his banana. Don't take a jeepney. We walk to the wharf area and Scott finds the building his new friend is located at but George isn't standing outside. There is a guy trying to snooze (see next photo) but Scott wakes him up with his booming voice (I'm loud, too. We're Americans.)
We're told initially told George isn't around. But when we step inside the building where a local plant is woven and used for making clothing, Scott's elusive friend is found. He was upstairs. And he has a tail. George is a monkey. One of the workers tosses the banana up to him and George snatches it on the second attempt. It looks like he wants another one but he'll have to settle for only one this day. 
The plant that the fiber is spun from is called abaca. It's very strong. Scott took a strand of it and tried to pull it apart. It finally broke but not without a good amount of pressure. It was hot in that warehouse. Extreme working conditions but I guess George likes it there. He's bound to stay now that he has a kano friend bringing him bananas. I took George's photo but it was too dark to capture his image. Maybe he'll be outside on our next visit. That's his usual hangout. 
We head for our favorite eatery outside the wharf. We never buy any food but do have a beer or two. Sometimes I have three. Or more. Scott watches his intake of alcholic beverages more than I do. Plus, my asawa was there to keep tabs on my consumption, also. Ordered a Red Horse for myself and a Sprite for my asawa. Scott settled for a San Miguel Pale Pilsen. He wanted a San Miguel Lite. But this isn't the kind of joint that has those fancy, upscale brews.
My wife talks with the owner whose British husband is nearby fishing. He stays out all day and has multiple poles. Fishing poles, that is. That's him on the far left. His fishing partner is in the middle. Scott B is on the right. The Brit says he catches a variety of fish, including catfish. He wasn't having much luck today, however. 
Had some excitement later as a policeman showed up (see lead photo.) He was ticketing vehicles that were illegally parked on the opposite side of the road. Another cop in a traditional Smoky the Bear hat gave a ticket to another group nearby. The driver was not happy and was very agitated. I remarked to my American expat friend that the officer looked like the type you shouldn't be messing with. But the ticket was issued. My picture of that scene was too blurry, however. I'm getting old. 
Chatted for awhile. Had another bottle of Red Horse. Finished off with a bottle of Pale Pilsen. The establishment was out of Red Horse.  I purchased another soda for my spouse and we headed back to Robinsons to catch a jeepney home. 
I'll leave you with a photo of some silos full of flour plus one of a Tanduay Rhum truck that parked by us. The flour bins were like a scene straight from the Midwest. Can spot them right from the wharf in Iloilo City. Another great day in "paradise." Another American expat tour in Iloilo City completed with hopefully many more to come.