With the US Dollar to Philippine Peso exchange rate continuing to slide (41.75 PHP to 1 USD at the time of this article) and rising inflation in the Philippines, we've tried to institute some ways to live cheaper in the Philippines.
But let's take a quick look at the Philippines inflation rate first. According to the Trading Economics website, the inflation rate in the PH was recorded at 2.82 percent in June 2012.
Historically, from 1958 until 2012, the Philippines inflation rate averaged 9.1000 percent reaching an all time high of 62.8000 percent in September 1984. The record low of -2.1000 was set in January 1959. Here's a look at the Philippines inflation rate courtesy of Trading Economics and the National Statistic Office.
How to live cheaper in the Philippines and beat the exchange rate and fight off the rising inflation? Here are some suggestions that we practice:
1. Use public transportation.
I've covered this topic before, for example, in this post. I cannot stress how unnecessary it is to own a vehicle in the Philippines with all the available modes of cheap transportation here. Jeepneys, tricycles and FX vans abound here.
My new American expat friend living in Iloilo City, Scott B, was only here a couple of days before he started using the local jeepneys which only charge P7.50 (18¢) and get you across town and anywhere throughout Iloilo City Proper for that small amount.
Why waste your money on monthly car payments along with the high fuel and maintenance costs? You don't need automobile insurance and that's another savings. I know some expats do own their own vehicles in the Philippines, but I personally don't miss the stress of driving in traffic or the costs involved.
2. Go "Native."
Now I'm not suggesting wearing coconut bras and grass skirts as in the photo above (source: lifestyle.allwomenstalk.com) though I certainly don't have a problem with attractive ladies wearing them.
I' m suggesting you adopt a simpler lifestyle. Being frugal or saving money doesn't have to be boring. You'll probably discover that many of your neighors in the Philippines cannot afford cable or satellite television. That's a luxury not everyone can afford.
I plunked down P250, six US Dollars, for a deck of UNO cards. My nieces and nephew that live with us love to play it on a weekend. Beats sitting in front of the TV all night. Scrabble is also popular in our home.
I realize that these activities might seem like a throwback to the Fifties, but if folks are having fun without playing the latest video game on their PS3, why not? I recommend a simpler, more laid back lifestyle. You really don't need to spend money on the latest gadgets or fad to be happy. Really, you don't.
And going native with your diet can save you a bunch of money, too. I'm the biggest offender of buying too many western foods at our local SM Supermarket in Iloilo, but more fish and vegetables in my diet is healthier and cheaper.
3. Use less electricity.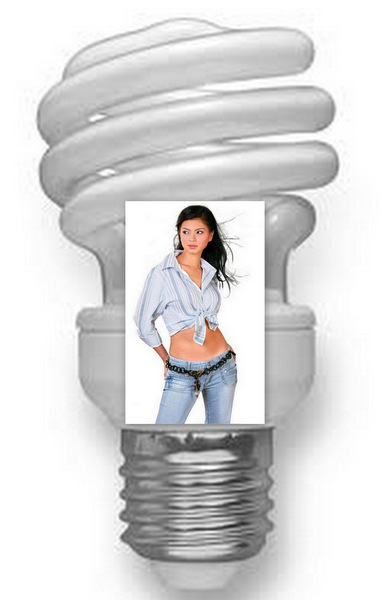 Cutting down on our air con just one hour each night from eight to seven hours reduced our latest electric bill by around P1500 for the past month. That's a savings of almost 36 US Dollars.
I would also recommend using more energy-efficient CFL's, compact fluorescent lamps, though I doubt you'll find any with Angel Locsin inside one as my photo above depicts. Replaced all of our standard bulbs in Guimaras with CFL's and noticed a reduction of several hundred pesos in our monthly bill.
The bulbs do cost more than standard light bulbs but will pay for themselves over time.
Another possible solution to reducing electricity costs is to install solar light bulbs made of plastic soda bottles. Here's the link to that story I did some time ago.
4. Stay at home more.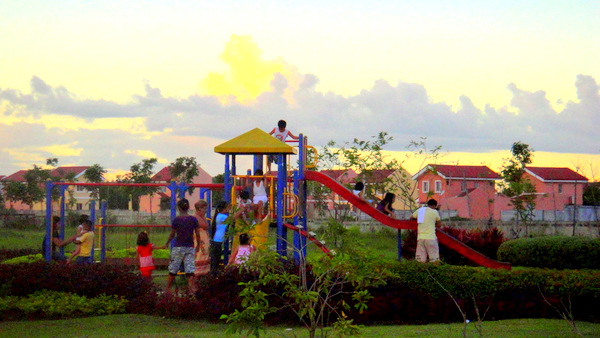 As noted earlier, our family in the Philippines entertains themselves at home sometimes by playing UNO and Scrabble. Yes, I know it's not exciting as going to watch the latest flick at your local SM Cinema, but it's cheaper.
While the boredom level can certainly rise during the day with the rainy season in full swing, we've cut all unnecessary trips to SM City and Robinson Mall in Iloilo City. Every time you go shopping or even "window shopping" you're bound to spend money.
We're planning day trips to nearby Guimaras to fight off the boredom. But with parks and a swimming pool in our subdivision, there's plenty of ways we can find to entertain ourselves.
5. Do more local shopping. Visit a Ukay-Ukay shop.
My asawa can garner some substantial grocery savings by visiting our local wet market only one jeepney ride from us. There are smaller markets just outside our subdivision gate but the larger markets at Mandurriao Plaza have some better bargains. She can save 40-60 pesos (96¢-$1.43) per kilo on fish and buy a good variety of rice for only P36 compared to the prices at the SM City Supermarket.
Mandurriao also has a large supply of ukay-ukay shops (see above photo from aboutmyrecovery.com) thrift stores which offer everything from used clothing to children's toys, and found throughout the Philippines. Kind of like a Goodwill store in the PH.
Honestly, I've never shopped at a ukay-ukay, though my American expat friends Scott B and Tom Cat have. You can pick up some substantial clothing bargains at these places.
6. Be your own barber.
Whoa, Dave, you're really reaching on this one! Yeah, I know with haircuts only running anywhere from P30-P40 pesos, being your own barber probably will not help you live that much cheaper in the Philippines.
But look, things like that add up when combined with other small money-saving tips such as the recent post I did about being a rain man in the Philippines. My own asawa has stopped going to the Ricky Reyes Salon at SM City (see photo above) and visited a local beauty shop for her last trim and style. Paid P40 (96¢) versus P200 ($4.79) at Ricky's. That heat treatment my wife endured cost her P400.
She also cut our nephew's Sharwen's hair last week. My spouse also trims my hair. Another P60-P80 saved. Again, these small savings do add up.
7. Hire the barangay handyman.
When we lived in rural Guimaras, the mango province, our brother-in-law was our resident handyman and took care of all of our chores. He was an invaluable help to this American expat.
But in our subdivision we didn't know of any local handyman that could help us. Our neighbor, Jesus, a carpenter, charged too much for his work, but a chance remark from my asawa to her traveling manicurist hooked us up with a new handyman.
Our new helper fixed an electrical problem in our kitchen. We didn't have any lights in there for over eight months. He only wanted enough money to buy a kilo of rice. My asawa was going to give him 100 pesos $2.39). I kicked in another 100.
It was worth it to me to have someone reliable we could go to. Plus, the guy knew there was a kano in the house and didn't overcharge me (But that's another money saving piece of advice; if you have a generous spouse, let the stingy one hand out any tips.)
8. Grow your own herbs, vegetables and flowers.
My asawa has a green thumb. She had a yard full of flowers and plants back at our home in the States. When we moved to the Philippines three years ago, she started a small garden in an empty lot next to our home in Guimaras. When we moved to Iloilo last October, she also began planting flowers and vegetables. We had a steady supply of okra an green bell peppers for months. Another way to save some money and stretch that food budget in the Philippines, or anywhere else for that matter.
9. Use the Internet to save money.
How can you use Al Gore's invention, the internet, to save money? Well, not by lounging around on it all day and looking at images such as the one depicted on the laptop above. But the internet can be a valuable tool for research and a great place to find some bargains.
I use it to look up Google maps to find new places in Iloilo City my asawa and I have to go. My twin nieces, April and Michelle, use it for job hunting. That's how my niece April found her job at SM City.
There are endless ways to save money by searching the World Wide Web. Here's just a few possible ways to save a peso or two.
Use the internet to make calls over Skype or

magicJack

. I've saved thousands of dollars in the past three years by using my high speed connection from Smart Bro. which only costs

P999

($23.92) a month for unlimited usage, to make calls to the United States.
Save money by streaming

musicm

tv

shows and films. Sure, you can buy pirated DVDs for as little as 3 for 100 pesos if you like, but with all the file-sharing websites out there, why bother?
Research. Research. Research. If you're planning a move to the Philippines or just a vacation, the internet is a great way to do that right in the comfort of your own home.
10. No spending days.
That's right. Set aside one day or more each week where you absolutely resolve not to spend any money at all. You would think that living in a secluded subdivision outside of Iloilo City, it would easy to have a lot of "no spending" days. But with four kids now living with us, that has become more difficult. But it can be done.
Ask yourself if you really need to go to the market or SM City that day? Because every time you go out to spend money, you usually end up spending more than you planned.
I think it would be a good challenge to see how many "no spending days" a person could reasonably have in one month. Keep a log of your daily expenses for a couple of month which should also help you to get a handle on your expenditures. Keeping a budget and planning your shopping trips should help.
What money saving tips to live cheaper in the Philippines do you have? I know I've just barely scratched the surface. I'm curious to see what suggestions, you, my highly intelligent readers, have.