How cheap can you live in the Philippines? How much does it cost to live here ? That's a question asked by a lot of people considering a move to their own little slice of paradise. Here is a typical, detailed, recently updated monthly budget for our family in the Philippines for the month of October.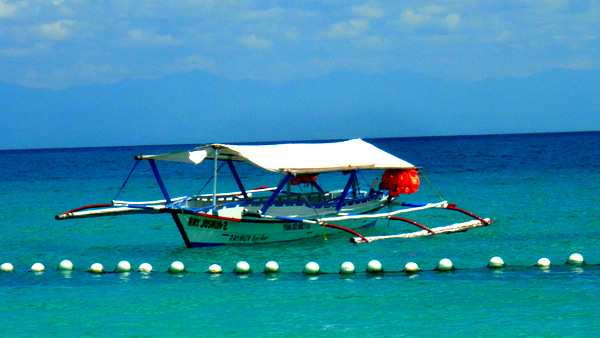 This information is reprinted from my recent eBook, "Expat Guide to the Philippines." This is the ONLY material that will be reprinted from this book, and is on sale now for only $25.00 However, there will be a price increase in the near future, so click HERE for more details about the book. I have tried to be as thorough as possible, and after living here for the past year have a lot better idea of what expenses are. Of course, there is no way anyone else's budget will be the same, we all have different needs, but I hope this will give you some idea of what it costs to live in the Philippines and serve as a guideline. Keep in mind that we live in a rural province, Guimaras, which is a less cheaper place to live then Manila, or another large city. Also, our house and property is already bought and paid for from my wife's many years of working overseas before we were married.
Food—for our family of five, three adults, two children.
I'll give you a breakdown, as best as a can, for my food budget and for the other four members of our household, including my wife, since their menu is significantly different then what I eat. Several months ago I began giving my wife half of our monthly income we receive from my retirement investments, and let her pay for her and her mother's food, along with the food for our 12-year-old niece and 10-year old nephew that lives with us. Their diets consist mainly of fish, rice, and vegetables. They also have some meat and pork dishes along with the fish. Their monthly food bill for four people is 10,000 pesos (about 222 USD.) That's for three meals a day. We have a separate cost of pan de sal which is eaten for breakfast and morning and afternoon snacks which cost P1230 pesos in October, or around 28.51 USD. So the total monthly food bill for my wife, mother-in-law, niece, and nephew runs approximately 250 USD. No one goes hungry. That figure also includes household products such as laundry soap, shampoo, soap, and other household necessities.
I estimate my monthly food bill at around 4,000 pesos a month (around 90 USD.) So for a family of just two, I think 200 USD a month is a fair estimate of a monthly food bill.
Electricity—air conditioner (air con) eight hours a night, computer on ten hours daily, refrigerator, microwave, standing fan on nine hours daily, and television on six hours daily. Our monthly electric bill averages P2087 or 48 USD. The electric bill for my in-laws' nipa hut in our front yard, with one television and two lights, along with two small ceiling fans runs about five USD a month. While doing comparisons at other locations in the Philippines it looks like our province might have a better rate than some other locations in the Philippines. Also, the Philippines has some of the highest electric costs of any Southeast Asian country. But I find our rates to be quite reasonable and a lot cheaper than what I experienced in the Midwest of the United States, especially during the cold winters where our electric bill during the winter could hit 400 USD a month at times.
Water—we have a well in our front yard which our family and our neighbors also use for their drinking water. We also have city water but my wife has everyone bring in water from the well to take showers with (including herself) and to flush their toilets with in an effort to reduce our city water costs. During the rainy season we have plenty of water to do this. Our current water bill runs around 228 pesos a month (5.00 USD.) I get to bathe in our shower and do not have to bring any additional water in since we incur a minimal charge of P228 even if we do not use any water at all. We also do not have any sewer charges that increase our bill like we had in the United States. We don't have any sewers in our area.
Broad ban— unlimited high speed internet service provided by Smart Bro=999 pesos (about 22 USD.) The service is very reliable, and it has been many months since my Internet has been down due to any problems with SmartBro service.
Cable—Our monthly cable bill which includes one HBO, Max, and Stars Movie channels, and has programs from the United States that are only delayed for a few days costs 350 pesos a month or 7.75 USD. We get an ESPN sports channel, CNN, BBC News, Australian and Russian TV, various Filipino channels, of course, along with The Cartoon Network. We also receive The Discovery Channel, National Geographic, TLC (Travel and Living Channel), Disney Channel, and the Asian Food Channel. It is not uncommon for one or more of our channels to be missing for days and suddenly return. The picture quality is nowhere near the high definition digital picture I received from DirecTV back in the States but is much better than the three channels we only received before getting the cable which was installed for free.
Laundry lady's salary—our laundry lady, a neighbor, used to come every day, but since we have three less people that live here now we have her come every other day and feed her lunch. We have no need for a washer or a dryer, clothes are hung outside like my Mother used to do when I was a kid, and if it rains, the wash is moved to a nipa hut out back or underneath the covered well area. Her salary is 1,000 pesos a month or 22 USD.
Transportation costs—we do not have a need for a vehicle in our rural province as the jeepneys and tricycles found throughout the Philippines provide us with cheap transportation. Local tricycles, a motorcycle with an attached covered side car, which we use to go to places too far on a hot day to walk or if we need to haul groceries, cost ten pesos each, and if you have three riders the cost is seven pesos each. That's the fee for anywhere in our town.
A jeepney (which costs 12 pesos each, small children ride for free but must sit on their parent's lap) which will take us to the wharf in Jordan to catch a pump boat ride (13 pesos each for the 15-minute pump boat ride, again small children ride free) to Iloilo City. My wife and I used to exclusively take taxi's when we went to Iloilo at a flag down cost of 30 pesos and the total cost (with a tip, which is always expected of foreigners) to our favorite shopping mall of SM City would run about 100 pesos (about 2.22 USD.) We now take the jeepneys to SM City and other destinations for only a cost of seven pesos each. You don't tip jeepney drivers. Quite a substantial savings over the course of a month by using the jeepneys in Iloilo. However, when we do make our big grocery shopping trip to Iloilo, we do use a taxi to get back to the dock to take us home as it is much easier carrying our boxes of groceries in the cab rather than the jeepney. Estimated monthly transportation costs are around 800 pesos or about 17.77 USD. A lot cheaper than what car payments, insurance, and gasoline costs.
ATM fees—33.50 USD, five transactions a month, discussed in an earlier section.
Health insurance. My health insurance is provided as part of my retirement benefits from AT&T and is from Blue Cross/Blue Shield, and only runs about 28 USD a month and includes coverage for my wife. I discuss hospital and healthcare options in the Philippines in another section. I realize that most people do not have the benefit of such a low cost healthcare plan and this was also a factor in our move to the Philippines.
Hair cuts, pedicures, manicures. You can get a haircut at one of our local parlors for a cost of 60 pesos each (about 1.30 USD) and a manicure and pedicure for 40 pesos each. If you want to go to one of the higher end salons, like a Ricky Reyes, the cost is 280 pesos for a haircut, about 6.20 USD and 75 pesos for a manicure or pedicure. The quality of the work is outstanding. I have personally had a manicure done at Ricky Reyes where the manicurist spends almost an hour working on my hands. If you feel like splurging, I recommend a visit to any Ricky Reyes Salon. Total average monthly cost is 400 pesos, about 9 USD.
Medicine. My mother-in-law which lives with us had a stroke in June 2009, but thankfully, has fully recovered. However, she does require daily high blood pressure medicine and a separate blood pressure medication in case her blood pressure is too high that day. Along with a daily low 80 mg dosage of aspirin, the monthly cost for her medicine is about 30 USD.
Miscellaneous costs. Included in the miscellaneous costs are the occasional visits to fast food restaurants when we shop in nearby Iloilo City. An up-sized Big Mac combo along with a chicken and rice dish for my wife costs approximately three USD. We do occasionally see a movie once a month (but not always) and the total cost for two including tickets and two large popcorn's and drinks run 10 USD. Estimated monthly miscellaneous costs run around 25 USD.
The Immediate Family and relatives. Living in the Philippines, where the family unit is very strong, also means helping out your immediate family and relatives whenever possible. Sometimes a beloved relative dies or a family emergency occurs, and we find ourselves helping out at such times. Those expenses vary from month to month, but on average we probably spend about 2,000 pesos (around 45 USD) a month to help others. My wife's sister and her husband that lives in the nipa hut in our front yard with their three children are sometimes the recipients of our help. My sister-in-law has started a small preschool on our property, and my brother-in-law takes care of the cooking and laundry for his family as he does not have a job. He had a bank guard job in Iloilo City but lost that job when the bank was taken over by another company.
Our TOTAL Monthly Budget (including feeding a family of five) is approximately 634 USD a month. Keep in mind that we do not have any house payments, and the only insurance we have is our health insurance. We do not have any home insurance or vehicle insurance (since we do not own a vehicle.)