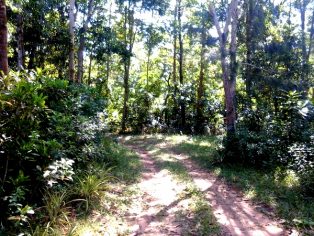 My brother-in-law in Guimaras, Joery, is our general handyman. While we have a caretaker, Gerry, who lives on site at "The Farm," where we now reside, Joery, plumber, electrician and carpenter all rolled into one, is our "go-to-guy" for any new projects in progress at "The Farm."
Joery and his asawa, Alida, taking a snooze on a lazy Sunday afternoon
Joery, unlike Gerry, can understand enough of my "English slang" without getting a nosebleed and he does quality work. I pay him 50 pesos a day above the standard carpenter's wages of P250, but he's a trusted relative and can use the work. Seven US Dollars a day are good wages in the Philippines.
The Back Story
The Tom Cat, when he was the original operator of our rural residence before leaving to find a new job in America, did an extensive renovation at the property we rent which sits on five hectares of land. Tom put a good sum of money, sweat and tears into the project and it's now a showcase property of our subdivision.
Now when I say "subdivision," don't envision street lights with paved roads and sidewalks like we had back in the States or even in Savannah Subdivision in Iloilo where we moved from. Our side  roads are muddy paths, we have no sidewalks. Plenty of stray dogs and roosters, however.
One of the first things Tom did was to have the entire first floor of the property screened minus the veranda. With the proliferation of mosquitoes and lizards buzzing and roaming around, having screens on the windows was an extremely wise move and a necessity.
But I've had my brother-in-law do work on some additional projects which he completed in three days. While such a post won't send shivers of excitement down the spines of most of readers, I wanted to feature this series of small endeavors in this article. I've also included a breakdown of the costs.
Project #1: The Veranda Screen
The first floor of "The Farm" has a beautiful veranda overlooking the rice fields located on the property. While opening the veranda doors enables a good circulation of air throughout the house, it can also invite unwelcome lizards, including large geckos and mosquitoes. My asawa and I deemed this project number one on our list.
Joery built the two screens so they slide together and meet. Easy to open and close, my brother-in-law put two simple eye hooks on both sides of the door to close them whether you're on the inside or out. It's great watching television in the evening seated next to the screened veranda and enjoying the breeze from outside.
The veranda opening is 72"x80."
Project #2. The Back Door, Kitchen Screen.
Now Tom made this second project, a screen for the back door, much simpler. He had already left a wooden frame that fit the opening of our kitchen door perfectly. Joery covered the frame with a plastic screen material he bought from our local hardware store in Guimaras and mounted it on  the new screen door.
We now have a good cross circulation of air in conjunction with the open front door, which was already screened, and the new veranda screen. Many times a fan is not needed throughout the day though when I'm watching television at night I do turn a fan on to cool my large frame. If Lolo is sitting nearby, I make sure the fan's breeze doesn't hit him.
The first night Lolo moved in with us, he needed a long-sleeved shirt because he was getting too cold as he sat watching television with me. I moved the fan away from him. He's the only one in our house that sleeps without a fan. We have not used our Carrier air con since "The Farm" is much, much cooler than our "brick oven" rental home we had in Iloilo.
Project #3. The Basement Window Screens.
The basement, where our master bedroom, is located, has windows located throughout. Problem is, there were no screens on any of the windows, which made for quite stuffy conditions.
Though the air con unit is located in the basement, I did not want to run it, if necessary, during the current rainy season. I reasoned that if some of the windows had screens we would be able to sleep fairly comfortably at night with a fan. The challenge was constructing a set of screens which would not interfere with the opening and closing of the windows.
I ruled out at this time having Joery build any screens for the windows which cover two of the three walls of the basement. These windows swing open outside.
In the future, I may have my brother-in-law construct a set of screens over the security bars on these windows and leave an opening near the window locks which would enable one to open and close the windows.
A small screened opening, such as we had on our screened windows in Savannah, could be secured with a small hook.
I decided the sliding windows near our bed and air con unit would be the first ones to be screened and enable some fresh air into the basement. Since these three sets of windows did not push outward, I simply had Joery build three screens which covered half of each window. He secured the units on the outside of the house with screws as shown on the next photo.
The Cost Breakdown
Here's the breakdown for the total cost of the three projects:
Plastic screen material, 6 meters…………………….315 pesos

Additional Aluminum Screen 4" Frame…………..455 pesos

1x2x8 wood pieces, total of 8…………………………440 pesos

1x2x10 wood, 1 piece………………………………………70 pesos

Lattice, 2×8, 6 pieces…………………………………….192 pesos

Lattice, 2×7, 5 pieces……………………………………..140 pesos

Lattice, 1×8, 4 pieces………………………………………..64 pesos

Finishing nails and screws……………………………….153 pesos
Total cost of materials……………………………..1,829 pesos, 43 US Dollars
Total labor, 3 days at 300 pesos a day…………..900 pesos, 21 US Dollars
Total cost of the three projects…………………..2,729 pesos, 64 US Dollars
Additional projects at "The Farm" are slated for the near future. Though we're only renting this tranquil spot in paradise until we build our new home in Guimaras beginning late next year, any improvements that can make our stay here more enjoyable are a plus. And, since the property is owned by a group of Catholic Sisters, any renovations we do now will benefit this deserving group of nuns in the future once we leave.
After all, we are the caretakers of this property and take our responsibility seriously.