Jobs in the Philippines are extremely difficult to find. With widespread age discrimination running rampant across this archipelago, my twin nieces, April and Michelle (seen in the following photo), age 19,  are fortunate to be in the prime hiring bracket. If you're 30 or over, your chances of finding a job become that much more formidable. (The girls were bored last Sunday when we had another long brown out, over 10 hours, and since Michelle had an extra uniform, they decided to do this pose.)
Many Pinoys and Pinays, such as my sister-in-law Marjorie in Kuwait, age 44, have to work as Overseas Filipino Workers, OFWs,  in able to support their families. It is estimated that over 10 million Filipinos work abroad.
(Back row, Marjorie, far left, her sister Alida, Marjorie's daughter, Shaina and Michelle.  Middle row, left,  Alida's daughter, Din-Din, standing next to Sharwen, Marjorie's son. Front row, far left, Alida's son, Jorreal, and daughter JalAmiel)
As noted in previous posts on this website, my own asawa worked as a domestic helper/caretaker in Singapore and Taiwan for several years before we were married.  She has been "retired" since our move to the Philippines in July 2009. If you call "retirement" doing housework such as cooking and cleaning and taking caring of her lazy American expat husband. My biggest daily chore is deciding what I want for breakfast,  lunch or dinner or what to watch on television at night.
(My asawa, when she worked in Singapore years before we were married. Her boss had treated her to a rare outing at a restaurant. She absolutely hates this photo and does not know I am posting it.)
But we do not want our twin nieces, April and Michelle, to have to go the route of the OFW. It's a lonely life with harsh and dangerous working conditions for many.  But to my surprise, the twins, who call me "Dad," have found jobs in the Philippines. I am quite proud of both of them for beating the odds and finding gainful employment here.
Michelle went to work this week as a cashier at one of the local Savemore Stores, a division of SM Department Stores, in Jaro. Jaro is one of the six districts that comprise Iloilo City. She has a five month contract.  Upon my suggestion, she had attended a job fair held last month.
At the job fair, Michelle interviewed for a call center job which she unfortunately did not get. She also spoke to a representative from Savemore.  Last week she received a text message from Savemore and passed all of her pre-employment tests and was hired. 
Sister April had worked at the SM Department Store at the SM City Mall in Iloilo during the last quarter of 2012. She only had a four month contract but the job gained her some customer service experience and it was something she could add to her resume.
April, who recently completed classes at PCCI, a month long course for call center training, will be working at Teletech, whose Iloilo office is located at SM City.
Our niece is one of the youngest employees ever to be hired at this call center which bucks the trend of many businesses in the Philippines and has employees in their 30's, 40's and even 50's employed.  She will initially be fielding calls from T-Mobile customers back in the States and has the potential to become a regular employee after one year.
April had an interview with SPI Global before securing the job with TeleTech. She passed all of the tests for SPI but was told she needed more "exposure." I would have substituted the word "experience" but I was glad my niece did not give up and went to two other call centers to apply, Transcom and Teletech. 
April had gone to Transcom first and passed her initial interview and then went to Teletech, where she also passed her first meeting with human resources.  She was called back for  testing with Transcom the same day she was scheduled to go to TeleTech for testing. I advised her to go to Teletech first.
April passed the battery of tests which included call simulations and was hired. No need to go back to Transcom. With a starting wage of P12,000 a month, 294 US Dollars, she will make almost twice the salary she had at the SM Department Store and will have two days off a week versus the one day off a week she had at SM. 
The twins deserve this break. I'm positive they will do their best and excel at their new jobs. Finding employment in the Philippines is not easy, but not impossible. For the record, the girls do not have a four year college degree, but did previously attend a two-year "computer secretarial"  school in Manila.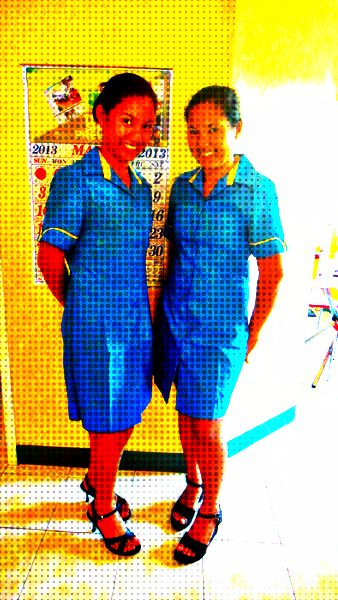 I'm hopeful that more jobs with better wages will be created in the Philippines and not just the four-five month contractual jobs that are so common here.  It would be great if some of those OFWs would be able to return home and be with their families.  I don't want them to have to endure the years of being separated from their loved ones as my own asawa, sister-in-law and millions of Filipinos have done and continue to do.