Look, I get it. While Metro Manila continues under the strictest lockdown level, Guimaras residents are still able to travel to nearby Panay Island. My wife and I hop on the Montenegro RORO, Roll-On, Roll-Off ferry, as passengers, this past Thursday. Iloilo City, about a 15-20 minute ferry trip from Guimaras' RORO Wharf, is still an expat shopping paradise.
Traveling to "The City of Love" Not Difficult
Moreover, the process for getting to Iloilo City from Guimaras is not too complicated for Guimaras residents. We present our monthly Outbound Pass to the screener along with a valid ID. The screener marks our pass with the current date and checks our ID.
There is no temperature check now. We wear the mandatory facemask and face shield (or glasses/sunglasses.) No one questions our reasons for going to the big city.
While over 60 wooden-hulled motorized banca boats may no longer operate on the Iloilo Strait, RORO ferries, fiberglass-hulled vessels, and fast craft may traverse the route.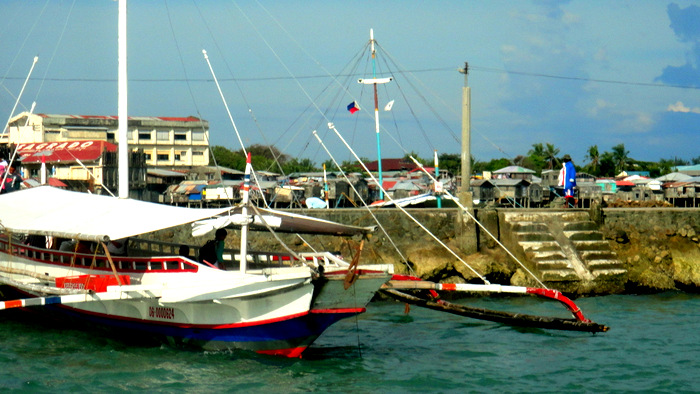 Catching a Ride on the RORO
We only travel to the city about once a month. The Montenegro ferry leaves Guimaras on the odd hour. We catch the 9:00 am clock RORO that leaves on time or even a few minutes early. The return ferry from Iloilo City leaves on the even hour.
FF Cruz also operates a RORO but their time schedule is not as rigid as Montenegro's. We don't take our Aurora Blue Ford Ranger XLT. I don't want to drive in Iloilo City. In addition, it only costs 35 pesos to ride as passengers. That's only 70¢.
We used to take the Yohan Express fast craft from Jordan, Guimaras but it has ceased operations from Jordan for now. According to a Yohan Express, employee, the fast craft from Buenavista, Guimaras is still in operation.
However, our parking lot attendant in Jordan advises us that the Yohan from Jordan is in for maintenance. "Chard" tells us that Yohan will have to wait until this coming May to renew their operational permit.
While we only take taxis when in Iloilo City, our combined cab fares for the day run about 400 pesos, eight US dollars. That's about half the cost of taking our truck on the RORO.
In contrast, before the "pandemic," we used jeepneys to navigate Iloilo city while only using a taxicab to bring our groceries to Parola Wharf for our return trip home.
The Shakey's Snafu
Once in Iloilo City, we stopped at Shakey's Pizza at SM Delgado for an early lunch. I decided to order a new menu item, burger, and fries. I've never seen that on a Shakey's menu before.
My wife wanted a pasta dish. Her food arrived in about 10 minutes. Still no burger and fries for me. Twenty minutes passed. As I was about ready to check on my burger at the front counter, I overheard a waiter asking about my burger order.
The cook had not even started cooking my burger yet! He had forgotten. The waiter brought over a plate of complimentary Mojo potatoes. I declined. I informed the waiter I wasn't going to wait another 10 minutes for my burger and would just pay for my wife's pasta dish. We were on our way to SM City. I could just order some food there.
As I went up to the counter to pay, I asked if the regular manager was on duty. He wasn't. We have been eating lunch at Delgado Shakey's for years. The manager is a friendly man that I always speak to every visit.
While we paid for the pasta, the cook and waiter apologized. I was given the hamburger and fries in a take-home sack at no charge. Not one to look a gift burger in the mouth, I appreciated the gesture, took the food, and we headed off to SM City.
Frankly, the burger wasn't anything special. However, the greasy pepperoni pizza at Shakey's is one of my favorite dishes there. That's what I'll go with next time.
The CyberZone
SM City wasn't extremely crowded. Iloilo City, like Guimaras, is under a Modified General Community Quarantine, MGCQ.
After buying a new 32-Gigabyte flash drive at Octagon, my favorite computer store, we headed over to another shop in the CyberZone. I needed a new screen protector for my "new" phone.
I had earlier signed my wife up for a new two-year contract with Globe online. Consequently, she received a new Samsung phone. I acquired her old Samsung but it needed a new screen protector. After running the gauntlet of about a dozen shouting salespeople outside of their respective shops, we made it to the Android Zone outlet relatively unscathed.
The Plant "Pandemic"
After getting the new screen guard, we went downstairs so my asawa could check out the plant section. I went ahead to the SM City Supermarket to start our grocery shopping.
My spouse's hobby is gardening. She took it up years before the "pandemic" craze for plants began.
Some plants that used to cost a few hundred pesos now cost thousands of pesos. My wife has made quite a tidy sum selling some of her plants online. Our niece in Guimaras acts as the broker and arranges all the deals.
Here's a look at just a few of my wife's plants
My wife eventually joined me in the supermarket. However, we were going to be hard-pressed to catch the 2:00 pm Montenegro RORO. To save time, we didn't stop at S&R, one of our usual shopping venues, where I stock up on "comfort food."
That said, I did buy two kilos of 80% lean ground beef for homemade sloppy joes and "horseshoe" sandwiches.
Horseshoe Sandwich Originated in Springfield, Illinois
The horseshoe is an open-faced sandwich originating in Springfield, Illinois. I worked in Springfield for over 30 years. I discovered it while working at Charles C Thomas Publishers.
The horseshoe consists of two thick slices of toasted bread with a hamburger patty on each slice, slathered with cheese sauce over French fries and the patty. If you were a lightweight and only wanted one patty and one slice of bread, you would order a "pony."
I never ordered the "pony."
It was served at the Red Coach Inn, Springfield, Illinois' North end dining hotspot. While a hamburger patty can be substituted with ham or chicken, I always opt for the hamburger.
The famous Springfield, Illinois horseshoe sandwich courtesy of All Recipes.com
Here in the Philippines, I cheat on the cheese sauce and use Cheez Whiz. When I feel lazy, I will just throw on some precut frozen French fries. It's the ultimate "comfort food."
Missed the RORO
We wrapped up our grocery shopping and caught a cab outside SM City. We missed the Montenegro RORO by a few minutes and our taxicab driver shuttled us over to FF Cruz that was nearby. However, one of the workers said we would have to go through a DOH, Department of Health, screening first. We didn't bother and made our way to the Parola Wharf where we would try and catch a fiberglass fast craft.
There were a few fast craft available at Parola last Thursday afternoon. However, we had trouble with a Coast Guard official several weeks ago who wasn't going to let our porter load our two boxes of groceries. Only carry-on bags were being allowed, no "cargo."
Good Boy Chow Hounds
I hopped of the boat that day and spoke to the Coast Guard official who let our porter load our boxes. Thankfully, last Thursday we did not have a problem. We had five shopping bags full plus two 20-kilo bags of Good Boy Adult Dog Food.
With eight dogs at home, three of them "picky" eaters, Good Boy, only available online from Shopee or Ace Hardware, is the only pup chow our canines will eat.
Our main porter, Lang Lang, was at the wharf. I advised him of our previous problem with the Coast Guard. However, I knew that with the veteran Lang Lang taking care of our load, we wouldn't have any problems.
We didn't.
Pandemic Screeners at Jordan
We had secured our healthcare questionnaire and temperature check at Parola. The questionnaire is completed during our trip back to Guimaras. I try to finish it before the boat takes off; it's easier to write when the vessel isn't riding the waves of the Iloilo Strait.
Along with the questionnaire is our Outbound Pass. We present these to the wharf screeners in Guimaras along with a valid ID.
Our fiberglass fast craft didn't take long to arrive in Guimaras. We make our mandatory stop at the screeners. Our porter Neil has already loaded our groceries. "Chard," our parking lot attendant is already waiting for us with our Ford Ranger. My wife sends him a text message ahead of time.
Simple Man, Simple Life
We're home about 20-25 minutes later and unpack our groceries aided by our live-in helper and niece.
Since we don't go out on Friday nights anymore, the shopping trip to Iloilo City is the only time I leave our home.
My asawa will go to our local markets in Guimaras for fresh produce and fish.
She'll gas up the Ford Ranger once a month.
I'm content to stay at home.
I'm a simple man with a simple life.
And that's just fine with me.