Guimaras Officials Issue Smackdown
Above all, it's a death knell for Guimaras/Iloilo travelers and Guimaras tourism. The Maritime Industry Authority, MARINA, has ceased the operation of over 90 wooden-hulled boats in Guimaras. The ban took effect January 1, 2021. Now only 10 sea-going vessels can ferry the 20,000-25,000 passengers that daily ply the Guimaras-Iloilo route.  
At Least 40 Souls Lost Since 2015
Nine poor souls on the ill-fated Tawash lost their lives on a windy Sunday afternoon in October 2015. One of those was the captain, Larry Abilla, 59, a Filipino friend of mine, and father of five daughters. The wearing of life jackets was a mandatory regulation on the motorbancas, pump boats. However, the rule was never enforced before the disaster.
While the Coast Guard made the wearing of life jackets compulsory for two weeks after the tragedy, a group of Guimaras lawyers complained. The life jackets were crumpling their shirts and suits as they traversed the Iloilo Strait.
The lawyers filed an injunction. Consequently, the wearing of life jackets again went by the wayside.
On August 3, 2019, 31 people lost their lives on the Iloilo Strait. This was the greatest maritime tragedy in Guimaras' history. Three separate pump boats on the way back to Guimaras from Iloilo overturned that stormy Saturday.
Never mind that nine passengers had already perished in the first incident.
The Coast Guard allowed more boats to operate later that afternoon.
Consequently, 22 more people lost their lives that day.

MARINA Orders Phase-out of All Wooden-Hulled Boats
Therefore, the MARINA issued an order in 2016 for all wooden-hulled motorbancas to modernize in response to the heartbreaking loss of life. Fiberglass or steel-hulled vessels had to take the place of the wooden-hulled motorbancas.
The boats had a Certificate of Public Convenience, CPC, issued by MARINA. The certificates were due to expire on September 28, 2020. However, due to the so-called COVID-19 pandemic, an extension from MARINA was granted until December 31, 2020.
Two major ports serve Guimaras, the Jordan Wharf, and the Buenavista Wharf.
The Guimaras provincial government and the Jordan and Buenavista Motorbancas Cooperatives did not seem to take the MARINA order seriously. Perhaps they thought the MARINA would simply extend the ban again.
Yohan Express Steps in
Yohan Express, an outside firm with steel-hulled fast craft, stepped into help in late 2019. Yet they suspended their schedule in late 2020 due to a lack of passengers. Because of the impending boat ban, Yohan resumed their service on December 21, 2020. They took the MARINA order seriously. Yohan probably saw an opportunity to regain their customer base.
Here's a look at their current schedule from their Facebook page:
As of now, Buenavista passengers ride on two fiberglass-hulled boats, two steel-hulled boats, and a fast craft operated by Yohan Express.
In Jordan, passengers can take a ride on two fiberglass boats and another Yohan fast craft aside from two RORO ships that operate out of Lapuz, Iloilo City.
Another modern boat is set to operate within the week after inspection by the Philippine Coast Guard.
The fare for each trip on the modern boats was Php50 per passenger. However, due to public outcry, the fare now stands at 40 pesos. Yohan is currently running a promo fare of 30 pesos.
The Guimaras Provincial government appealed to the MARINA to extend the ban once again. The stoppage of operations of the wooden motorbancas has caused long lines of passengers at the wharves. Many of the passengers are going to Iloilo City mainly for education and employment.
Screenshot from Guimaras Prov. Govt. Facebook page
MARINA'S Firm Response
In a letter reply addressed to the Provincial Government of Guimaras, MARINA Administrator retired Vice Admiral Robert A. Empedrad stood firm on the decision of their decision.
"However, in as much as we would like to accommodate their requests, we regret to inform the good governor [Gumarin] that we can no longer delay the implementation of the phase-out program for wooden-hulled passenger ships under MC 2016-02," an excerpt from the letter of Empedrad to the Provincial Government of Guimaras.
"…the route can be considered as fully served" declared MARINA Administrator retired Vice Admiral Robert A. Empedrad.
Meanwhile, around 400 sailors who were crews of the said motorbancas have lost their daily source of income after the phase-out.
Too Little, Too Late
In late December 2020, Guimaras officials allocated financial assistance amounting to Php 3 million respectively for the Jordan and Buenavista Motorbanca associations. The funds are to be used for the procurement of additional modernized vessels.
Guimaras Vice Gov. John Edward Gando said the provincial government might charter fiberglass boats from Boracay Island if the five fiberglass boats serving Guimaras won't be enough to serve passengers.
It seems the government actions were too little and too late. Here's how one Facebook user summed it up on the official Province of Guimaras Facebook page.
Kim John Ganancial
Very sad knowing those who suffer more are those who need to travel to earn a living,.. These people are mostly diligent taxpayers which in difficult times are the ones often forgotten or the last to be considered by the Gov't for aid.. From 15php to 50php fare adding extra time by waking up early for queuing to be able to be in time for work and spending extra for travel expenses. Obviously, these people persevere to not lose their Jobs. To the least, gov't should have considered practical remedies to ease the suffering of these people.. Did our gov't leaders realize this? Sure they do/did, but the question is "have they considered the urgency to act over the situation?" if Yes then they have done their part if Not, then "SHAME ON THEM"
MARINA Responds Again
MARINA then issued the following Press Statement:
"…Following the expiration of their CPCs, wooden hulled ships are no longer allowed to operate or transport passengers and cargoes…Since the issuance of this policy in 2016, wooden hulled ship operators have been given ample time to modernize their ships to plastic reinforced or fiber reinforced plastic (FRP) boats.
At the policy level, the transitory period for the grant of CPC to wooden-hulled boats has been extended several times already, and this practice should be put to an end. A CPC for wooden-hulled ships is valid for 5 years, without extension…"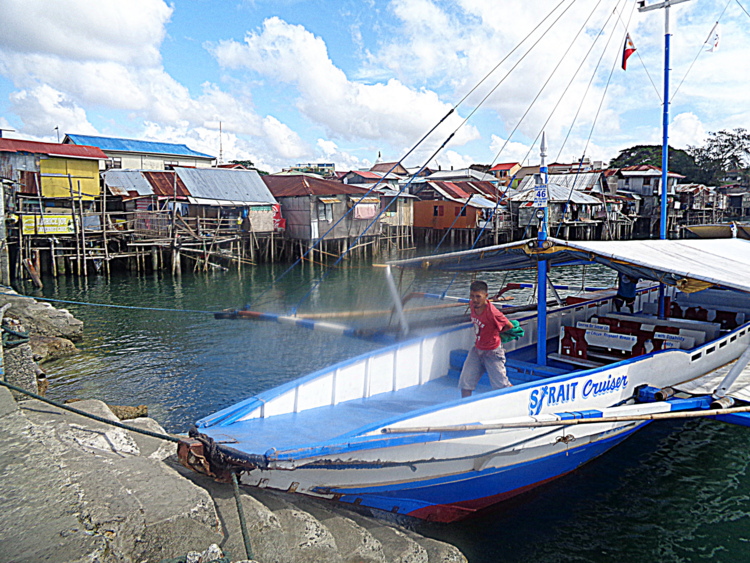 Guimaras Officials Issue Smackdown
A January 8, 2021, article in the Panay News revealed that Guimaras officials dared MARINA and Dept. of Tourism officials to take boat trips to Guimaras daily without special treatment.
The Jordan Sangguniang Bayan, SB, ("municipal council") issued the challenge in the form of a resolution passed January 6.
"It is sincerely believed that MARINA officials will realize the evil effects of their decisions with the wooden hulls…if they could personally experience the agony of crossing the Iloilo-Guimaras Straight," read part of the SB resolution.
It lamented that MARINA "miserably failed to anticipate the irreparable impact on the daily lives and activities of all Guimarasnons and Ilonggos when they issued an order effectively stopping the operation of numerous wooden hulled motorized bancas…"
"DEATH KNELL FOR GUIMARAS/ILOILO TRAVELERS"
We will be severely cutting back on our trips to Iloilo City. Because of the wooden-hulled boat ban, we will be using the RORO, which we did this past Monday for my Immigration visit, or the Yohan Express.
We buy the majority of my "comfort" foods from S&R in Iloilo City. We buy our meat and chicken from there. Guimaras has nothing which compares to S&R. The grocery aisles in Guimaras are narrow. They're difficult for an American expat like me to traverse. I'm 6 ft. tall and weigh 200 pounds.
In addition, our eight puppies have a favorite dog food, "Good Boy." We can only purchase this at Ace Hardware in Iloilo. One 20-kilo bag lasts 11 days. Consequently, we buy three bags at a time. We have enough dog food until the end of January.
However, those daily travels going to work in Iloilo City are facing major hardships. Before the Aug. 3, 2020 sea tragedy, pump boat fares were only 15 pesos. After the disaster, fares went to 20 pesos because MARINA mandated fewer passengers on the boats.
During the so-called pandemic, the passenger load was reduced even further due to "social distancing." Fares went up to 30 pesos.
Furthermore, residents who travel for more than 10 times in a given month and residents who stayed for more than five days outside Guimaras and non-residents who intend to stay in the province for more than two nights now have to submit to a Rapid Diagnostic Test (RDT.)
This places a further burden on those who have to travel to Iloilo City or want to visit Guimaras. In addition, it dampens any hope of recovery for tourism in Guimaras any time soon.