"13 WARNINGS FOR FUTURE EXPATS TO THE PHILIPPINES"
What You Should Know Before Moving to the Philippines
"13 WARNINGS FOR FUTURE EXPATS TO THE PHILIPPINES" is an ominous title for a post. Because I've always felt it best to give you, the reader, an unfiltered look at life in "paradise," today's post is no exception to that policy.
Therefore, I present to you "13 WARNINGS FOR FUTURE EXPATS TO THE PHILIPPINES" with some specific notices applicable to the current coronavirus crisis.
13. You may only bring up to 10,000 USD into or out of the Philippines.
While only foreigners with a Permanent or Temporary Resident Visa and those foreigners with Filipino spouses may enter the Philippines at this time, the following rule still applies. A person may only carry up to the amount of USD 10,000 (or equivalent in any other foreign currency), in cash or other monetary instruments, into and out of the Philippines.
Other monetary instruments include travelers' checks, other checks, drafts, notes, money orders, bonds, deposit certificates, securities, commercial papers, trust certificates, custodial receipts, deposit substitute instruments, trading orders, transaction tickets and confirmation of sale/investment.
That information comes courtesy of the Philippine Embassy.
Furthermore, if you do bring more than $10,000 into the Philippines, Immigration officials can confiscate your cash.
I knew of a foreigner who claims he brought in more than $20,000. Hence, he didn't declare the extra money when coming into the Philippines and could have had all his money taken away from him.
While one can bring in more than 10,000, it has to be declared. The following form, "Foreign Currency and Other Foreign Exchange-Denominated Bearer Monetary Instruments Declaration Form," MUST BE FILLED OUT.
This regulation is intended to stem the tide of international money laundering. It also aims to hinder the financing of international terrorism.
12. All persons and baggage are subject to a search at any time.
In addition, the following items are prohibited or regulated in the Philippines:
Prohibited and Regulated Articles
marijuana, cocaine or any other narcotics or synthetic drugs,
firearms and explosives and parts thereof, gun replicas,
obscene or immoral articles,
adulterated or misbranded articles of food or drugs,
gambling outfits and paraphernalia,
used clothing and rags,
elephant / ivory tusk products
those which violate the Intellectual Property Rights Code, R.A. 8293 (i.e., DVDs, VCDs, other imitation products)
animals, fish and plant products or their by-products (such as meat, eggs, birds, fruits, etc.) (You can bring your dog Spot to the Philippines. Check out this website for details.)
11. COVID-19 Reminders to all Travelers to the Philippines
Here's some information from PhilippineAirlines.com. This applies to those foreigners returning to the Philippines who hold Permanent Visas or who are married to a Filipina.
First, you will need, as a returning foreigner to the Philippines, a mandatory swab test upon your arrival in Manila.
Foreigners need to pre-book online a quarantine facility of your choice through this LINK. You have to pay for the swab test (Php4,500), hotel accommodation and transfer.
Swab test results will be communicated by email. Only those who have tested negative for Covid-19 will be allowed to proceed home or to their final destination.
When using public transportation, including air transportation, wear face shields in addition to facemasks.
Coordinate with your respective provinces, cities, and municipalities that may have their own separate testing and quarantine protocols.
We recently had a friend from the States return to the Philippines. He took Philippine Airlines for his trip to Manila. In addition, he has a Permanent Resident Visa in the Philippines. After arriving in Manila and acquiring his swab test, he had to spend over a week in a quarantine hotel.
He was escorted via ambulance to a quarantine hotel in Iloilo City from the Iloilo airport. He had to undergo another swab test for COVID-19. The American now has to stay for at least a week in a quarantine hotel in Iloilo City before he is able to come to Guimaras. While the Province of Guimaras is footing the bill, his hotel and food accommodations are less than ideal.
Now the rules have changed, according to my friend. He doesn't know when it will be allowed back to Guimaras at this time.
Also LGUs, Local Government Units, have their own set of protocols before you can return to that area. Make sure you know what your province's requirements are beforehand. And like my friend stuck in a quarantine hotel in Iloilo City, beware that the situation is fluid. Things can change without any warning.
10. Cyber-libel Prison sentences for Social Media Posts
Here's a May 15, 2020, story from the Inquirer.net about a man arrested for calling President Duterte "crazy" online.
Police arrested a salesman in Agusan del Norte province after he cursed at President Duterte in a social media post.
Reynaldo Orcullo, 41, was the fourth person arrested in one week by authorities over online posts that threatened or insulted the President. Police earlier arrested a teacher in Zambales, a construction worker in Aklan.
Also taken into custody was a woman in Cebu. She allegedly offered a supposed reward of P50 million to P100 million for those who would kill Duterte.
Orcullo posted alleged libelous statements, prompting his arrest for violating the Cybercrime Prevention Act of 2012 (Republic Act No. 10175.)
Police said Orcullo posted ("We know the pattern, [Sen. Bong] Go would put up a show asking the crazy President. Digong is stupid. Digong is crazy.)"
In Manila, Ronnel Mas, a high school teacher who tweeted a P50-million bounty to anyone who could kill the President, was guilty of inciting to sedition.
In addition, a survey completed in June 2019 found that 51% of Filipinos agreed with the statement: "It is dangerous to print or broadcast anything critical of the administration, even if it is the truth."
Consequently, be extremely careful about what you post on social media about the Philippine government or any government officials. That said, I doubt that most of my readers would be ignorant enough to post bounties on the President's head.

09. New Anti-Terrorism Law is Potentially Dangerous
According to Wikipedia, the Anti-Terrorism Act of 2020, Republic Act No. 11479, is a Philippine law whose intent is to prevent, prohibit, and penalize terrorism in the Philippines. The law became effective on July 3, 2020.
However, critics of the new law believe that the new act could possibly target political opponents.
The law creates a body, appointed by the President, the Anti-Terrorism Council (ATC), which would designate the persons who could be arrested as "terrorists."
Because of other provisions of the law, these persons could face up to 24 days (14 days with a possible 10-day extension) in jail.
The law allows suspects to be detained without a warrant of arrest.
06. Participating in Political Activity
Immigration Commissioner Jaime Morente said foreigners do not have the right to attend mass demonstrations for or against the Philippine government. Doing so may lead to their arrest and deportation. Such right, he said, are for Filipinos only.
"A visitor of a country is allowed to stay here for health, business, or pleasure. Joining rallies and protests is an utter display of disrespect to the country, and is equivalent to meddling in our internal affairs as a sovereign nation," he said in a statement.
Morente cited BI Operations Order No. SBM 2015-025 that "prohibits foreigners from engaging in any political activity as defined by law and jurisprudence, such as but not limited to, joining, supporting, contributing or involving themselves in whatever manner in any rally, assembly or gathering, whether for or against the government."
"Foreigners who join mass actions are violating the conditions of their stay. If found guilty, we will blacklist these foreigners, effectively barring them from re-entering the country," Morente pointed out in an article from the Inquirer.net.
Furthermore, an Australian nun, Sister Patricia Fox, had to leave the Philippines in 2018 for speaking out against President Duterte's war on drugs. She had been in the Philippines for decades. Don't participate in any protests. You risk getting yourself blacklisted from the Philippines.
07. Look out for corrupt police officers in the Philippines
Accused of receiving cash payments for executing drug suspects. Blamed for evidence planting on suspects. Kidnapping of businessmen for ransom. Raping females who did not have a quarantine pass in exchange for letting them through checkpoints. All crimes allegedly committed by rogue cops in the Philippine National Police, PNP.
A report published on Reuters claims that members of the Philippine National Police have been also been paid to kill not just drug suspects, but also – for 10,000 pesos ($200) a head for the following:
rapists,
pickpockets,
swindlers,
gang members,
alcoholics,
and other "troublemakers."
According to the report, the cash "reward scales" for drug killings range from 20,000 pesos ($400) for a "street level pusher and user." A 50,000 peso bounty for a member of a neighborhood council. One million pesos for "distributors, retailers and wholesalers." Five million for "drug lords."
While I've had good relations with most of the police officers on our island province of Guimaras, it's good to be on your guard, especially in Metro Manila. In addition, I personally believe most of the law enforcement officers are doing their job and keeping the peace. However, like in most any profession, there are corrupt and evil individuals.
06. Massive Infrastructure Problems in the Philippines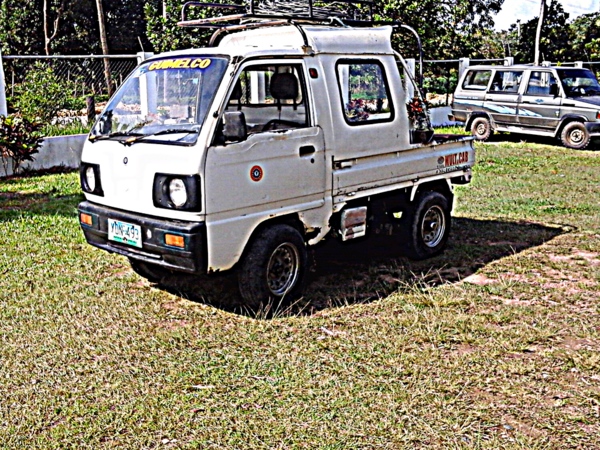 In recent years, before the coranavirus pandemic, the Philippines had been one of Asia's fastest-growing economies, but problems with infrastructure could hold the country back. According to a recent World Economic Forum Global Competitiveness Report, infrastructure problems are among the leading economic obstacles the country faces. What does that mean to expats?
Depending on where you live, you could experience power failures, prolonged water shortages, outdated telecommunication systems, and deteriorating bridges and roads.
We still experience regular power outages on our island province of Guimaras, although the situation has improved over the past year. Our internet "service" from Globe is still painfully slow. Don't expect Western-style facilities in the Philippines.
05. Is that new love actually single? Check out her status with CENOMAR.
A Certificate of No Marriage Record (CENOMAR.) A CENOMAR is a certification issued by the Philippine Statistic Authority stating that a person has not contracted any marriage. Also called a certificate of No Record of Marriage or Certificate of Singleness.
Make sure that Filipina you just met online is really single. There are no divorce laws in the Philippines. Getting a lengthy and expensive annulment is your only option if she is married.
04. Be aware that adultery is a crime punishable by prison time in the Philippines.
Would you care to spend up to six years in a Philippines jail? Commit adultery. It's a crime in the Philippines. People still go to jail for it. Want more details? Check out this post.
03. Don't buy, sell, use, or grow weed in the Philippines.
It's illegal to sell, smoke, or use any form of marijuana in the Philippines. While using pot in your home country might be legal, it's not OK to use it in the Philippines. Marijuana is classified as a dangerous drug under the Comprehensive Dangerous Drugs Act of 2002, or Republic Act 9165.
However, if you care to spend several years in a Filipino jail, go ahead. It's your funeral.
02. Avoid hanging out with anyone 10 years your junior.
BE AWARE OF THE FOLLOWING LAW, Republic Act 7610, AN ACT PROVIDING FOR STRONGER DETERRENCE AND SPECIAL PROTECTION AGAINST CHILD ABUSE, EXPLOITATION AND DISCRIMINATION, AND FOR OTHER PURPOSES:
The law states that it is illegal for "any person who shall keep or have in his company a minor, 12 years or younger or who is 10 years or more his junior in any public or private place, hotel, motel, beer joint, discotheque, cabaret, pension house, sauna or massage parlor, beach and/or other tourist resort or similar place… unless there are family ties or some other legal bond or obligation involved".
The Penalty for Violating this Law?
Jail time, six years and one day to 12 years in prison plus a fine of not less than 50, 000 pesos, 1,000 US dollars.
01. In conclusion, remember, you're a guest in the Philippines. Beware of existing laws and regulations and follow them.
Don't be a butthole and act like you know everything, you don't. Frankly, if you can't adapt to the culture and customs of the Philippines, you probably should stay put. You'll save yourself a lot of time and frustration.
(A BIG THANKS TO PIXABAY, WHICH PROVIDED MOST OF THE PICTURES FOR THIS POST!)