I'm a foreigner. A stranger in a strange land. I've resided in "paradise" since 2009. Been married to a lovely Filipina for over 20 years. Hence, today's post, "American Living in Philippines Marks 11-Yr Milestone."
Metallica Musings
As my Jango internet radio plays a Metallica classic, "Enter Sandman," I reminisce over the past 11 years. First, my mind drifts back to the Metallica concert I attended over 20 years ago in St. Louis. While I had excellent tickets, standing only about four feet from the stage, the proximity to the group had its risks.
My date, a former girlfriend who loved heavy metal and died at the age of 44 due to a hard-driving lifestyle, was by my side. Some moron, attempting to dance, bumped into me. I pushed him away. Hard.
After regaining his balance, he proceeded his dance and ran into another guy. This man hit him right in the face. Took him out with one punch. The "dancer" fell to the floor, right in front of me.
Security guards carried out the annoying dancer. Nothing was said to the guy that punched him out.
The show ended with a stunt man, on fire, climbing down a rope from the high, vaulted ceilings of the Fox Theatre.
Finally, Metallica was incredible. One of the best concerts I have ever seen.
However, I digress.
American Living in Philippines Marks 11-Yr Milestone
The Highlights
As I probe into ancient memory cells, dulled by the passage of time, I recall some of the highlights over the past 11 years.
Retiring after almost 30 years of service with AT&T and moving to the Philippines was one of the happiest moments in my life. Because I had "paid my dues" and "did my time," I was ecstatic when my retirement papers came in.  Certainly, my retirement and moving to the Philippines ranks as one of the smartest things I have done. Marrying my Filipina was, however, was the smartest thing I have ever accomplished.
Adventures with Captain Tom
Manggahan adventures with Captain Tom also bring back some fond recollections. Tom was an American expat living in Guimaras. He is absolutely one of the most interesting and fun-loving people I've ever met. He married one of my wife's thousands of relatives on our island province in Guimaras.
Tom was able to get his fiancée over to the States and marry her. The happy couple is planning to come to the Philippines in October and stay for a few years. I hope that the existing travel restrictions on foreigners coming to the Philippines will be lifted by then. Currently, only foreigners with a long term visa, such as a permanent resident visa, are being allowed into the Philippines.
Captain Tom and my asawa collecting cow poop
For example, some of the fun times with Tom were when we attended a local fiesta in Guimaras. We had a smashing good time and had our picture taken with some of the local officials. Filipinos are very friendly for the most part, and usually always agree to a photo op.
Esteemed Author Paul Toplis
Meeting other good expat friends, for instance, Paul Toplis, a British man, author of the insanely entertaining novel, Justin Wise has been a highlight.Paul also lives in Guimaras. He's been married to a lovely Filipina for over 25 years. Paul and his asawa have been regulars of Friday night expat meetings over the years although the current coronavirus pandemic has put a stop to our meetings at a local hotspot, Olivia's Kitchen.
Regular Wednesday afternoon meetings at the "old" Shirven Hotel in Guimaras were also a highlight over the years (for the most part.) The meetings were attended by local expats. However, they have ended. Moreover, I did quaff a beer or two with the guys but have since severely limited my alcohol intake to a couple of beers a month. I have met many good friends over the years but would rather not list all their names here, as some of them are very private people. Furthermore, with my advanced age, I might forget someone and leave him or her out unintentionally.
"Bit" Davis from Devil's Fork, Wyoming, was one of the most interesting characters I have ever met in Guimaras. However, "Bit" left our island province before the pandemic and moved to Bucksnort, Nebraska. "Bit" is approaching 70 years old. He met a local girl in her early Twenties at a KTV bar. He's petitioning her for a K-1 Fiancée Visa to the States. Who knows? Maybe the couple will show up on "90 Day Fiancée."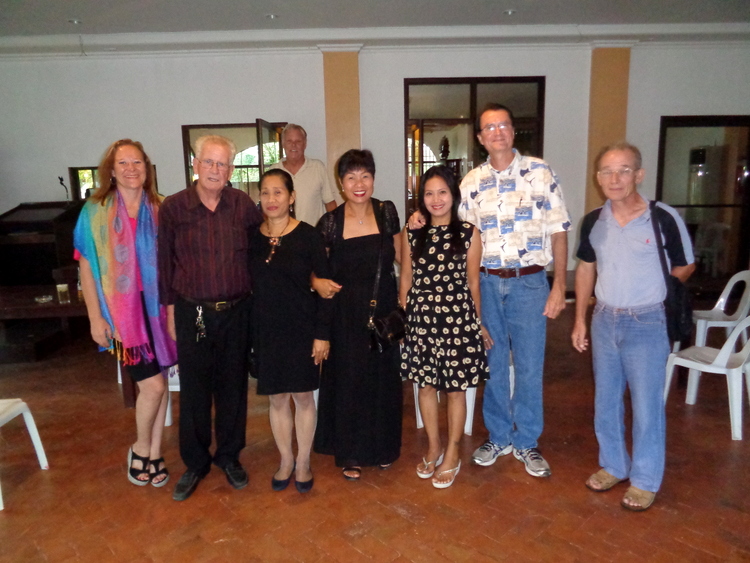 Some of the old gang from the former Shriven Hotel
Our New Home in the Philippines
Construction of our new home in the Philippines almost five years ago, was another highlight for this "American Living in Philippines Marks 11-Yr Milestone" post. A crew of over 27 workers built our 4,000 sq. ft. home with four Comfort Rooms and four bedrooms. It's an open concept home with a 1,700 sq. ft. living room/dining/kitchen space. It's our dream home in the Philippines. The next year we had a 35 ft. by 35 ft. in-ground swimming pool built. My wife appointed me the "sexy" pool boy.
In addition, one of the most important highlights during the past 11 years, of course, was the 20th year wedding anniversary my wife and I celebrated in Boracay. While the coronavirus media hype campaign had already began, we managed to visit the beautiful white sandy beaches of Boracay before any lockdowns began. It was our third time to visit this paradise in the Philippines.

However, it was the first time we had vacationed there without any relatives. In contrast to our last visit a couple of years ago, this time the waters and beaches weren't covered in any algae, and the beaches were free of litter.
Moreover, the beaches were mostly clear of vendors as they are restricted from entering the beach area now. While the restrictions are supposed to be in effect, they're not strictly enforced as some vendor still roam the beach areas.
American Living in Philippines Marks 11-Yr Milestone
That's just some of the highlights among many I've experienced the past 11 years in the Philippines. Beginning in mid-march 2020 marked one of the worst periods spent in "paradise" with the advent of strict lockdowns. While we're now able to travel to nearby Iloilo City, Metro Manila, and Cebu City currently have more restrictive lockdowns. Frankly, there's no lifting of any restrictions at this time as COVID-19 cases continue to spike in Metro Manila.
Our island province of Guimaras, however, remains COVID-19 free. We have had no recorded cases of the coronavirus, although some returning OFWs, Overseas Foreign Workers, and Locally Stranded Individuals, LSIs, had contracted the virus outside of Guimaras. Such individuals that have tested positive for COVID-19 are placed in quarantine centers.
It's been a wild ride these past 11 years. However, we're keeping our faith in God and His Son Jesus Christ to get us through these present trying times. I hope to be able to report more highlights about living in the Philippines for years to come.