While the current coronavirus crisis continues, the longest lockdowns on earth still exist in the Philippines. Moreover, a new "anti-terrorism" bill recently signed by President Duterte is causing concern among nuns and beauty queens. Because of the new law, suspects can go to jail without a warrant of arrest for up to 24 days. Nevertheless, no worries, mate, President Duterte says you have nothing to worry about if you're a law-abiding citizen. Therefore, I present, today's post, "Should Foreigners live in the Philippines?"
Should Foreigners live in the Philippines?
However, despite the continuing lockdowns and new laws that could possibly curtail civil liberties, there are still advantages to foreigners that want to live in the Philippines.
If you're new to this website, please be advised that I've lived in the Philippines continuously since July 2009. That makes me an 11-year-veteran in "paradise." I've been married to a lovely Filipina for over 20 years. Therefore, I've accumulated some insight over the years as regarding life in the Philippines.
Mr & Mrs Kano
Is it Cheaper to live in the Philippines?
One of the major reasons we decided to make the move to the Philippines was the cheaper cost of living versus the United States. First of all, is that still true today? I did some research.
I worked and lived in Springfield, Illinois for years. Therefore, I decided to compare some current cost of living expenses in Illinois' capital city to our living expenses in Guimaras. This island province in Western Visayas is our home. I derived all my Springfield, Illinois cost-of-living expenses from payscale.com.
Payscale.com claims that Springfield, Illinois' cost of living is 5% lower than the national average. Living in a province like Guimaras is also cheaper than living in a major metropolitan area like Metro Manila.
In fact, Numbeo.com claims that it would take approximately 1,670 US dollars to live in Iloilo City, a 15-minute pump boat ride from Guimaras. In contrast, Numbeo states that it would take 130,000 pesos, 2,600 USD to have the same standard of living in Metro Manila. That's about 1,000 more dollars a month.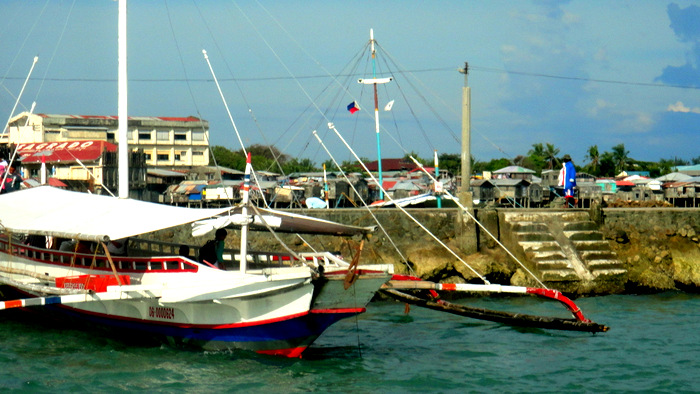 Pump boats in Iloilo City
Can You Own Property in the Philippines?
As I noted earlier, I'm married to a Filipina. Therefore, my spouse can own land in the Philippines. As a foreigner, I cannot own land. Consequently, the title for the three-acre lot our 4,000 sq. ft. house sits on is in my wife's name. While the deed that we had drawn up by a local lawyer also has my name on it, my wife is the sole legal owner. My better half now has clear title to the property. That process took almost two years and was accomplished by my brother-in-law.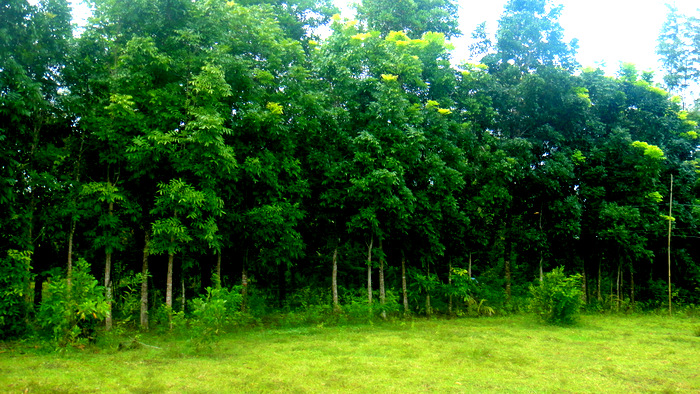 Our property in the Philippines
My best-selling book about moving to and living in the Philippines, "The Philippines Expat Advisor" has a detailed section on the issue of property ownership in "paradise."
Cost of Living in Springfield, Illinois by Expense Category
Housing, Utilities & Transportation
Springfield's housing expenses are 20% lower than the national average. Utility prices are 11% lower than the national average. Transportation expenses like bus fares and gas prices are 2% higher than the national average.
Median Home Price
Payscale.com reports that the median home price in Springfield, Illinois, is $277,600, almost 14 million pesos. Property taxes on that home in Springfield could run over 6,000 US dollars year since Springfield has a property tax rate double the national average. We pay 15,000 pesos, 300 USD a year, in taxes for our 4,000 sq. ft. home with four bedrooms, four bathrooms, along with an outdoor in-ground swimming pool.
We had a crew of 27-men working to build our home in the Philippines. We paid our laborers 300-350 pesos a day, six to seven US dollars. Our carpenters were paid from 400-500 a day, eight to ten dollars. If you're wondering how much our new home cost, I'll only say that it cost considerably less than the median price of $277,600 listed for Springfield, Illinois.
Our new home in the Philippines
Median Rent Price
The median rent in Springfield, Illinois is $869.60 a month, considerably more expensive than what you can find in the province, especially in Guimaras. We have a friend that rents a two-bedroom home on a main road for only 7,000 pesos a month. Compare that to the over 43,000 peso equivalent in Illinois.
Energy Bill
The average energy bill in Springfield, Illinois is $149.39 a month.
Our monthly energy bill runs about 80 US dollars a month, 4,000 pesos. I operate our air conditioner from mid-April through mid-June. While energy costs in Springfield average $149.39 a month, 7,450 pesos, we don't have any heating costs to add to our energy bill in the Philippines. When we left Central Illinois in 2009, our heating bills during the winter months had skyrocketed to 400 US dollars a month. We had all electric-heat and the local utility company had a price increase that tripled our bills. 
Our dirty kitchen in the Philippines
Gas
$2.66 a gallon is the average price of gasoline in Springfield, Illinois. After converting liters to a gallon, liters being the standard measurement for fuel in the Philippines, we pay about three USD a gallon for diesel. We fill the tank of our diesel-powered Ford Ranger once a month.
Food & Grocery
Loaf of Bread
A loaf of bread at a supermarket in Springfield, Illinois averages around $3.18. I buy Gardenia Wheat Bread for $1.56 and use about two loaves a week.
Gallon of Milk
Here's where a big difference in prices comes, a gallon of milk in Springfield, Illinois, costs $1.85. A half-gallon of real, fresh milk imported from California and purchased at S&R costs $5.00. A liter of UHT (Ultra-Heat Treatment) "fresh" milk with an expiration date of six months or beyond from date of purchase runs between 70-90 pesos.
I love milk. The "real" milk from S&R is not always available so I often have to settle for the heat-treated "milk" available in the Philippines.
Carton of Eggs
A carton of one dozen eggs in Springfield, Illinois cost $1.73. We pay about the same for a dozen, $1.68 USD. However, we buy our eggs in a 30-carton tray. Moreover, my ever-thrifty asawa now has a chicken that recently hatched a bunch of new chicks. She informs me that the chicken will lay the eggs we need, therefore making us a bit more self-sufficient.
Bunch of Bananas
A bunch of bananas costs $3.21 in Springfield. Our cost? Nothing. We have about 30 banana plants on our property along with cashew trees and papaya.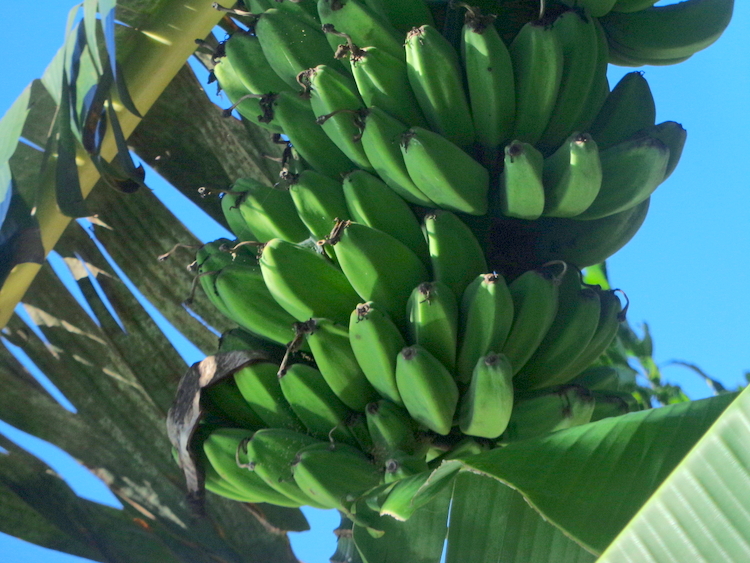 Hamburger
Payscale.com lists the cost of hamburger in Springfield at $4.04 a pound. At S&R in Iloilo City, we buy quality meat, the best tasting meat we've had since moving to the Philippines. The Montana brand of 88% lean ground beef costs 3.36 in US dollars.
Healthcare
Doctor's Visit
A doctor's visit in Springfield, Illinois averages $115.6. In nearby Iloilo City the average fee we've paid over the past 11 years is 350 pesos, just five US dollars. In addition, I saved a ton of money this past February when I had my gall bladder removal surgery done.
Dentist Visit
An average dentist visit in Springfield can set you back almost 100 dollars, $99.10. However, in Guimaras, our local dentist, who used to charge 10 USD to have a tooth pulled, charged me 30 USD to have a tooth removed a couple of years ago. That fee included X-Rays and a local anesthetic.
Optometrist Visit
In Springfield, Illinois, an optometrist visit may cost you $108.10. Our local eye doctor located in Iloilo City SM Mall doesn't charge for an optometrist visit if you purchase your new prescription glasses from her shop. I bought a cheap new pair of single vision glasses for about 20 dollars a few years ago. Designer frames can set you back much more.
However, as I tell my loving wife, "I'm not going to a fashion show" if she comments on the attire I'm wearing when we go out. Therefore, I do not need any so-called "designer" frames.
Visiting with some Army troops in Guimaras
Veterinary Visit
A visit to your local vet in Springfield, Illinois may cost you $53.98. Our local veterinarian only charges 200 pesos for a visit to our home, four US dollars. With eight dogs on our property, it's much more convenient to have the vet make a "house call."
Should Foreigners live in the Philippines? No End to Lockdown in Sight says Duterte
In conclusion, should foreigners live in the Philippines? If you're considering a move to the Philippines or you're an expat already living here, consider a statement made by President Duterte on Wednesday, July 8, 2020:
Duterte said the Philippines will be in "deep sh*t" if it totally reopens the economy "in wild abandon" amid the coronavirus disease 2019 (Covid-19) pandemic. That's according to a report in The Manila Times.
Therefore, consider one of the longest lockdowns in the world to continue. Duterte, a lawyer, not a scientist, also claims that the Philippines is still in the "first wave"
"Have we arrived at the second wave? I don't think so. We are still grappling with the first wave," Duterte said.
Never mind that the Philippines Dept. of Health Secretary already stated that the Philippines was in the "second wave" weeks ago.
Journalist Detained for Lowering Face Mask to Drink Water
In another instance of the draconian lockdown in the Philippines, journalist Howie Serverino was detained by Quezon City "law enforcers" for lowering his facemask to drink water on Wednesday, July 8. According to a report from Rappler.com, Severino was biking with two friends. They took a break at a bike shop along Mother Ignacia Avenue.
"We were all wearing masks. We bought drinks at the store next door, and drank them after pulling down our masks below the mouth (because we have not learned to drink yet with masks on)" he said in a Facebook post.
He added, "I had just finished my drink and returned the bottle to the store before I could pull my mask back up, when at least 3 vehicles of QC law enforcers arrived to tell me I was talking without my mask covering my mouth."
He was taken to the Amoranto Stadium for a "seminar" on the coronavirus before he was allowed to go home. Hundreds of others were detained at the stadium risking the possibility of violating expert advice of preventing mass gatherings.
Frankly, such stories are troubling to me.
Weigh the Pros and Cons
Is a cheaper cost of living, especially housing costs, and cheap local labor enough reason to move to the Philippines? Are these reasons enough to continue to live here?
That's an individual choice. However, we're going to stick it out. Moreover, progressive politicians like Iloilo City Mayor Jerry Treñas give me a glimmer of hope.
The Daily Guardian reported on Wednesday, July 8, 2020, that Mayor Jerry Treñas wants to revive the city's economy amid the COVID-19 pandemic. The Mayor is going to appeal to regional and national authorities to ease restrictions on capacities and operations of businesses.
Treñas, along with other officials, went to four malls in Iloilo City to check on their compliance with the health standards set by national and local authorities.
After the visit, Mayor Treñas said the city was safe. The malls were complying with the Department of Health's (DOH) health standards. In addition, the Mayor wants to encourage more economic activities in the city.
He said that he would be writing to the Western Visayas Regional Task Force on COVID-19 (WVRTF) as well as the Inter-Agency Task Force (IATF) on the Management of Emerging Infectious Diseases to allow more people in restaurants.
"I will be writing to the [WVRTF] requesting them to already allow up to 75 percent of the capacity of the restaurants [editor's note: current capacity is 50 %], because as we're seeing, we're following the standards. I will also write to the national IATF to allow restaurants to sit families together, because when they are together at home, they don't wear masks or do social distancing. We should encourage more activities," he said.
Kudos, Mayor Treñas, you're on the right track, sir. Its' good to hear some good common sense coming from our local politicians.