Because of the coronavirus quarantine, I'm enjoying the upbeat benefits of the current lockdown. Our province's ban on mass meetings such as fiestas, for instance. While I've opined on this topic earlier, please bear with me. I don't get out of the house much now (not that I bore any resemblance to a social butterfly before.) Therefore, being old and being bored, I tend to repeat myself. Today's post opines on a variety of topics including this blockbuster "Announcing Captain Tom's Triumphant Philippines' Return."
Members Only: It's an Old Guy Thing
Furthermore, don't worry youngsters. If you find your father or grandfather repeating the same stories from their youth that you've heard a thousand times before, you, too, will eventually do the same.
It's inevitable.
It's an old guy thing.
Frankly, I don't remember my own dear Mother ever repeating stories, God bless her. Certainly, Mom didn't get much of a chance to share any tales since Dad dominated the majority of conversations. Hence, I believe this is simply something we old male geezers do, repeat ourselves. It's in our DNA.
It's been blissfully quiet in our barangay since the quarantine period began.
Sweet Sounds of Silence Surround our Barangay
A few neighbors are still showing off their massive mega-watt sound systems despite the enhanced quarantine.
Since many retail outlets like Vic's Imperial offer installment plans, some folks can afford to buy their sound systems on credit. It's a status symbol for some. Although they might not even have enough money for pan de sal, they desire that sound system. "Keeping up with the Joneses" is not just a Western ideology.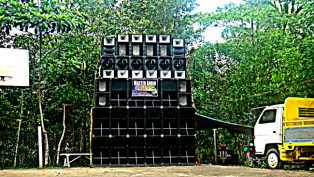 While I might still occasionally hear music drifting into our bedroom window, it's not very loud. Because of the quarantine, however, the "music" doesn't last very long.
I believe the boneheads playing the noisy music may be worried about the police paying them a visit.
"I Can't Get No (Satisfaction)"
While there has been a 10:00 ban on loud music before the present lockdown, fiestas always seemed to be exempt from that rule, however. Moreover, aside from fiestas, that 10:00 ban is enforced in Guimaras.
One Friday night, one of our local expats was wailing "I Can't Get No (Satisfaction)", a Rolling Stones classic. Our foreigner friend was with some other expatriates and their wives at a local karaoke bar in Guimaras. It was past 10 pm. The police arrived. The music was turned down. No one had to go to jail, thankfully.
The Olivia's Kitchen Incident
Similarly, while I wasn't present during the aforementioned episode, I do recall the police stopping by Olivia's Kitchen one Friday evening. I was sitting in the back of the restaurant spreading B.S. with some other expats. Suddenly, I saw flashing lights at the eatery's entrance.
I went over to investigate. It was the police. The time was 10:05 pm. Lowered immediately was the volume of blaring outside speakers spitting out tunes.
What about a Permanent Fiesta Ban?
Meanwhile, let me continue in the same vein. What about a permanent fiesta ban? What's wrong with breaking away from a tradition that began with the Spaniards? After all, Spain kept the Philippines in virtual slavery for over 300 years.
Of course, the Spanish occupation of the Philippines also brought along Catholicism, which is still the predominant religion in this country. Moreover, many of the festivals and fiestas celebrated in the Philippines have religious overtones. Consequently, this is probably another reason that the Philippines love their fiestas.
Prohibited for now, with the current quarantine situation, are church services. My friend, Captain Tom, is returning to the Philippines this coming October with his lovely bride, LenLen (one of my wife's thousands of relatives.) Tom used to reside at the Trappist Monastery in Guimaras. We attended Sunday morning mass at the monastery in the past.
The Triumphant Return of Captain Tom
Captain Tom, aka, "Brother Tom," left the monastery to reside at a compound we referred to as "The Farm." However, Tom still performed his oblate (layperson) duties at the Monastery. Moreover, he now had more freedom to quaff a bottle of Gold Eagle (or two) and to have a girlfriend (or two.) Full-fledged "brothers" do not have that option.
I am excited as a turd in a toilet bowl to have Captain Tom return to the Philippines, albeit only for a three-year term. (Yeah, I've probably mentioned this before. However, remember that old guys repeat themselves.) Tom and I shared many an adventure on our island province that usually involved imbibing a bottle of San Miguel Pilsen (or two.) (Tom sprung for the more expensive San Miguel when he was out on the town, and, Gold Eagle, at only 14 pesos, 28¢
, a bottle at the time, wasn't readily available at the local watering holes.)
However, I won't be able to share a Pilsen with Tom since I am on a restricted diet (having lost 28 pounds in the past couple of months.) My gall bladder removal surgery in February demanded that I make some healthier lifestyle choices and giving up any alcoholic beverages was one of those options.
Facemasks in Guimaras
We're now required to wear facemasks anytime we go out in public in Guimaras. Nearby Iloilo City, Cebu City, and the entire Metro Manila region also have the same requirement. We've been donning facemasks anytime we go out since the quarantine began.
Moreover, having your face covered also has positive benefits aside from protecting oneself and others from the coronavirus. For instance, one of my female coworkers at AT&T back in the States would always comment on the rare occasion when I would completely shave my beard.
"Please grow you beard back, Dave," she would opine, "It helps to cover your face."
Consequently, wearing my facemask would probably have been a big plus for my former co-worker. Whether a facemask might benefit the appearance of others in public, is, of course, up to one's own personal opinion.
Sexy Pool Boy Duties on Hold
Since we're officially in the dry season in the Philippines, our swimming pool's water level has gone down. During last year's drought, we let the water level go down. I didn't see any sense of using water from our two wells to fill up the pool. Once the rainy season began last year, I was able to manage to clean the pool and have it ready for our resident swimmers again.
Once the rainy season starts again, I'll wait for the pool to fill up (the water level is only down about four inches.) However, this year we'll hire a local professional pool cleaner from Iloilo City to restore the pool and get it ready for swimming.
After this current coronavirus crisis is over, we're planning a party to celebrate the recent concrete paving of our road and Captain Tom and LenLen's return. Since Tom and asawa aren't returning until this October, we'll have plenty of time to get the pool ready.
I hope that things will have returned to normal by then in the Philippines and all across the world.
Be safe.