Pitiful Poor Porter Presence at Iloilo Port Authority
UPDATED 01-31-2020
Because I was waiting for a response from Yohan Express, I've held off on this post. Furthermore, it's been three days since I left a message for the fast craft company. I've had no reply from Yohan. As a result, I'm going ahead with this update "Pitiful Poor Porter Presence at Iloilo Port Authority."
The Very Punctual Yohan Express
First of all, my asawa (spouse) and I have been very satisfied with the Yohan Express fast craft plying the Iloilo Strait. The fast craft leaves promptly on the hour from the Jordan, Guimaras RORO Wharf. It also leaves straightaway on the hour from the Iloilo Philippine Port Authority, PPA, Terminal located at Fort San Pedro.
However, the porter service at the Iloilo PPA is dreadful. In contrast, the porters at the Jordan RORO in Guimaras have been providing exceptional service, especially "Superman" Floyd and "Eager" Eddie.
Pitiful Poor Porter Presence at Iloilo Port Authority
The problems with the Iloilo City porters reached a low point this past Tuesday afternoon, January 28, 2020. We had gone shopping in the "City of Love" and had several bags to carry aboard the fast craft along with a 20 kg. bag of Good Boy Dog Food. Now 20 kilos is about 46 pounds. Not that heavy, but with the grocery bags we had, we needed some assistance. I'm an old geezer.
We didn't get any help.
While my better half was purchasing our tickets for 4:00 pm trip back to Guimaras, I was trying to get a porter.
I spoke to three different porters, all who refused to help. Every time I asked for a porter for the Yohan to Guimaras, each porter said "over there" and pointed to the Yohan ticket office.
I walked over to the office. No porter was in sight. I finally took the 20-kilo dog food bag along with a couple of the grocery bags and headed over to the Terminal Entrance. My wife carried three other bags.
No Porter Help in Sight until We Board
I complained to the security guards at the Terminal Entrance. I've been speaking with them for the past couple of months. Very friendly men. They've helped me get a porter in the past. I dragged the dog food bag past the conveyor belt where the packages are supposed to go for a security check.
Finally, as we started walking towards the boarding gate, two porters suddenly popped up wanting to help. By that time, I wasn't too happy with the situation and told them that I came this far with the stuff; I'll just bring it on the fast craft.
"The Foreigner has a Bad Attitude"
I explained our problem to the ticket taker on the Yohan. He listened carefully and suggested I speak with a Port Authority Officer at Iloilo. When we arrived at the Jordan RORO Wharf, I spied "Superman" Floyd (he occasionally wears a Superman t-shirt.) Floyd quickly got our merchandise off the fast craft.
Our parking lot attendant, Richard, pulled up with our XLT Aurora Blue Ford Ranger, and Floyd and Richard loaded our truck. We always text Richard ahead of time as we approach the wharf.
As my asawa drove us home, she remarked that some people waiting in the terminal said, "The foreigner has a bad attitude."
"Well, they had no idea what was going on because they don't understand my English. I exclaimed.
Note to Filipinos: If you don't understand what a foreigner is saying, don't jump to conclusions and make snap judgments. I had every right to be angry.
We May be Leaving the Yohan Express
This is not the first time we've had trouble with finding a porter to help us at the Iloilo Port Authority. We usually have heavy boxes and multiple bags of dog food to carry. Frankly, after ten years of using the porter service at Ortiz Wharf and riding the pump boats, we've always been able to find a porter to help us.
I'm getting ready to ditch the Yohan Express due to the poor porter service at the Iloilo PPA. While I would rather ride the Yohan Express and feel it's safer, I'll probably take my chances on the pump boats again. Tarps are covering a portion of the motorized banca boats and if the weather is fair, we'll probably go back to using them. At least we can count on dependable porters at Ortiz and at the Jordan Wharf.  
Scenic Ortiz Wharf in Iloilo City
UPDATED 12-02-2019
Seems like it was time for a change. My asawa (spouse) and I have been using the pump boats from Guimaras to Iloilo City for over 10 years. Because of the Iloilo Strait tragedy that claimed 31 lives on August 3, 2019, motor banca boat trips have become unreliable. Trips are routinely delayed or canceled depending on the weather conditions.
New Passenger Vessels Ply Iloilo Guimaras Route
Consequently, although I posted this article about the Yohan Express earlier, we hadn't used the fast craft service until this past Sunday, December 1, 2019. I was concerned about the safety and reliability of the pump boats; therefore, I made an executive decision. Ditch the pump boats and try Yohan Express.
Because of the fact that we always have groceries and other merchandise to bring back from Iloilo City, I wasn't sure what kind of porter services would be available. I wasn't keen to a change. We've been using the same porters in Guimaras and Iloilo City ever since we retired to the Philippines in 2009. Changing porters might pose some problems.
The Yohan Express from Jordan, Guimaras to Iloilo City is located at the RORO, Roll-on, Roll-off ferry wharf that is separate from the Jordan Wharf where the pump boats are located.
Fast Trip to Iloilo City
Richard, our parking lot attendant, drove us to the Yohan Express ticket office in our Ford Ranger XLT. Trips from Jordan, Guimaras, leave every hour on the hour beginning at 5:00 am. We had plenty of time to shop as the last fast craft from Iloilo City to Guimaras leaves at 10:00 pm. Two boats operate. One going to Buena Vista, Guimaras, and one to Jordan, Guimaras.
We arrived at the ticket office at 8:45 am. We promptly paid for our tickets and boarded the fast craft. Ticket prices are 50 pesos each, one U.S. dollar. Ticket prices at the Jordan Wharf are 22 pesos each for the pump boats.
The vessel left promptly at 9:00 am and arrived a scant eight minutes later to the wharf at Fort San Pedro in Iloilo City. The banca motorboat trip from Jordan, Guimaras to Parola Dock in Iloilo City would normally take about 20 minutes. We sat in air-conditioned comfort in cushy seats while an Aquaman movie was being shown on the television monitors.
While the volume for the movie was too loud, overall, the trip was very pleasant. To sit in the air-conditioned comfort of the Yohan Express was far better than baking in the sun on the far more dangerous pump boats.
More comfortable trip now to the big city
The Porter Situation
The last phase of our shopping trip to Iloilo City that Sunday was at S&R. We had two large boxes to take home to Guimaras. We enlisted two porters at Iloilo City to help us, each porter carrying one box. I asked the employees manning the ship's manifest inside the waiting area how much we should pay the porters. We were advised to give each of them 50 pesos, one U.S. dollar, for each box.
Although I saw some complaints on the Yohan Express Facebook page about "greedy porters" we didn't have any problems. One FB user reported that the Iloilo City porters charged her 100 pesos a box.
Perhaps the complaints have registered with those in charge since we only paid 50 pesos for each box. We actually paid our former porters in Iloilo City and Guimaras more than what we had to pay the porters at Fort San Pedro and the RORO wharf in Guimaras.
"Romeo, Romeo, Wherefore art thou, Romeo?"
These porters are different from the porters we hired at Parola and Ortiz wharves in Iloilo City. I asked one of the porters his name.
"Romeo," he replied.
"Where's Juliet?" I asked. It's a question he's probably heard a million times.
"She's at home," he answered with a smile.
We were able to board the fast craft at 3:45 pm and we promptly left at 4:00 pm, arriving in Guimaras in only eight minutes. My spouse paid 25 pesos for a "luggage charge" for each box. We also had to pay the pump boat captains for cargo at Jordan Wharf, also.
The porters at the RORO wharf in Jordan were paid 50 pesos for each box they unloaded, the same amount we paid the Iloilo City porters. The porters moved on once they unloaded our boxes.

Boarding ramp to Yohan Express makes it easier for the old geezer
The Yohan Express Positive Experience
Our parking lot attendant, Richard, picked us up. We always text him ahead of time once we approach Guimaras. Richard helped us load our boxes.
The Yohan Express experience was a positive one. Although the cost of tickets for the fast craft is higher than the pump boats, it's well worth the extra cost due to the comfort and safety.
Furthermore, it's far easier and safer for this old geezer. It's much easier for me to walk across the ramp to the fast craft than navigate the steep and tiny crumbling stairs at the Parola Wharf in Iloilo.
We'll be using the fast craft from Yohan Express from now on.
Here's the original article that appeared in August 2019:
After last week's fiasco at Parola Wharf in Iloilo City, I was glad to read there will be new safer options for sea travelers. "New Passenger Vessels Ply Iloilo Guimaras Route" is welcome news. Furthermore, it's something that's been needed for years.
Passengers Complaining about Lack of Tarpaulins
Because passengers are complaining about the lack of tarpaulins on the pump boats operating from Guimaras to Iloilo and vice versa, the Coast Guard is pleading for understanding.
It's a classic case of "Damned if you do and damned if you don't."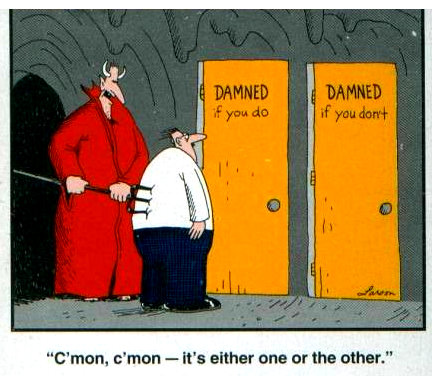 The Far Side® and the Larson® signature are registered trademarks of FarWorks, Inc. Copyright © 2007 FarWorks, Inc. All Rights Reserved.
Since 31 people lost their lives in the Iloilo Strait sea tragedy on August 3, 2019, the Coast Guard has implanted new safety regulations. Banca boats now have to operate with their tarps removed or rolled up. The tarpaulins may have contributed to the capsizing of the three banca boats that fateful Saturday afternoon.
Consequently, is it hot? Yes, but common sense dictates that you bring an umbrella, a jacket, or something to cover yourself. I covered my fat, bad kano head with my customary bandana when we went on the pump boats last week. My asawa used a scarf to protect herself from the sun.
"Every little thing we do, you complain, but we are trying our best."
That's a quote from Iloilo Coast Guard Commander Capt. Erlinda Benliro in the Daily Guardian.
New Passenger Vessels Ply Iloilo Guimaras Route
Two additional passenger vessels of Atlantis Yohan Express Corp. (AYEC) began operations on the Iloilo-Guimaras route this past Saturday and Sunday. Above all, it's a welcome option for the riding public providing a safer and more convenient alternative to the pump boats.
MV Yohan Green has a total capacity of 270 passengers. It started its operation on Saturday from Fort San Pedro, Iloilo City to Jordan Wharf in Guimaras.
The trip can last for about 10 to 15 minutes for a P50 (one US dollar) promo fare. However, by next week, the price is expected to adjust at P70 for aircon and P50 for economy.
The MV Yohan Cruiser with a total capacity of 300 passengers also started its operations from Fort San Pedro, Iloilo City to Buenavista Wharf, Guimaras on Sunday.
The two vessels are equipped with Wi-Fi in addition to its air-conditioned spaces. Passengers may also choose to ride the economy, tourist, or business classes.