Seems like after living here for over 10 years, I wouldn't have 10 new reasons for retiring to the Philippines. Because every day can be a fresh adventure in the archipelago, new reasons for moving to the Philippines to spend your "Golden Years" often crop up. Hence, today's post: "Top 10 New Reasons for Retiring to the Philippines."
Reason #10: Amazing Geography Lessons from CNN Philippines' Pia Hontiveros
Pia Hontiveros is the anchor for the 6 pm broadcast of CNN Philippines News Night. The news is broadcast mainly in English unless Pia gets into a conversation with a Filipino who seems to have limited English skills. I, personally, have limited Tagalog skills.
However, Pia committed a faux pas recently. She was commenting on the Arctic blast that hit portions of the United States bringing record low freezing temperatures to some cities. Pia made an interesting comment.
"Thousands of cancellations have already been made in the STATE of Chicago," Hontiveros announced.
I grew up in Central Illinois and spent 56 years there. While Chicago likes to think they are a kingdom unto themselves, the reality is that Chicago is a CITY in the STATE of Illinois.
Possibly just a simple gaffe on her part. Frankly, I probably made a ton of mistakes when I was a part-time DJ for country station WFMB-FM years ago in Springfield, Illinois.
Reason #9: Two Dairy Queens are Opening in Iloilo City
OK, I get it. While even a trained monkey knows that Dairy Queens are probably already near you (if you reside in the States), I couldn't resist putting DQ on my list.
The fact that I'll soon be able to hop on a pump boat or fast craft to nearby Iloilo City, about a 15-minute trip, and buy a tasty Blizzard gives me a "feeling of home." Furthermore, pretty pinays or young men wearing lipstick probably don't staff your local stateside Dairy Queen.
Do they?
Reason #8: Jollibee is Coming to Guimaras
Can you believe it? The most popular fast food chain in the Philippines is coming to our tiny island province. The opening is reportedly scheduled for this coming December 24, 2019.
Furthermore, construction on the new outlet didn't begin until the first week of October 2019. Crews are working 24/7. They reportedly have to stay on site, even during the evening hours. That prevents them from going to local KTV bars and having a few too many bottles of Red Horse and catching STDs.
Amazingly, the crews are said to be already working on the third floor! A truly startling fact considering "Filipino Time." A nearby establishment that local expats used to hang out has been working on a new coffeehouse/karaoke bar on their site for over two years!
While I'm not a big fan of the huge red bee's joint, I'm sure the locals will flock there. Of course, if you're in the States you can visit Jollibee in California, Nevada, New York, Washington, Hawaii, and New Jersey.
The company is also located in Vietnam, Brunei, Hong Kong, Singapore, Macau, Malaysia, Canada, Saudi Arabia, UAE, Qatar, Kuwait, Bahrain, Oman, Italy, and the United Kingdom.
No word on whether Jollibee's will stay in the United Kingdom once, and if, the Brexit deal ever goes through.
On the other hand, you could visit the new Jollibee when it opens in Guimaras.
Furthermore, if you live in the Philippines, you have over 1,150 stores you could stop at.
Reasons #7: Philippines has New Drug Czar
This is potentially good news for the potheads and meth users out there. Vice President "Leni" Robredo is the new Drug Czar of the Philippines. She has been given permission to stop "Oplan Tokhang" if she has a better strategy to fight the country's drug menace.
The anti-drug campaign "Oplan Tokhang" is the house-to-house "knock and plead" operation led by policemen. If a suspected drug dealer doesn't surrender and opens fire on police, the police return fire. Thousands of suspected drug dealers have been killed already.
Robredo had previously intimated she wanted to stop the war on drugs in the Philippines. However, she soon claimed she meant she only wanted to "tweak" the war on drugs. Guess that's better than her "twerking" it.
President Dutere, therefore, offered her the position of the Philippines New Drug Czar. "Perhaps it was my instinct as a mother that I accepted this responsibility," she said.
Frankly, this is an excellent opportunity for any drug users or dealers wanting to come to the Philippines at this time. Robredo doesn't want any more drug dealers killed.
Reason #6: Drive Drunk with Little or No Repercussions
The Land Transportation Office (LTO) of Bacolod City confirmed that they started on Monday, August 20, 2018, the implementation of Republic Act 10586 or Anti-Drunk Driving Act of 2013. Moreover, I'm not making this up. This comes from the SunStar Bacolod.
Furthermore, statistics provided by the Land Transportation Office (LTO) revealed that between January 1 and June 30, 2018, only 100 motorists were apprehended for violating Republic Act 10586, or driving while under the influence of alcohol or dangerous drugs and similar substances.
Frankly, I've never seen any checkpoints in Guimaras during the evening to apprehend drunk drivers. Maybe the local police could step up their patrols during the night. Sightings of Bigfoot are more common than nighttime sightings of our local police.
At one time, it was reported that the World Health Organization, WHO, had donated eight Breathalyzers to law enforcement officials to combat drunk driving in Guimaras. I've heard that the Breathalyzers were put on a shelf and never used since no one has been trained to operate them.
While this is meant to be a satirical piece, sadly, a drunk driver recently killed one of our favorite waiters from Olivia's Kitchen. The young man was on his way home from work. He left behind a young child. The drunk driver also died.
Reason # 5: Drink Cheap Beer
Drunk driving in the Philippines may be fueled by cheap beer and alcohol. Despite recent increases in the "sin tax" for alcohol and cigarettes, buying a beer at your local eatery is still relatively cheap.
I can still buy a bottle of beer at one of Guimaras' upscale establishments for 50 pesos, a buck. You used to be able to buy a bottle of Gold Eagle for 15 pesos, 30¢, at the store. A "Carpenter's" bottle of Tanduay Rhum used to sell for 25 pesos.
If you enjoy drinking as a hobby, and want to work on your future cirrhosis of the liver, the Philippines is the place for you. However, please, don't drink and drive. Have a tricycle driver or friend take you home.
Reason #4: Smoke Cheap Cigarettes
That said smokers could escalate their possibility of getting lung cancer in the Philippines. Again, despite the "sin tax," the cost of cigarettes in the Philippines is still cheap. I've never smoked but with cigarette taxes in the city of Chicago alone at $8.17 a pack, the Philippines might just be a dream retirement destination for smokers.
A pack of cigarettes can range from 65 pesos, 1.30 US dollars, a pack (or cheaper) to 92 pesos, 1.84 USD, for a pack of Marlboros.
Be advised, however, that some cities in the Philippines have strict anti-smoking ordinances. In fact, 99 smokers in Iloilo City were recently busted for smoking in public places.
Reason #3: City Sidewalks are Clear
Thanks to President Duterte's orders to clear all city streets and sidewalks, we're able for the first time in 10 years to walk down the city sidewalks in nearby Iloilo City without any obstructions.
OK, there are some sidewalks that are blocked, however, but not by vendors. There are vehicles that block the sidewalks along many of the streets downtown.
City streets in Guimaras are also clear. It's a welcome relief from having to navigate our Ford Ranger XLT around parked jeepneys and tricycles that were clogging the streets.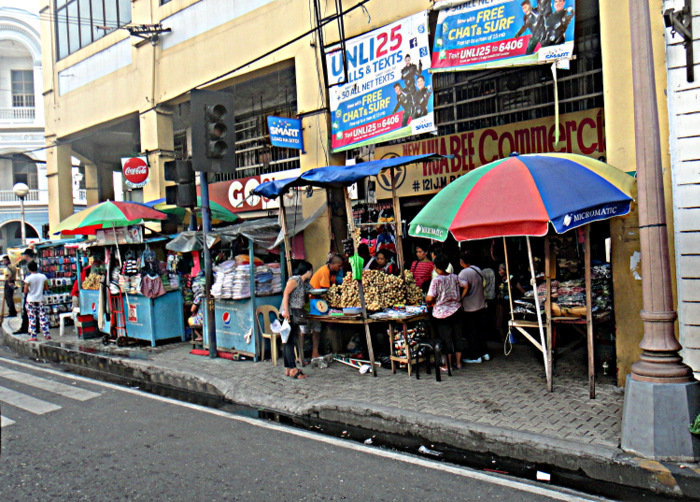 Reason #2: Inflation is Down
Inflation was at just 0.8% this past October.
October's inflation figure is the lowest since May 2016. Year-to-date, inflation now stands at 2.6% in the Philippines.
Rappler.com reports the downtrend was primarily due to the annual drop in the index of the heavily weighted food and non-alcoholic beverages, as well as transportation costs.
In January 2019, the inflation rate was 4.4 %. Last year, 2018, inflation hit 6.7% in September and October.
Reason #1: A Filipino "Pastor" Can Stop Earthquakes
The self-appointed "Son of God" and "Owner of the Universe," leader of the so-called Kingdom of Jesus, Apollo Quiboloy, recently claimed to stop an earthquake.
Quiboloy said an earthquake in Mindanao last month ended when he commanded it to stop.
"You should thank me for stopping the earthquake because otherwise many of you will be dead," he told his followers.
If you're worried about earthquakes, why not consider retiring to the Philippines. Maybe Quiboloy can even command the "Big One" to stop. The long-overdue massive earthquake, if it hits Metro Manila, could kill at least 37,000 people and injure 110,00 individuals.
Furthermore, if you're wanting to give your own country's Miss Universe candidate an edge, maybe Quiboloy can help you out. He allegedly claimed to be the one responsible for Catriona Gray's win as Miss Universe.
The Davao-based pastor allegedly also said Catriona's win was because of his intervention and his direct hand as the God of the Universe.
Moreover, there you have it, my "Top 10 New Reasons for Retiring to Philippines." Leading a boring lonely life fraught with distress? Consider a move to the Philippines. You just don't know what will happen next.
(Featured image courtesy of pixabay)