Have you considered moving or retiring to the Philippines? Because you're reading this article, there's a good chance you are. Consequently, this post, "5 Risky Problems Foreigners Face in Philippines," should prove useful to those considering a move to "paradise."
5 Risky Problems Foreigners Face in Philippines
First of all, what are the riskiest problems a future expat to the Philippines might expect? Let's begin this list with the following:
Problem #5: Inadequate Healthcare
While major metropolitan areas in the Philippines oftentimes have physicians and hospitals that rival their Western counterparts, provincial and rural locations don't always have first-class healthcare facilities.
Our local provincial hospital doesn't provide a reasonable level of adequate healthcare.
We have to take a pump boat or fast craft to nearby Iloilo City, which is about 15 minutes from the Jordan Wharf. The wharf is another 20 minutes or so from our home.  As a result, if I have a heart attack, chances are, I'll be dead by the time we arrive in a hospital in Iloilo City. However, there is a new private hospital being built only 10 minutes from our home that may provide us with a better alternative than the provincial hospital.
Although I don't have a history of heart trouble, maybe I should carry around some aspirins with me. Dr. Oz says to chew the aspirin and don't swallow if you feel a heart attack coming on.
I've given this advice before… if you have any serious medical conditions please consider even moving to the Philippines in the first place. However, if you're determined to move to the archipelago, do your homework. Research the hospitals near the location you plan to live.
The PhilHealth Option
Get the advice of other expats. Make sure you have a good health insurance plan that is accepted in the Philippines. I'll be speaking with the General Manager of our local PhilHealth office later this month. I met the gentleman recently at a local fiesta. PhiHealth is the national insurance plan of the Philippines.
I asked the gentleman if, as my wife's legal husband, would I still be covered by PhilHealth as her dependent under the new universal health care act of the Philippines. Our current coverage ends on December 31, 2019. He advised me that he would be attending a seminar in Cebu City next week that will address those concerns.
The helpful manager invited me to his local PhilHealth office after the seminar so I could find out the answer to my question. I'll publish the results of that meeting in a future post.
Problem #4: Safety & Security
Above all, I get it. The generous consensus for years has been for foreigners to stay out of Mindanao. Any travel advisory about going to the Philippines will invariably warn any travelers to stay out of the Sulu Archipelago due to crime, terrorism, civil unrest, and kidnapping.
The U.S. Department of State even advises visitors to reconsider travel to other areas of Mindanao for the same reasons stated above. While there probably are foreigners living in Mindanao without any safety or security issues, I would advise any foreigner considering retiring to Mindanao to carefully consider that move. We know of friends back in the States who are married to Filipinas from Mindanao. The wives, whose relatives are living in Mindanao, may possibly understate the dangers of living there in order to live close to their loved ones. That's understandable. However, I would proceed with caution.
Therefore, while I do know of foreigners who have visited Mindanao and even live there, I personally have never been there. As a result, I can't give you a first-hand account on how safe Mindanao is. With the recent demise of the top ISIS leader, Abu Bakr al-Baghdadi, security warnings have increased due to fears of retaliation from the Islamic terrorist organization.
All is Not Peaceful in Guimaras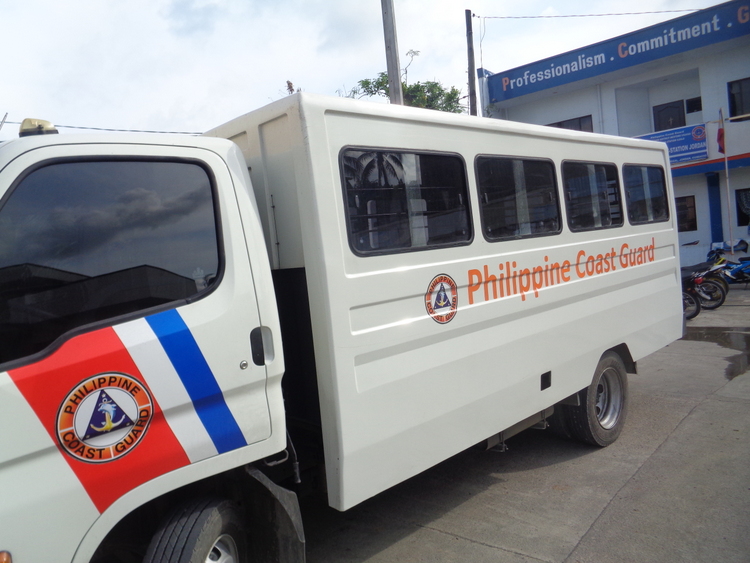 However, all is not peaceful in our home province of Guimaras, the former "Mayberry RFD" of the Philippines. A September murder of a local panhandler who often frequented the Guimaras Jordan Wharf went largely unreported. The poor man's body was allegedly stuffed into a sack. The crime was said to be committed by three local teenagers.
An attempted rape by a Guimaras tricycle driver also did not make the news. The driver, along with an accomplice, allegedly tried to rape a female passenger who was sitting with a young Filipino. The two assailants believed the couple to be boyfriend and girlfriend. They weren't.
The young man overheard the trike driver talking to his partner-in-crime where he stated his intention to rape the girl. The young man whispered for the girl to run as soon as the tricycle stopped. When the trike slowed down to stop, the young woman took off running. The young man fought off the two attackers and suffered extensive injuries.
The girl was able to flee to safety. No word of that attack was reported. Is bad news in Guimaras being covered up due to the bad publicity received during the tragic loss of 31 lives on August 3, 2019, on the Iloilo Strait? One has to wonder.
Problem #3: Other Foreigners Pose Problems
There's no polite way to say it. Just because you're from the same country that I'm from, doesn't mean I'm going to be your best friend. Furthermore, just because I'm married to a Filipina, doesn't mean we're going to be amigos since you, too, are married to a Filipina.
Some foreigners are scammers.
If you've spent any time in the Philippines, you've certainly met the "know-it-all" expat who doesn't listen to advice from anyone.
You'll surely encounter the "sexpat." Former U.S. Ambassador to the Philippines, Harry Thomas Jr., once made a statement that about 40 percent of the male foreign tourists in the Philippines come for sex. Thomas later apologized for the statement, but frankly, his estimate was probably too low.
The vast majority of expats I have met over the past ten years are decent folk. I have several expat friends in Guimaras. A large contingent of us just met last night at a resort owned by a foreigner I had never met before. We had quite a pleasant evening.
However, you're not going to like everyone that you meet and vice versa. I like this quote from Pastor Joel Osteen "Not everybody is going to like you. Not everybody is going to understand you. Shake it off and run your race."
In addition, here's a quote from a former co-worker from AT&T. It's from her father "If you run with sh*t you're going to smell like sh*t."
Problem #2: Cultural Challenges
Cultural challenges in the Philippines are as prevalent as tricycle drivers waiting for passengers outside a Sunday morning Mass. Above all, here's one piece of advice I hope you remember. If you're not willing to change, you're going to have a very difficult time living in the Philippines.
Here are just a few things you'll encounter while living in the Philippines:
Roosters that crow all hours of the day and night.
Men that pee near public streets and sidewalks in broad daylight.
Everyone will know your name. It's "Joe."
You'll have celebrity status in the Philippines. Some people will even mistake you for Chuck Norris (which happened to an American friend I know on the island.) I've even been mistaken for an "American movie star."
Only in the Philippines.
Problem #1: Infrastructure Issues
The recent devastating earthquakes in Mindanao sadly only reveal the poor infrastructure issues in the Philippines. Poorly constructed condo units, hotels, and other buildings are being destroyed by a series of quakes and aftershocks.
Building codes seem to be rarely enforced.
A massive fire damaged the Metro Manila Light Rail Transit, LRT, last month, added even more chaos to Manila's enormous traffic woes.  LRT officials admitted they have no back-up plan for such disasters.
Water shortages in Manila leave residents without water for days at a time.
The Philippines has underinvested in infrastructure even with President Duterte's highly touted "Build, Build, Build" program.
At least three big-ticket bridge projects under the Duterte administration's Build, Build, Build infrastructure program have been dropped. They were found to be "unfeasible," the National Economic and Development Authority (NEDA) said last Friday.
The Panay to Guimaras bridge project, also included in Duterte's infrastructure program, is also questionable at this time.
The Philippines was ranked 97th out of 137 nations in the World Economic Forum, WEF, report for 2017-2018. Its score of 3.4 out of 7 is the same as Rwanda and even lower than that of Kenya, Cape Verde, and Albania.
Our island province of Guimaras has been rocked by three days of power outages this past week. No one seems to be able to determine the cause of the problems on the National Grid. Panay Island and Negros Occidental residents were also without power, some people suffered brown outs of up to 12 hours. The Department of Energy is investigating the cause of the power outages.
5 Risky Problems Foreigners Face in Philippines
However, don't let these challenges dissuade you from moving to the Philippines. If you're willing to adapt and are open to different ways of doing things, you can have a comfortable life in the Philippines. Listen to what the locals say. Respect their traditions. Never act or feel as if you're superior to anyone else.
You're not.