I retired to the Philippines in July 2009. Since August 2009, I've been writing about life in "paradise." While a lot of the cost of living in the Philippines depends on your location and individual lifestyle, it's possible to retire to the Philippines on $999 a month.
Four Folks & Eight Pups
Furthermore, we supported six people that lived in our household for years on an income of a little over $1,100 US dollars a month. We don't have any children of our own. We're down to four people living here now.
However, we have added eight canines to the mix. Thankfully, my Social Security pension from the States kicked in several years ago. That $999 a month figure is very doable for a single person or couple that doesn't have an extravagant lifestyle.
Location, Location, Location
Yes, you've undoubtedly seen this real estate agents' mantra before, "location, location, location." However, it applies to the Philippines just as it pertains to most places in the world. If you want to live in the Metro Manila area, it will cost you more than, if you live in the province.
Provincial life is much more relaxed. Dodging mounds of fresh carabao crap on the main road with our Ford Ranger XLT is one of the "hazards" we face.
My lovely asawa, spouse, of almost 20 years, and I live in Guimaras. It's a sparsely populated island province of 174, 613 (2015 census) people. Its size, 604.57 km2 (233.43 sq. miles), ranks 77 out of 81 provinces in total area.
Guimaras is a rural province known for the sweetest mangoes in the world. Unfortunately, it's made the news recently as 31 people lost their lives on three pump boats that capsized in the Iloilo Strait back in August 2019 during a storm.
Lifestyle is Key
Let me assume that you might be reading this article because you're on a limited pension of sorts. You can live quite comfortably in the province especially if you're willing to adapt to a more "native" lifestyle. In contrast, if you insist on having all the Western-style amenities you're accustomed to, you will need a bigger budget.
Hence, you don't have to live like a pauper. We have a 35'x35' swimming pool in our backyard. My wife wanted a big house. Our home has a total living area of 4,000 sq. ft. We live on approximately three acres, 12,500 sq. meters. Our 2014 Ford Ranger XLT was purchased new and paid for in cash. We have a full-time domestic helper.
I'm not relating all of this to brag. Not by any means. I merely want to point out that back in the States; we could not afford a four-bedroom, four-bathroom home with a swimming pool or maid. Our US dollar stretches much further in the Philippines.
We have no debts. No credit cards. No mortgage payments. At this stage of our lives, we could live quite comfortably on $999 a month. However, we have a niece, Shaina, 21, that lives with us. Shaina is an accredited teacher in the Philippines having passed her teacher boards. We don't charge her any rent nor do we ask for any money for food.
When You Marry a Filipina, You Marry the Family
My father-in-law lives in a 200,000 peso, 4,000 US dollar, nipa hut in our backyard. Lolo, Grandfather, is afflicted with Alzheimer's disease. We are his only means of support. The local government took away his 500-peso monthly Social Security payment, 10 USD, because he is living with us.
One of my wife's siblings will send 1,000 pesos once or twice a year. While we could afford to go on more vacations if not for the extra family expenses, we're content to stay at home.
We haven't been out to eat at Olivia's Kitchen or any other Guimaras eatery for a couple of months. Frankly, I haven't felt like socializing. I'm content with our Cignal satellite system (for the most part) and our 999 a month Globe data plan for the World Wide Web. We're simple people living simple but comfortable lives.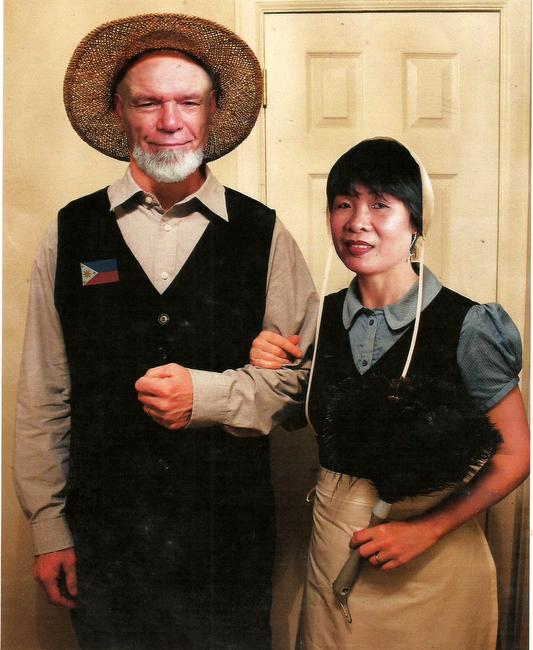 I'll buy my bag of Cheetos, Banquet Salisbury Steaks, and two blocks of real cheddar cheese when we make our monthly shopping trip to nearby Iloilo City. My wife fixes healthy lunches of fish and vegetables to make up for my junk food lapses.
My better half just purchased a kilo of fresh milkfish this morning for 170 pesos. They're asking 300 pesos a kilo in Manila for the same fish due to the African swine fever that has greatly lessened the demand for pork.
The Monthly Budget
Here's a look at a simplified monthly budget for living in Guimaras. This budget is for two people without eight dogs. I've estimated the cost of renting a home in Guimaras based on actual rentals I know of on our island province. No car payments are included in this budget (since we don't have any.) However, transportation costs for local transport options, tricycles, jeepneys, and pump boats are included.
The Simplified Monthly Budget for Two
House Rental 7,000 to 10,000 pesos or 140 to 200 US dollars
Globe Internet 999 pesos
Globe Postpaid Mobile Phone Service 799 pesos
Cignal Satellite 1,050 pesos
Food 20,000 pesos
Transportation 2,000 pesos
Electricity 3,000 pesos
Water 500 pesos
Dining out 3,500 pesos
Entertainment 4,000
Misc. Household Expenses 4,000 pesos
Total (using a 10,000 peso figure for house rental) 49,848 Philippines Pesos
997 US Dollars
Health Care Insurance?
You'll notice no insurances, health, or vehicle, are in this budget. First of all, I wouldn't recommend retiring to the Philippines if you have any serious medical conditions.
Consequently, while first class medical services, such as the Medicus Medical Center in Iloilo City, do have excellent Western-style amenities and a professional staff, many health care facilities in the Philippines don't.
Provincial hospitals, at least on our island province of Guimaras, have outdated equipment, inferior emergency room services along with the lack of private rooms for hospitalization.  
PhilHealth Coverage?
However, PhilHealth might be a health insurance option, if you have a Filipino spouse. PhilHealth is currently the national insurance plan for the Philippines. My Filipina's PhilHealth plan also covers me, her legal spouse. I emphasize "legal" because when my wife signed me up for PhilHealth benefits years ago, she had to present a copy of our Marriage Contract as issued by the Philippine Statistic Authority, PSA, formerly the NSO, National Statistic Office.
We're covered for two years at a cost of 2,400 pesos a years for both of us. However, make sure your paid receipt from PhilHealth is with you otherwise your health care unit might not accept your PhilHealth insurance. That was the case when my wife had to visit the Medicus Medical Center in Iloilo City for a severely damaged finger injury.
At this time, with the advent of the new Universal Health Care Act of the Philippines, there is no clear indication of whether Filipino spouses will be able to continue to keep their foreign spouse as a dependent. In any case, PhilHealth will be increasing their premiums.
Health Care Options
While I have access to Medicare from the States, I cannot use it in the Philippines. However, the U.S. territory of Guam is said to accept Medicare insurance and would be an option if I would need any serious medical operation. It's about a three ½-hour flight from the Philippines to Guam.
Frankly, I have so much trust at Medicus Medical Center in Iloilo that I would probably consult the physicians there if any serious medical situations arise.
I don't smoke. I haven't had any alcohol in two months. My sexy pool boy duties have resumed which result in one to two hours a day of exercise for me, as I'm the only one responsible for cleaning our pool. Our nephew who used to help with pool cleaning duties on the weekend moved out several months ago to a boarding house close to his college.
Vehicle Insurance
We pay a little over 20 US dollars a YEAR for liability insurance for our 2014 Ford Ranger XLT. In fact, our insurance is purchased directly from our local LTO, Land Transportation Office. I do not see the need to purchase full coverage for our five-year-old vehicle.
Retire to the Philippines on $999 Month
Is it realistic to believe you could retire to the Philippines on $999 a month? Absolutely. Furthermore, if you have a guaranteed source of monthly income, like a government-issued pension, your retirement to the Philippines will be that much easier.
Can you move to the Philippines and find a job? Maybe you could, but the odds are definitely against you. The Philippine government is kicking out thousands of illegal workers who have not secured their Alien Permit of Employment. That document is required to work in the Philippines legally.
Filipino Laws and Regulations
Because many laws and regulations are not enforced in the Philippines, some foreigners may believe they might be able to circumvent the law and work without a permit. Alternatively, operate a business without a local Mayor's Permit or document from the Bureau of Internal Revenue, BIR.
Certainly, there are foreigners that function like this, but its best to follow the laws and customs of the country you live in. We're all visitors in the Philippines, guests of the government. Regardless of what you might believe, you essentially have no rights.
Don't count on the Embassy of your government to help you out. Here's what the United States Embassy in Manila has to say about U.S. citizens being arrested in the Philippines:
"While in the Philippines, a U.S. citizen is subject to Philippine laws and regulations, which sometimes differ significantly from those in the United States and may not provide the same protections available in the United States.
Penalties for breaking the law can be more severe than in the United States for similar offenses. Persons violating the law, even unknowingly, may be expelled, fined, arrested, or imprisoned.
Penalties for possession, use, or trafficking in illegal drugs in the Philippines are strict, and convicted offenders can expect jail sentences and fines.
A citizen arrested in the Philippines must go through the Philippine legal process to be charged or indicted, prosecuted, convicted and sentenced, and for any appeals.
The United States Government cannot arrange for a U.S. citizen to be released from a jail or prison.
U.S. citizenship does not entitle anyone to special privileges in the Philippine legal system.
The U.S. Embassy does not have authority to intervene in the Philippine justice system and cannot act as a legal representative or provide legal advice to U.S. citizens."
Public Charges Pushed Out
The Philippine Department of Immigration is also cracking down on foreigners who enter the country and don't have any visible means of support. They're classified as "public charges."
Finally, if you walk the "straight and narrow" and stay out of karaoke bars you should be fine. However, take note; there are plenty of scammers out there more than willing to take your hard-earned cash.
Don't believe every sad story you hear about a sick lola (grandma), tuition for school, visa fees, or marriage annulment costs to name a few. Remember P.T. Barnum's famous saying, "There's a sucker born every minute." Don't be the next one.
500 Dollar a Month Budget
In conclusion, it's even possible to live on a budget of 500 US dollars a month. Details on that budget are available in my best-selling book, "The Philippines Expat Advisor."
"The Philippines Expat Advisor" can simplify your move to the Philippines and help you decide if retiring to the Philippines is best for you. While I've been here for over ten years, living in "paradise" is not for everyone. However, my wife and I have a good life in the Philippines and are thankful for all the blessings we have.