UPDATE! The Dairy Queen at SM City in Iloilo is now open! DQ at Robinsons in Iloilo is open!
Bedlam. Chaos. Disorder. That describes the situation at the new Dairy Queen at SM City in Iloilo that recently opened. While my asawa and I had first gone to Robinsons in Iloilo to see if that Dairy Queen had opened yet, we then headed over to SM City this past Sunday.
While we arrived at SM City right at their 10 o'clock am opening, the Dairy Queen already had a line of about a dozen people. It's located next to the existing Pizza Hut. Because the outlet doesn't also feature their Brazier burger line, only desserts, we opted to visit the store later. We needed an early lunch.
However, the crowds got even worse, of course, as the day wore on. Here's a look at some pictures from around 1:00 pm that Sunday afternoon.
My wife and I had decided to stop by the nearby Krispy Kreme for a coffee and Original Glazed Donut. There was no way I was going to wait in line even if I tried to find the Priority Lane for Seniors and PWDs (Persons with Disabilities.)
After taking the pictures, I spied a couple sitting outside. They appeared to be senior citizens like myself. The smartly-dressed lady was holding a DQ Blizzard. I excused myself and asked how long it had taken them to be served at Dairy Queen.
"30 minutes," the lady replied.
"Did you use the Senior Lane?" I politely inquired.
"Yes," she graciously responded.
Her and her husband where quite the charming couple and very courteous. I chatted for another minute or two and thanked them for their information.
Consequently, next time we're in Iloilo City we'll attempt to visit Dairy Queen on a weekday and arrive early. Looks like the Dairy Queen in SM City is off to a smashing start. Here's the rest of the original article:
I grew up in a small town in South Central Illinois. We were poor. However, there was one pleasure we occasionally would get to indulge in, a visit to our local Dairy Queen store. Therefore, when I saw that Dairy Queen is coming soon to SM City Iloilo, I was as excited as a jeepney driver with an overloaded PUV, Public Utility Vehicle.
Too Poor to Pay Attention
I remember the iron-on jeans patches Mom would put on my blue jeans. The now-fashionable torn jeans weren't popular in the late Fifties. It was embarrassing to wear them in elementary school, but I didn't have any choice. I didn't want to go to school in my bright white Fruit of the Looms.
Holes in my one pair of shoes? Just put some cardboard inside the bottom of the shoes so my feet wouldn't get too wet when walking to school. Hence, when summer arrived, we knew we might be in for a trip or two to our local drive-in cinema or a visit to DQ.
Nickel Dilly Bar
I remember savoring the five-cent Dilly Bar which debuted in 1955. Along with my two younger brothers, we normally were treated to a five-or-ten-cent soft serve ice cream cone. Or the nickel Dilly Bar. However, I do remember one or two remarkable visits to DQ in which we were treated to a Banana Split.
Life was good.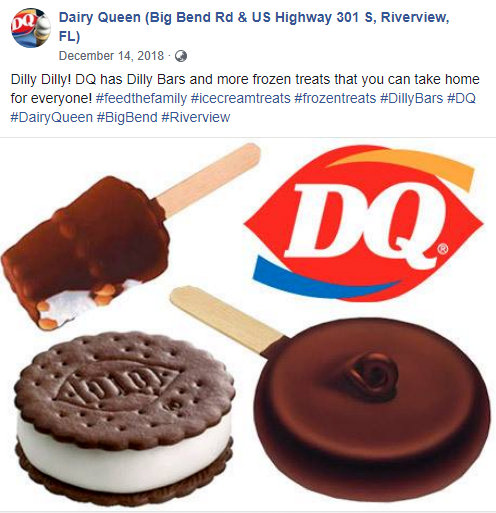 Dairy Queen Coming Soon to SM City Iloilo
Since moving to the Philippines over 10 years ago we've only had occasion to visit a Dairy Queen in the Philippines a few times. We treated ourselves to Blizzards in Manila and Cebu. My Filipina wife became a Dairy Queen fan when she joined me in the States after her Spousal Visa was approved.
Therefore, when I saw the huge poster in SM City Iloilo the other day announcing that Dairy Queen was coming soon to SM City Iloilo, I was ecstatic.
I'm hoping "soon" means a matter of weeks or months. That said, this is the Philippines, known for its own version of timekeeping, "Filipino Time." There's been an "Opening Soon" banner at Megaworld's Festive Walk Mall for almost a year now ballyhooing a TGIF's "upcoming" appearance. It's still not open.
Jollibee's Guimaras Opening Soon
The overweight red insect mascot from Jollibee just appeared with one of Guimaras' mayors. The pesky insect promises Jollibee's will be opening soon on our island province. (Update: The Guimaras Jollibee did open on Dec. 29, 2019.)
I hope that's not "soon" as in the beginning of construction for the Iloilo-Guimaras bridge.
UPDATE! Dairy Queen is ALSO coming to Robinsons Mall in Iloilo City!
(Dairy Queen®,DQ®, and Dilly® Bar are registered trademarks of the soft serve dessert giant.)