I grew up in a small town in South Central Illinois. We were poor. However, there was one pleasure we occasionally would get to indulge in, a visit to our local Dairy Queen store. Therefore, when I saw that Dairy Queen is coming soon to SM City Iloilo, I was as excited as a jeepney driver with an overloaded PUV, Public Utility Vehicle.
Too Poor to Pay Attention
I remember the iron-on jeans patches Mom would put on my blue jeans. The now-fashionable torn jeans weren't popular in the late Fifties. It was embarrassing to wear them in elementary school, but I didn't have any choice. I didn't want to go to school in my bright white Fruit of the Looms.
Holes in my one pair of shoes? Just put some cardboard inside the bottom of the shoes so my feet wouldn't get too wet when walking to school. Hence, when summer arrived, we knew we might be in for a trip or two to our local drive-in cinema or a visit to DQ.
Nickel Dilly Bar
I remember savoring the five-cent Dilly Bar which debuted in 1955. Along with my two younger brothers, we normally were treated to a five-or-ten-cent soft serve ice cream cone. Or the nickel Dilly Bar. However, I do remember one or two remarkable visits to DQ in which we were treated to a Banana Split.
Life was good.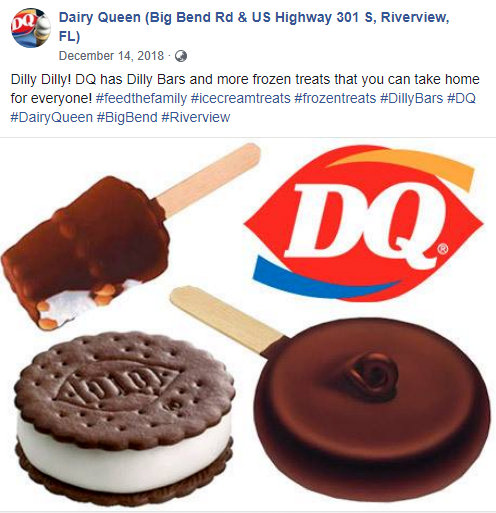 Dairy Queen Coming Soon to SM City Iloilo
Since moving to the Philippines over 10 years ago we've only had occasion to visit a Dairy Queen in the Philippines a few times. We treated ourselves to Blizzards in Manila and Cebu. My Filipina wife became a Dairy Queen fan when she joined me in the States after her Spousal Visa was approved.
Therefore, when I saw the huge poster in SM City Iloilo the other day announcing that Dairy Queen was coming soon to SM City Iloilo, I was ecstatic.
I'm hoping "soon" means a matter of weeks or months. That said, this is the Philippines, known for its own version of timekeeping, "Filipino Time." There's been an "Opening Soon" banner at Megaworld's Festive Walk Mall for almost a year now ballyhooing a TGIF's "upcoming" appearance. It's still not open.
Jollibee's Guimaras Opening Soon
The overweight red insect mascot from Jollibee just appeared with one of Guimaras' mayors. The pesky insect promises Jollibee's will be opening soon on our island province.
I hope that's not "soon" as in the beginning of construction for the Iloilo-Guimaras bridge.
UPDATE! Dairy Queen is ALSO coming to Robinsons Mall in Iloilo City!
(Dairy Queen®,DQ®, and Dilly® Bar are registered trademarks of the soft serve dessert giant.)