Seems like Philippine laws are rarely enforced. Why do I say that? Because that's been my personal observation since retiring to the Philippines over ten years ago. Therefore, when I saw the main roads cleared on our island province of Guimaras I was astonished! Consequently, I felt the need to publish this post "Snot Rockets and Cleared Public Roads."
Snot Rockets & Cleared Public Roads
Due to the fact that I hadn't been out in over two weeks, I had no idea a recent edict from President Duterte was being observed in Guimaras. In Duterte's State-of-the-Nation Address last July, the President ordered LGUs to reclaim roads used for private use. LGUs are Local Government Units. Deadline to comply is September 29, this coming Sunday.
Furthermore, Duterte threatened to suspend any mayor, barangay captain, or other official who didn't follow through on his marching orders. As a result, nearby Iloilo City Mayor Jerry Treñas took the President at his word.
Treñas knew his job could be on the line. The Mayor has remarkably cleared at least 85% of the sidewalks and public roads in Iloilo. He hopes to make the September 29th deadline. We were in Iloilo City a couple of weeks ago. It was the first time in over ten years we were able to walk the downtown sidewalks without any vendors blocking our way.
Kudos to Mayor Treñas
In contrast, I never figured Guimaras would make any attempt to follow Duterte's orders. Used clothing stores, though deemed illegal years ago, still clog the New Site Market in San Miguel, Guimaras.
Hence, when we made our way to the Hypermarket in San Miguel yesterday, I was astounded by how clear the roads were. Tricycles, jeepneys and private vehicles were actually parked OFF the road. It was something I thought I would never see.
Police Look for Violators
Several police cars roamed the main road ordering anyone to move who had dared to park on the street, even for a few minutes. Another government vehicle with loudspeakers blaring were assisting the police. My wife informed me that if you park on the road and stay inside with your vehicle's hazard lights on, you might be able to park for a few minutes.
While I doubt this observance of the President's edict won't last for long after the September 29th deadline, it was refreshing to see how the public roads have been cleared. For now.
Consequently, though the main roads in Guimaras had been widened several years ago, the additional road space was mainly used by tricycles and jeepneys as parking areas. Therefore, the widening of the roads was rendered basically useless.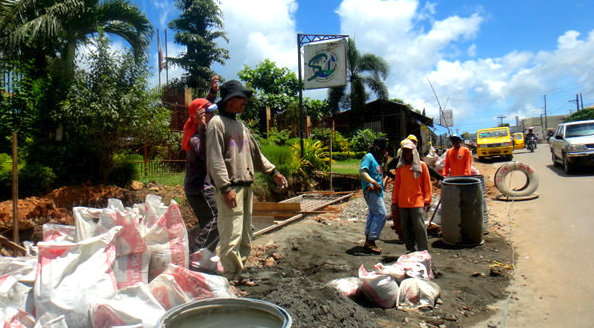 Snot Rockets & Cleared Public Roads
The Hypermarket was out of eggs. Therefore, we visited the Jade Market where Cousin Emma is the proprietor. Cousin Emma was forced to move down the street at a location one-third the size of her former store. Guimaras' first Jollibee's is under construction. Many of the retail shops like Emma's were forced to move.
I sat in our Ford Ranger XLT with the air con blasting as my asawa purchased our tray of 30 eggs. While waiting, an elderly lady carrying a large package walked by.
She threw a snot rocket near the Jade Market entrance.
It was a remarkable goober. Frankly, in my 60 plus years, I've never witnessed a female anywhere dislodging her mucus in public. Of course, I've seen a few guys do the same, but the sight of this female senior really didn't surprise me. I've witnessed a lot of sights in the Philippines that I've never seen back in the States.
A bearded motorcyclist pulled up. A 50-kilo sack of rice was placed behind the cyclist. The senior snot lady, with her large package in hand, sat behind the cyclist and the sack of rice. The pair zoomed off, with the woman deftly balancing the rice and her package.
Could the Boracay Pee Police Ordinance be Used?
Furthermore, while Guimaras is clearing the public roads, I don't know if there's any ordinance against throwing snot rockets in public. Could it fall under an ordinance similar to what the Boracay Pee Police used?
That ordinance is Municipal Ordinance No. 311, Series of 2012 (An Ordinance Prohibiting Littering/Dumping/Throwing of Garbage, Thrash, Rubbish, Refuse, and Other Waste Materials and Prescribing Penalties for Certain Acts and Omissions Inimical to Cleanliness and Sanitation.)
Only in the Philippines.