Medicus Iloilo City's Extraordinary Emergency Care
My wife and I were in Iloilo to bring our niece April to the big city so she could catch a flight to Manila. First of all, just getting to Parola Wharf was an adventure in itself. With torrential rains pounding the region all morning, we were fortunate to even catch a pump boat to the "City of Love." "Medicus Iloilo City's Extraordinary Emergency Care" was an unexpected side trip.
Lolo Needs Attention?
It all started this past Monday afternoon. Because April rushed in to pour some hot water from our thermos into a container, along with a cloth she held in her hand, I surmised Lolo (my father-in-law) needed some minor medical attention.
Lolo (Filipino for Grandfather) has been afflicted with Alzheimer's for years. He lives in a nipa hut in our backyard. Occasionally he has some small rashes on his back which need to be attended to. After a thorough cleansing of the affected area, a liberal dose of BL ointment is applied.
BL, the Cheaper Neosporin
BL ointment, purchased at a Chinese pharmacy in Iloilo City, is the "Neosporin" of the Philippines but is much cheaper. A 7 gram container of BL costs 30 pesos, 60¢, at the Chinese outlet. In contrast, Watson's will charge at least 50 pesos.
Neosporin will cost 388 pesos, 7.76 US dollars, for a 9 gram container on Lazada. Make sure you purchase your BL from a reliable source. A local retail outlet in Guimaras, our home province, sells a counterfeit version of BL. Counterfeit drugs from China are quite common in the Philippines.
I didn't ask April why she needed the hot water. Again, I assumed it was for my father-in-law. However, at lunch time, I discovered who really suffered an injury. My spouse.
The Injured Party
While eating lunch with our niece and helper, my asawa held up a bandaged little finger on her right hand. I (wrongly) assumed she had cut herself with a knife while working in our dirty kitchen preparing lunch. She was in no mood to talk about it.
However, I knew something was wrong. She was still taking ibuprofen that evening. Finally, she admitted that she injured her finger while working on a fence post outside.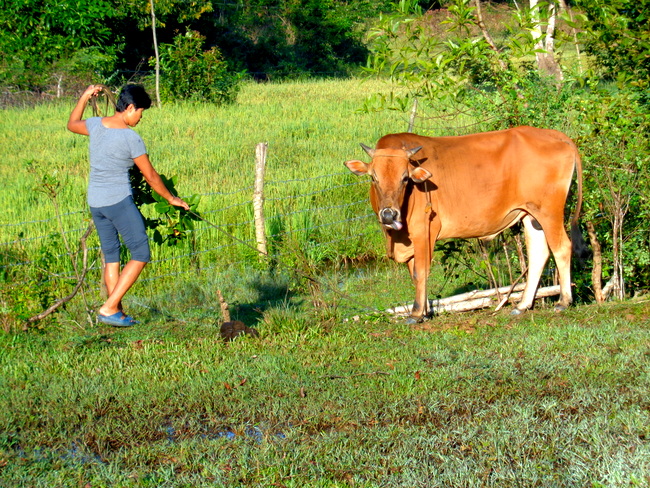 The Pain Remains
Although my better half has work gloves she wasn't wearing them. I asked her why. She informed me it was raining and she didn't want to get the gloves wet. I gave her a short lecture that she didn't appreciate.
She was still taking ibuprofen the next morning, Tuesday, when we left for Iloilo. After our lunch at McDonald's at SM City, my asawa complained that her finger was numb. It was getting more swollen. I knew it was time to get her some professional medical attention.
Frankly, if I had realized how bad her injury was the day before, I would have taken her to a doctor in Guimaras. However, I knew that SM City had a healthcare clinic on the lower level. We made our way down there. April's flight didn't leave until 3:45 pm. It was now around 10:30 am.
No Doctor at Doctor's Clinic
There was a flurry of activity inside the Doctor's Clinic. They were busy. We went to the front desk. An attendant looked at my wife's bandaged finger and informed us a doctor would not be in until 1:30 pm, three hours later.
"Let's go!" I exclaimed. "We're not waiting three hours for a doctor."
As we made our way out the door, I wondered out loud "Why do they call it a 'Doctor's Clinic' if they don't have a doctor on duty?" We caught a taxi for the closest hospital, QualiMed Hospital in Mandurriao, Iloilo City.
The QualiMed Quandary
We had never been to QualiMed before but knew it was not far from S&R where we do some shopping. After a short 48-peso ride, 96¢, we gave the driver a 100-peso note and told him to keep the change. He was quite happy. We navigated our way through a throng of people and went to the front desk.
My wife was asked if we had any insurance. Yes, PhilHealth. We were instructed to visit the "HMO" desk where we would be assigned a doctor.
We went to the HMO desk where dozens of people were already waiting. There didn't seem to be any sense of urgency. Perhaps we should have just gone to their emergency room as we could tell we were in for a very long wait. We got up and caught a taxi to Medicus which was just down the road.
Medicus Iloilo City's Extraordinary Emergency Care
Frankly, we should have gone straight to Medicus Medical Center on Diversion Road in Iloilo in the first place. My wife had received excellent care from their emergency room when she had a gastritis attack. That event happened a little over two years ago.
We were whisked away immediately to a separate emergency room. A nurse promptly inspected my wife's injury. She informed us the emergency room doctor would be with us shortly. A few minutes later, a very young-looking, personable physician walked in.
Dr. Ben Martin C. Sindingan promptly looked at my wife's injured finger.
He advised us that he would have to open the wound and search for any foreign particles that may be lodged there. My wife, who cannot even bear to watch someone get a shot in the arm on TV, wasn't too thrilled with this. However, we didn't want the finger to become infected. It was already red and swollen.
The good-looking doc asked what kind of insurance we had. Since we had PhilHealth we could qualify for assistance on our bill. However, we had to visit the PhilHealth coordinator at the hospital first.
PhilHealth Screws Up
We have a two-year PAID membership with PhilHealth that expires on December 31, 2019. However, when Medicus' PhilHealth representative checked their database, we were DENIED benefits.
Why? Because the database claimed we didn't pay our membership dues for the current quarter. In vain, I explained we had paid for two years in advance. However, the PhilHealth rep asked if we had our receipt.
"Yes," I declared in complete exasperation, "but it's in Guimaras. Why should we carry it when my wife has the membership card from PhilHealth?"
It was futile to argue any further. So much for the so-called "Universal Health Care" law which was signed by President Duterte in February 2019. Though I was quite unhappy with PhilHealth's incompetence, we decided to have the emergency doctor perform the necessary procedure and incur all the expenses ourselves.
Dr. Sindingan to the Rescue
We returned to the ER where Dr. Sindingan looked at my wife's injured little finger. Along with his very competent assistants, he administered a local anesthetic first. As my wife looked away and cringed, the doctor opened up the wound to see if any foreign debris was lodged in the finger. Fortunately the anesthetic warded off the pain.
After several minutes, the efficient physician determined the wound was clear of any foreign matter and stitched up my asawa's injury. The doctor wrote some prescriptions for pain and antibiotics to ward off any infections.
I commend Dr. Sindingan and his extremely efficient staff. Medicus Medical Center in Iloilo will be our hospital of choice in the future. A BIG THANK YOU for a job well done. Your professionalism and courtesy was above and beyond.
April Goes to the Airport
We paid our bill (more on that in a future post) and went back to SM City. Our niece April boarded a UV Express van to the Iloilo City International Airport for 70 pesos, 1.40 US dollars.
Her Air Asia flight was an hour late but she eventually made it to Manila where her Mama picked her up. If not for the fast and efficient care from the emergency room staff at Medicus, April might have missed her flight as she wanted to stay with her auntie during the ER visit.
Thanks again, Medicus Iloilo, for a job well done!