Captain Tom was a good friend of mine. Sometimes, after quaffing too many adult beverages, I never understood a word he said. However, former American expat in the Philippines, the Captain, returned to the States years ago. He heads a graphic design company, Line of Sight Communications. Cap lived in Guimaras for several years. He married one of my wife's thousands of relatives on our island province. Captain T designed several products for the good Brothers over at the Trappist Monastery in Guimaras. This prompted the recent e-mail I sent to my friend. Here's a look at what I call "Captain Tom vs. Trappistine Mindanao Nuns."
Salutations Captain Tom,
Whereas and hereto, we have a distressing topic to bring up today. My ever-patient wife, surely to be awarded Sainthood in the next life, recently visited Ye Olde Trappist Monastery Gift Shoppe in Guimaras.
Her ever-annoying husband sat in their Aurora Blue Ford Ranger XLT with the air con blowing in his fat face. Said wife was accompanied by our niece April, who has been staying with us since this past June. April is going to Manila on September 3, 2019. She will bunk with her real Mother and Stepfather Joe. (One less mouth for us to feed.)
After a trip to a local quack healer in Ravina (April had a swollen foot), I suggested a stop at the aforementioned gift shop. Imagine my shock when the package of goodies was unwrapped from our recyclable cloth bag from SM.
The Evidence
I present to you the evidence, Captain Tom. Sadly, there is absolutely no comparison to your artistic astonishing designs when presented side-by-side with inferior product designs by some nuns.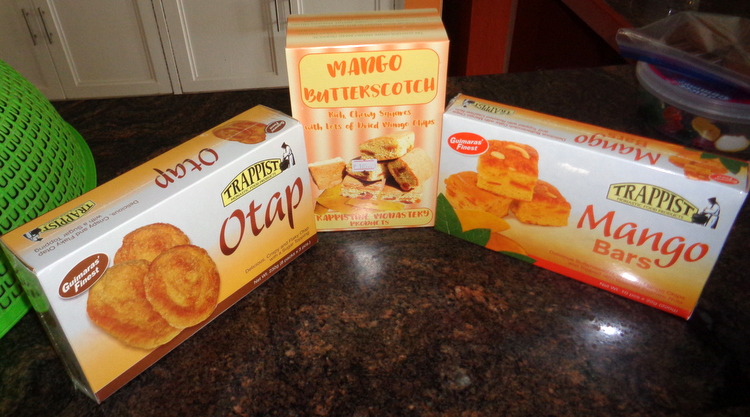 However, I shook my head in surprise when I asked my wife about the new products. I was curious as to their origin.
"I think they're from some nuns in Davao."
Close enough, dear wife; the sisters are in Cotabato, which is in Mindanao, also; Our Lady of Mt. Matutum Trappistine Monastery, Polomolok, Timog Cotabato.
I have no doubt the nuns are doing their best and I'm sure God will reward them for their efforts. Dare I say, without fear of being struck by a bolt of lightning, that your designs will garner more praise from St. Peter?
Perhaps you still have some contacts at the Trappist establishment. Methinks this would be a perfect time to make some "lemonade out of lemons."
Well, I hoping that you can rectify the package design on these products from the Nuns. God Bless 'em. I'm sure they're hardworking, God-fearing women.
They, personally, probably had nothing to do with the actual product package design. However, their products are missing some of that "Captain Tom" magic. Your skills are unparalleled, my lanky friend.
Yours truly,
Dave "The Kano"
(Captain Tom is very active in his Church and is a a devout Catholic. Hopefully, the nuns will not retaliate and file a lawsuit. He does not know this e-mail would be made public.)
(Fiery lead nun graphic is courtesy of pixabay.)