After last week's fiasco at Parola Wharf in Iloilo City last week, I was glad to read there will be new safer options for sea travelers. "New Passenger Vessels Ply Iloilo Guimaras Route" is welcome news. Furthermore, it's something that's been needed for years.
Passengers Complaining about Lack of Tarpaulins
Because passengers are complaining about the lack of tarpaulins on the pump boats operating from Guimaras to Iloilo and vice versa, the Coast Guard is pleading for understanding.
It's a classic case of "Damned if you do and damned if you don't."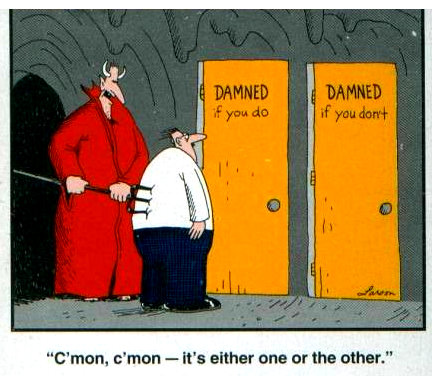 The Far Side® and the Larson® signature are registered trademarks of FarWorks, Inc. Copyright © 2007 FarWorks, Inc. All Rights Reserved.
Since 31 people lost their lives in the Iloilo Strait sea tragedy on August 3, 2019, the Coast Guard has implanted new safety regulations. Banca boats now have to operate with their tarps removed or rolled up. The tarpaulins may have contributed to the capsizing of the three banca boats that fateful Saturday afternoon.
Is it hot? Yes, but common sense dictates that you bring an umbrella, a jacket, or something to cover yourself. I covered my fat, bad kano head with my customary bandana when we went on the pump boats last week. My asawa used a scarf to protect herself from the sun.
"Every little thing we do, you complain, but we are trying our best."
That's a quote from Iloilo Coast Guard Commander Capt. Erlinda Benliro in the Daily Guardian.
New Passenger Vessels Ply Iloilo Guimaras Route
Two additional passenger vessels of Atlantis Yohan Express Corp. (AYEC) began operations on the Iloilo-Guimaras route this past Saturday and Sunday. It's a welcome option for the riding public providing a safer and more convenient alternative to the pump boats.
MV Yohan Green has a total capacity of 270 passengers. It started its operation on Saturday from Fort San Pedro, Iloilo City to Jordan Wharf in Guimaras.
The trip can last for about 10 to 15 minutes for a P50 (one US dollar) promo fare. However, by next week, the price is expected to adjust at P70 for aircon and P50 for economy.
The MV Yohan Cruiser with a total capacity of 300 passengers also started its operations from Fort San Pedro, Iloilo City to Buenavista Wharf, Guimaras on Sunday.
The two vessels are equipped with Wi-Fi in addition to its air-conditioned spaces. Passengers may also choose to ride the economy, tourist, or business classes.
The first scheduled trip of MV Yohan Green is at 5:00 a.m. until 8:00 p.m. while MV Yohan Cruiser starts at 6:00 a.m. until 7:00 p.m.