Guimaras' Shocking Shabu Drug Bust. Coming home from a day of shopping in Iloilo City, we noticed a large contingent of law enforcement officials. Police officers were checking the compartments of motorcycles coming off the banca boat in Jordan Wharf, Guimaras. The incoming vessels were arriving from Parola Dock in Iloilo City. We have never seen this before despite living in the area for almost 10 years. As our parking lot attendant Noel picked us up, we drove by and witnessed an ongoing drug bust.
Guimaras' Shocking Shabu Drug Bust

Here's the official account from the PDEA (Philippine Drug Enforcement Agency) Region VI – Western Visayas Facebook page:
At about 3:00 PM, July 9, 2019, joint elements of PDEA-Guimaras led by IA III Jyxyvzcky G. Escrupolo, PDEU- GPPO led by PMAJ Joefer Cabural, Jordan MPS led by PCAPT Bonifacio Aral and HPG led by PSSg. Randy Centina conducted buy-bust operation at Brgy. Rizal, Jordan, Guimaras.

The said operation resulted to the arrest of John Alfred Lacson alias "Jagjag."

Confiscated from the suspect were 6 pieces transparent plastic sachets containing white crystalline substance believed to be shabu (meth) weighing MOL 0.1 gram.
Suspect Released Last March
The arrested suspect was released last March 20, 2019 after availing of the Plea-bargaining Agreement at Regional Trial Court Branch 65, Jordan, Guimaras.

Cases for violation of Sections 5 and 11 of Article II R.A 9165 or the Comprehensive Dangerous Drugs Act of 2002 are now being prepared for filing in court.
While we drove by the crowd surrounding the jeepney, police had their automatic weapons drawn, ready for action. Here's some pictures from the aftermath of the drug bust.
All Screen Shots from PDEA Facebook Page
It was a chaotic scene. Evidently, a coordinated effort was being made by local law enforcement to crack down on drugs being brought into Guimaras ports. I reported on this story earlier in a post regarding the Guimaras shabu lane last July 2018.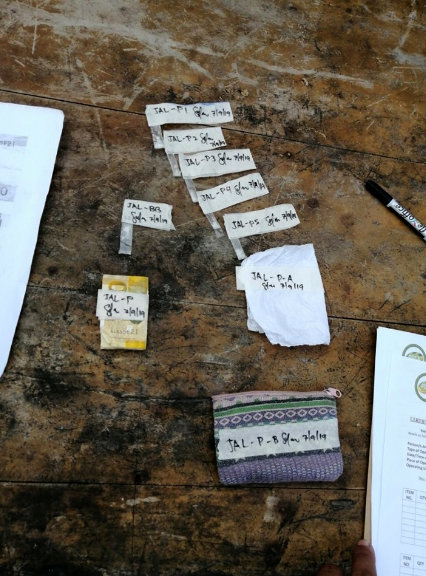 The Evidence
Operations in San Miguel, Jordan
Furthermore, as we headed into San Miguel, Jordan, on our way home, officers were also checking motorcycles for contraband. The police were located across from the New Site Market. Weapons were drawn.
Kudos to the police for conducting these surprise operations. The PDEA also were busy in nearby Iloilo City.
Yesterday, around 9:00 am, the PDEA conducted random check operations at the Iloilo Fastcraft Terminal located in Brgy. Lapuz, Iloilo City.
The inspections revealed no illegal drugs.
KNOW OF ANY ILLEGAL DRUG DEALERS (SHABU, WEED, ECSTASY) IN THE AREA?  CONTACT PDEA TODAY