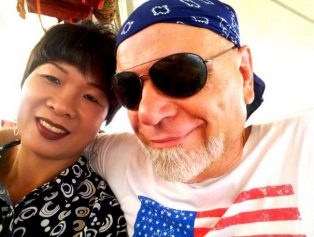 I've met quite a few people since starting this website almost ten years ago. While I've never charged folks for visiting The Crusty Old Expat, "The Kano," Dave DeWall, many visitors have brought along gifts, including cash. With a full-time housekeeper now on duty, my asawa and I now have more time to meet and greet any readers that would like to visit with The Crusty Old Expat.
New Meet and Greet Policy
However, I'm now beginning a policy in which I will be charging a reasonable fee to meet with any visitors. I'm retired and not keen on getting out as much as I used to.
While some other expats with blogs centered on the Philippines were charging as much as 300 US dollars a day to meet with folks, my fee will be 100 US dollars, approximately 5,000 pesos.
Now while that's still a considerable chunk of change, I feel it's a reasonable price. I value my free time and while I would like to meet anyone that reads this website, I find it necessary to institute this new policy.
A deposit of 50 US dollars is required. The rest of the payment, 50 US dollars, will be expected once the actual meeting occurs. A payment of 2,500 Philippine pesos ($50) is the preferred method of payment upon the actual meeting.
My secure PayPal account will be the means for payment. Major credit cards are accepted. Once the initial $50 deposit is made, I will contact you to arrange the date and time most convenient for you.
The email address you use for your payment is the email address we will use to contact you.
If you come to Guimaras, the island province we call home, we will pick you up personally at the Jordan Wharf in Guimaras for no extra charge. Jordan Wharf is about a 15-minute pump boat ride from nearby Ortiz Wharf in Iloilo City. I will also travel to Iloilo City for the same $100 fee in case you would like to meet there.
The $100 fee is a per day charge. If you're interested, The Crusty Old Expat is also available for any meetings, store appearances, workplace visits, etc., in Guimaras or nearby Iloilo City. The $100 fee applies.
Additionally, if you do plan to visit "The Kano" in Guimaras, we will be glad to accompany you to any site on the island you would like to go. However, our visitor(s) would cover any additional charges such as entrance fees, and renting of nipa huts for beaches, and lunch or dinner expenses.
I'm also open to other destinations in the Philippines for the same daily fee as long as transportation and lodging expenses are covered.
All Visits Will be Covered in PhilippinesPlus

Papa Duck, my asawa, and Papa's spouse, Anne, on a visit in Guimaras
All visits will be covered in a post on this website, PhilippinesPlus, for no extra charge. Again, I have heard of some expat websites charging 300 US dollars just to write about their business. This website has garnered almost three million views over the years and still maintains a robust daily visitor count.
If you own a business, this is a great way to promote your operation.
Meet the Crusty Old Expat. I'd love to hear from you and chat in person.
Use this secure PayPay site for your deposit with Lizard Poop Productions