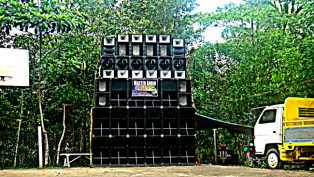 What problems could you expect if you plan to spend your Golden Years in the PH? "Philippines Retirement Problems for Foreigners" addresses some of the difficulties you might face.
First of all, please do not repeat the actions of a 23-year-old spoiled brat from China. After throwing her "taho" soya drink on a policeman at the MRT, she was arrested for assault and other charges.
Pissed Off with Authority Figures?
The so-called "fashion student" posted a 12,000 peso bail, 240 US dollars, but was quickly swept away to the Bureau of Immigration jail where she awaits deportation proceedings.
Because showing contempt towards officials is a direct insult to the Philippines itself, it's never wise to disrespect any authority figures in the Philippines.
However, take note of an earlier post where I exercised a high degree of stupidity and don't repeat such absurdity yourself.
Consequently, if you have problems with authority figures or showing respect to them, you probably will encounter problems in the Philippines.  (Or anywhere else for that matter.)
Don't be a "Weed Warrior" in the Philippines
Furthermore, if you think you can retire to the Philippines and continue smoking weed like you did back in the States (or whatever your home country), it's not legal to smoke or sell marijuana in the Philippines.
Personally, I've never even smoked a cigarette let alone a joint, but you need to understand that recreational use of marijuana is not tolerated in the Philippines.
Therefore, if you're a pothead and plan to pursue your habit in the Philippines, you probably should stay where you're at. Arrested or dead. Two possible outcomes if you continue your habit here.
Frankly, if you're a total moron and think you can use or sell meth, shabu, in the Philippines, you could join the thousands of other shabu dealers and users already killed in the archipelago.
Barking Dogs and Loud Music
You probably will encounter a bevy of barking dogs and loud music if you retire to the Philippines. While there is a 10:00 pm ban on playing loud music in our province of Guimaras, don't expect that to apply to barangay fiestas.
Consequently, you'll also certainly experience the joy of neighbors who have dogs that bark all night. While we do have eight canines of our own, I don't tolerate any excessive barking in the evening.
In contrast, if our Belgian Shepard starts barking, I take immediate notice. Unlike our other mutts, "Killer," barks with a purpose.
If he perceives a threat, I pay attention. He's a wonderful attack dog. "Killer" wouldn't hesitate to maul any intruder that dares to enter our property.
Philippines Retirement Problems for Foreigners
Trike drivers and jeepney operators could also pose some problems for a foreigner. That's especially true if that expat operates their own private vehicle. Many of our local tricycle and jeepney drivers have little regard, or knowledge, of the Rules of the Road.
They stop where they want and when they want most times without any warning. Hence, be forewarned, road signs and lane markings on the highways are merely "suggestions" to many people driving here. Exercise a high degree of caution if you plan to navigate your own vehicle on any streets in the Philippines.