First of all, I retired at the age of 57. Lots of people retire at a younger age. However, some people find it necessary to still work while in their 70's or 80's to supplement their Social Security. As a result, they don't have as much free time as an old geezer like myself, now approaching the backside of 70. "5 Early Retirement Steps Philippines" gives you some tips on making your own early retirement dreams come to pass.
Fleeing Ma Bell
Fed up and bored with my job at AT&T, I decided to take an early retirement from Ma Bell in early 2009. My Filipina wife had been with me in the States for nine years at the time.
Fortunately my loving spouse was willing to sacrifice her good life in Central Illinois for a return to her homeland. That meant no more central air conditioning and no more all-day Saturday shopping trips with her Filipina buddies.
While I might be retired, my better half works all day inside and outside our home in the Philippines from sunrise to sunset. Seems like she is always finding something to do as she likes to keep busy.
No more shoveling snow in the Philippines!
Though we have a diligent live-in domestic helper who also has a strong worth ethic, my wife doesn't relax.
STEP # 1: LOCATION
The Philippine peso exchange rate at that time was 48 pesos to 1 US dollar. Here's where Early Retirement Step 1 comes into play:
The favorable US dollar to Philippine peso exchange rate met I could get more bang for my buck by moving to the Philippines. Why not retire to a country where we would have substantial more buying power and live cheaper?
In contrast, I would be leaving a $1,000 a month mortgage (we sold our house within a month) and live rent-free in the Philippines.
Rent-free? Yup, my hardworking better half had toiled for years working overseas. She sent the bulk of her money back home to the Philippines. With the funds she had amassed, she employed her Cousin Alex as foreman of a crew to build a new home in Guimaras. Guimaras, is, of course, the island province we call home.
It made sense to move to a location where we already had a home to live in, rent-free. (Cousin Alex is also currently living rent-free in a jail cell in Manila. Convicted of murder charges several years ago and serving a 15-year prison term.)
Is it Safe in the Philippines?
OK, I get it. The Philippines has been experiencing some bad press lately. That is, if you believe everything you read or hear on the news. Sure, there have been thousands of shabu (meth) dealers killed by police and by rival drug syndicates since President Duterte took office.
In contrast, I feel just as safe here as I did back in the States for the most part. I have common sense. That means, that like in Illinois, I don't traverse big city streets in the wee hours of the morning. By now, the Crusty Old Expat's pillow hits the head at no later than 9:30 pm.
Near Ortiz Wharf in Iloilo City. Not the best place to travel during the evening, but neither were parts of Springfield, Illinois where I worked.
Personally, I don't have a problem with drug dealers being killed. Where's the sympathy for all the victims of these drug pushers?
STEP #2: RULE 72 (t)
Instead of waiting for my AT&T pension to kick in, I opted to take a lump-sum payment which was invested in a special 72 (t) IRA account. Now this is an option that will only be available for citizens of the USA. Check your own country's tax laws to see what tax breaks may be available for you.
Investopedia explains that 72(t) actually refers to code 72(t), section 2, which specifies exceptions to the early withdrawal tax. This IRS rule allows IRA owners to withdraw funds from their retirement account before age 59½.  This way I could avoid the IRS 10% early distribution penalty.
These payments must occur over the span of five years or until the owner reaches 59½, whichever period is longer.  However, make sure you commit to the full five years of the plan, or you will incur some severe tax penalties.
Thus, we were able to secure a guaranteed monthly income of around 1,200 US dollars a month. Now staying in the United States would have required my wife to continue operating her day care center in Central Illinois. I would have also needed another full-time job to maintain our mortgage payment and other living expenses.
I Needed a Break
Frankly, I wanted a break from my stressful job at the phone company where I worked for almost 30 years.
My IRA 72 (t) pension concluded when I turned 62. At that time, I started collecting my Social Security pension from the States. While I could have waited several years more to receive a bigger monthly pension, my Social Security allotment stretches much further in the Philippines.
Therefore, if you're younger than 59½ investing your funds using the 72 (t) Rule can help you retire at an earlier age.
STEP # 3: HAVE A REMARKABLE FINANCIAL ADVISOR
If not for the Edward Jones firm of the late Mr. Don Springer back in Springfield, Illinois, chances are, we might not have even made it to the Philippines. Now headed by T.J. Dura along with Deborah Butt, Sr. Branch Office Administrator, our financial advisor not only set us up on the aforementioned 72 (t) plan but also made a ton of money for us in the stock market.
I'm not a high roller, despite what seemed a risk to some people by moving to a foreign country in the first place. Hence, when I invested our lump sum payment from AT&T, I asked Mr. Springer to invest our money in LOW-RISK funds.
Well, that low-risk investment produced some high rewards which increased our original IRA investment by over 1/3.
Take it from me. I'm certainly not a financial whiz by any stretch, however, I do my homework and go with qualified experts who get results. You can do the same.
Where's Dave? I'm living the good life in the Philippines!
No Longer in the Stock Market
While we're out of the stock market now, we have invested our savings in multiple properties here in the Philippines. We also have other investments.
Hence, keep in mind, however, that anytime you buy property in the Philippines, make absolutely sure the seller has CLEAR TITLE to the property they are trying to sell you.
While   Charles Schwab & Co., Inc. has ranked #1 for a Full Service Investor according to J.D. Power, don't dismiss other qualified firms like Edward Jones. UBS Financial Services, Merrill Lynch, Morgan Stanley and Wells Fargo are also some top-notch investment firms in the States.
That said, it's probably not a good idea to go it alone. I've heard of some phone company installers who did their own investments and ended up losing hundreds of thousands of dollars.
Get an expert but check out their background. We know of one financial investment advisor back in Springfield, Illinois, who was charged for defrauding senior citizens by the Attorney General of the State of Illinois. I knew the man personally and at one time we both attended the same church.
Be alert! There's scammers lurking everywhere.
STEP #4: MULTIPLE INCOME STREAMS
Above all, if you want to take an early retirement in the Philippines, or anywhere for that matter, you need to make more money. One of the best examples of that is my friend, Papa Duck. Papa Duck worked three jobs in Florida and lived a very frugal lifestyle.
"Papa" was able to retire at the age of 53 and married a loving, loyal Filipina. He's now living the good life in the Philippines and is one of the nicest people I've ever known.
Consequently, don't think it was easy for him. He paid his dues and was willing to make a lot of sacrifices to achieve his early retirement goals.
MULTIPLE INCOME STREAMS can help you achieve your early retirement dreams.
What are some possibilities?
Offer a service (housecleaning, landscaping) or sell something

Invest in real estate

Publish your own book(s). Something I've been doing on this website and on Amazon for years

Start your own blog (that's what I did over nine years ago and have been supplementing my Social Security pension ever since.
Here's a quote from the late Henry Sy, Sr., the founder of SM and the richest man in the Philippines, who died recently at the age of 94:
 "There is no such thing as overnight success or easy money. If you fail, do not be discouraged; try again. When you do well, do not change your ways. Success is not just good luck: it is a combination of hard work, good credit standing, opportunity, readiness, and timing. Success will not last if you do not take care of it."

 Henry Sy
5 Early Retirement Steps Philippines
STEP # 5: Eliminate Mortgage and other  Debt

Vacationing in Boracay, with Willie as our guide
As mentioned earlier in this article, we were able to sell our home in Central Illinois before we retired to the Philippines. We were fortunate to have a good real estate agent and made the sale before the big housing market crash hit.
In fact, I had a self-imposed condition regarding the sale of our house. If it did not sell within 30 days, we wouldn't move to the Philippines. Of course, throwing in some perks like a new dishwasher and stainless steel kitchen appliances didn't hurt.
Also, to sweeten the deal, we included a 60-inch Sony television in the package. Couldn't use it in the Philippines because of the voltage difference.
We lived with some good friends for a few months before moving to the Philippines and sold off the majority of our household goods. Debt-free, we retired to the Philippines.
No Credit Cards or Installment Billing
Consequently, we have never purchased anything on credit since moving to the Philippines over nine years. We paid for our new Ford Ranger in cash. Our new 4,000 sq. ft. home and swimming pool in the Philippines is fully paid for. We have no credit cards.
Of course, if you have a crushing amount of credit card debt and can only make the minimum monthly payments, you might consider a credit card debt free company. Make sure you choose one that is reputable, honest, trustworthy, and saves you money, of course.
An old working buddy back at AT&T, Jay Grim, once gave me some good advice. If you can't afford to pay cash for it, don't buy it. If it's something you feel you really need, save for it. Jay was right.
God Bless him. Jay is even more frugal than I am, The Crusty Old Expat.
Since moving to the Philippines we've adopted some money-saving practices which have enabled us to live comfortably while supporting a niece, nephew and my father-in-law who lives with us.
The Relatives Remain
Our niece has earned her teaching degree but hasn't taken her teaching board exams yet. She cannot apply for a public school teacher's job until she passes the examination.
She does, however, work as a tutor at my sister-in-law's preschool in Guimaras which has over 70 students. However, Shaina still lives with us full-time.
Our nephew is still attending college and is aiming for an IT degree. He's attending the some campus as our own computer tech, Panoy, the best computer tech in Guimaras.
The kids' mother, who works as a domestic helper in Kuwait, does send 5-8,000 pesos a month for their support, 100-160 US dollars. However, it doesn't begin to cover all their monthly expenses, even in the Philippines.
My hard-working wife of over 19 years has planted banana, papaya and mango trees on our three-acre lot. Cashew trees are also in abundance on our property. Our goal is to become more self-sufficient.
We're planning to purchase some egg-laying hens in the near future.
My father-in-law, Lolo, still lives in a nipa hut behind us and is now 86 years-old. The cost of his Alzheimer's medicine and other supplies continue to rise. Thus, we've been saving some pesos to help with our additional costs.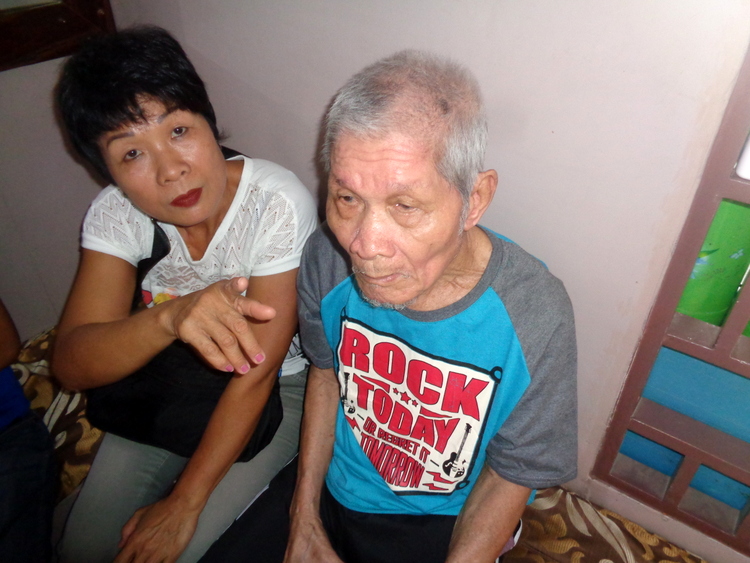 Lolo goes to the dentist
Saving Some Pesos
We're cutting a whopping one thousand US dollars off our yearly budget by staying at home and not eating out every Friday night. While we did eat out at Olivia's Kitchen this past Sunday evening to celebrate our 19th wedding anniversary, we hadn't dined out in over a month.
There are some expat friends I miss that have passed away. While I keep in touch with a couple of our foreigner friends, I've pretty much gone into a "hermit" stage. That said, please remember the moniker Scott H from Manila has tagged me with: "The Crusty Old Expat."
I've also saved us an additional 250 USD annually by reducing our Cignal satellite package to the 490 a month peso plan. We still get all the major movie channels like HBO and Fox Movies in addition to Jack TV and the Discovery Channel.
Still plenty of channels on the 490 Peso Plan, about 10 US dollars
Cignal Reduction
As long as I can keep getting my Ed Stafford and Gold Rush fixes I'll be fine without the extra channels. Anyway, Cignal replaced one of my favorite channels, 2nd Avenue, with the extremely boring RJ Channel. Plus, they have increased their prices.
We consolidate all of our trips on the island as much as possible saving on fuel. Our monthly diesel bill for our Ford Ranger only runs about 20 US dollars a month. My wife can now walk 15 minutes to a local fish vendor operated by some of her relatives.
I retired at age 57, as noted earlier in this post. You don't need $50,000 to $100,000 a year if you retire to the Philippines. We support a six people, including our live-in helper, for less than $20,000 a year. As mentioned, we have invested our funds in real estate and other ventures, but we're living quite comfortably.
Yes, our truck and house is all paid for, but there's no reason you can't do the same. Start planning early. That's what some friends of ours back in the States are doing. They have a Filipina wife and plan to retire to the Philippines.
Let's review the steps again:
5 Early Retirement Steps Philippines
STEP # 1: LOCATION,
STEP #2: RULE 72 (t),
STEP # 3: HAVE A REMARKABLE FINANCIAL ADVISOR, 
STEP #4: MULTIPLE INCOME STREAMS and
STEP # 5: ELIMINATE MORTGAGE AND OTHER DEBT.
Like anything in life, there's usually no easy way to achieve your goals. Early retirement in the Philippines or anywhere else for that matter requires some sacrifices and a lot of hard work.