Along with my brother Rick from Illinois,  I also lost three foreigner friends in 2018. Jerry, his brother Willie, and a good friend, Peter, all passed away. All four left behind beloved partners, families, and friends.  "2018 Fallen Expats of Guimaras." It was a tough year for expatriates on our island province.
Peter William Balls
Peter William Balls went on to meet his Maker after a brief two month battle with Stage 5 Chronic Kidney Disease. Peter, born in Great Britain, later immigrated to Australia at the tender age of 16. He was a semi-truck driver, boilermaker and airport security guard. "Pete" was 74 years old at the time of his death.
Peter was a good friend and "close" neighbor. His Filipina wife of six years, Emily, and he, only lived a short 15 minute walk from our home.
Peter, along with his best foreigner friend on the island, Nance, were the mainstays of the Wednesday afternoon expat group. The bulk of the weekly seminars involved a healthy dose of San Mig Lights and Pale Pilsens consumed under a cloud of heavy cigarette smoke.
Spread throughout each weekly meeting was a liberal dose of carabao crap.
While the majority of the meetings were held at the "Old" Shirven Hotel in Guimaras, the group did occasionally venture to other locations throughout the island province.
However, the gatherings eventually ended up back at the "Old" Shirven and ceased when our friend Peter passed away.
The Crusty Old Expat was a faithful attendee of the "bull sessions" for many years. That said, my attendance dropped off the past few years and I would only sporadically make it to the Wednesday afternoon meetings.
Willie, the Story Teller
Willie, an American expat, along with his partner Sandi, were also regular attendees of the expat get-togethers. Willie passed away in Bacolod City only about a month after his older brother Jerry died.
Willie, who enjoyed an occasional sip of vodka, was a spinner of tales, some of them fact, some of them fiction. However, his stories were always entertaining. I had the pleasure of listening to a round of Willie's sagas exactly a week before he died.
"Brother Willie" was a lovable character.  We both shared tales from our past Pentecostal experiences while quaffing an adult beverage or two.
My experiences with Jerry, Willie's brother, are extremely limited, only having met the man a couple of times. I remember him as a genial, friendly man and believe the two brothers had a close bond. Jerry left behind Grace, his Filipina partner.
2018 Fallen Expats of Guimaras
"Where, O death, is your victory? Where, O death, is your sting?" proclaimed the Apostle Paul.
Here's a look at several photos I have of our friend, Peter, along with other expat friends and family:

Peter and Emily
Peter was a frequent welcome guest at our home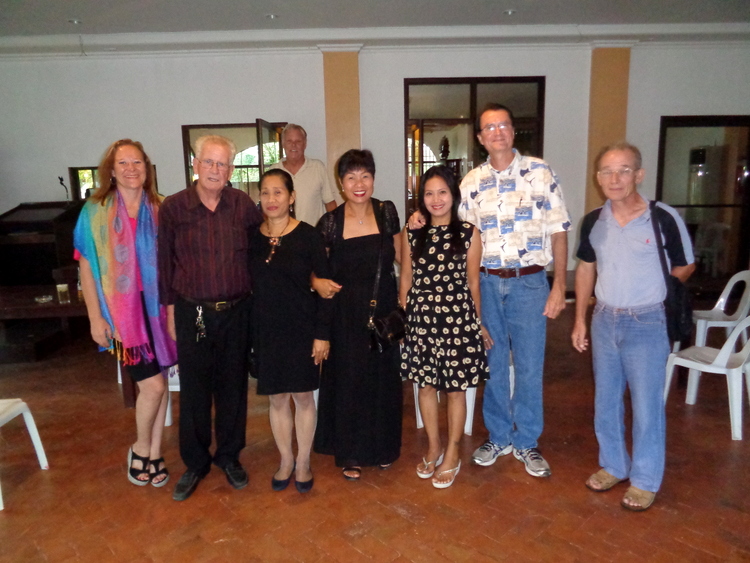 Hanging out with the crew at the "Old Shirven"
Manggahan Festival in Guimaras. Another excuse for us to quaff an adult beverage…or two
GOOD BYE DEAR FRIENDS. LIFE ON THE ISLAND ISN'T THE SAME WITHOUT YOU