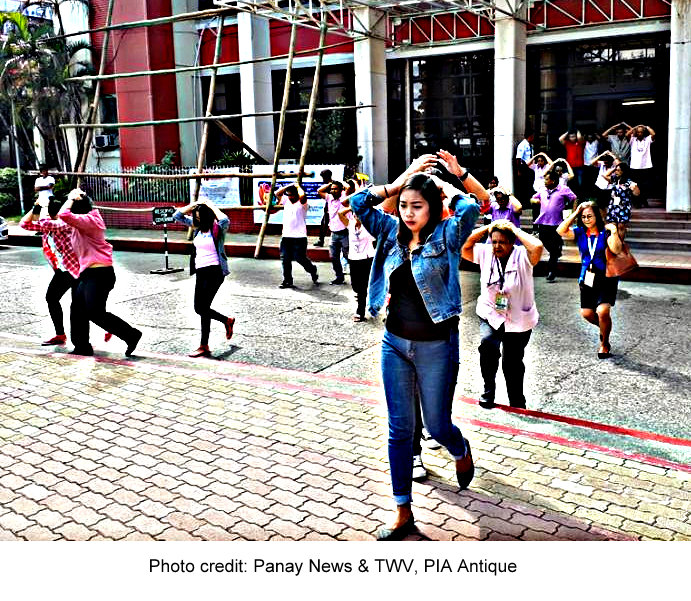 12 Earthquakes Rock Guimaras & Panay. That's according to the Philippine Institute of Volcanology and Seismology (PHIVOLCS). As a result, the multiple tremors triggered the evacuation of schools, malls, and other business establishments.
Guimaras: Whole Lotta of Shakin' Goin' On
So I was sitting at home yesterday morning, Monday, October 5, 2018, around 10:54 am. Almost ready to shut off the computer. Suddenly one of the earthquakes hit! While it was only a 4.8, the tremor still alarmed me. It was located near Leon, Iloilo, Panay Island.
First of all, the tremor that I felt only lasted for a few seconds. It rattled the windows of our house and shook the headquarters of PhilippinesPlus where this website originates.
However, the Inquirer.net reported that a 4.0 magnitude earthquake with epicenter at Sibunag, Guimaras happened earlier at 7:46 a.m.
The Daily Guardian reported that PHIVOLCS recorded the 12 earthquakes between 7:54 a.m. and 3 p.m. Monday.
According to Jaypee Kein Entredicho, Guimaras Public Information Officer, buildings were "slightly tilting" and the old sugar bulk structure at the pier of Jordan was shaking.
Earthquakes were Tectonic in Nature
All 12 earthquakes that hammered Guimaras and Panay Island were of tectonic origin.
Geological forces on rocks and the adjoining plates of the Earth's crust cause tectonic earthquakes.
Getsetflyscience.com explains a tectonic earthquake as such:
An earthquake shakes the bottom caused by the sharp breaking and movement of enormous plates referred to as tectonic plates of earth's rocky outmost crust.
The sides of the tectonic plates area unit are marked by faults.
Finally, most earthquakes occur on the fault lines once the plates slide past one another or touch one another.
Check out the simplified diagram from Getsetflyscience.com below:
The tremors were felt as far as Capiz and Negros Occidental.