Yes, the title is correct: "86-Yr-Old Lolo's 1st Dentist Visit." Lolo (Grandpa) had a bad toothache the other day. My wife gave her Father (Tatay) a 500 mg Mefenamic acid tablet for the pain.
Tatay's Toothache
Immediately, I knew my father-in-law should be taken to our local dentist in Guimaras. Toothache pain can be excruciating.
On the second day that I was informed of Lolo's toothache pain, my asawa advised me that she wanted to take her Father to the dentist the next day.
First of all, my significant other always tells me news as I'm ready to go to sleep. Frankly, I was not thrilled about having to escort Lolo to the dentist. He had never been to a dentist in his whole life, having pulled his own teeth before.
My father-in-law has been afflicted with Alzheimer's for years. He's unpredictable at times and even violent.
As a result, I had some difficulty in falling asleep, worrying about the upcoming visit. However, I eventually succumbed to the Sandman and got some rest.
86-Yr-Old Lolo's 1st Dentist Visit
We pulled up at the dentist's office the next morning, Saturday. It was 8:00 am. No one was at Dr. Gonzaga's office yet, the best dentist in Guimaras.
While I waited for the dentist's staff to arrive, my asawa had taken her Tatay to a motorcycle sales office next door. The motorcycle outlet was in the shade. A searing hot sun was beating down on me as I waited for the Doc.
Thankfully, a security guard we knew brought out some faded blue turquoise chairs for Lolo to sit on. The friendly guard then took out some chairs for my wife and me.
I politely declined, wanting to be sure my father-in-law would be first in line for treatment. Because Lolo is a senior, he would have been given priority treatment anyway, but I remained at my sentry post nonetheless.
At around 8:30 am, three of the dentist's assistants pulled up in a tricycle. They opened the padlocks to the office. My wife escorted her Father inside to the waiting room as seen in the following photo. A fan was immediately turned on for our comfort.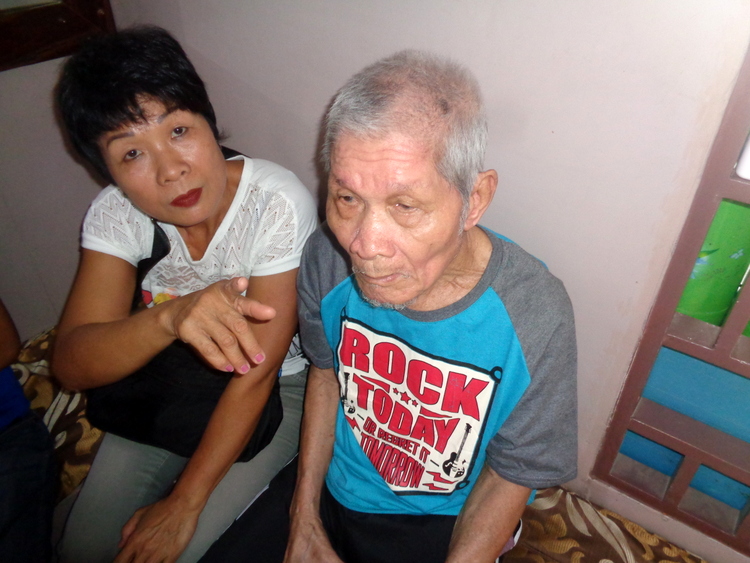 Dr. Gonzaga arrived around 9:00 am. After briefly explaining Lolo's situation to the Doc, he was taken inside and placed in the dreaded dentist's chair.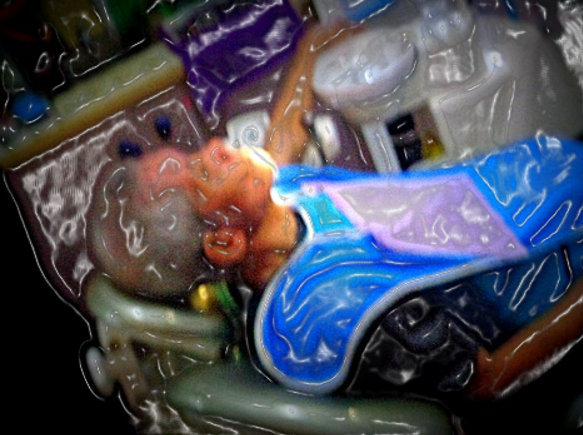 My wife initially stayed inside with her Father, the dentist and her assistant. However, when "Doc" starting giving Lolo a shot in the gums to numb the pain, she bowed out.
Enter the Crusty Old Expat
Since my wife cannot stand to see someone injected with a needle, even on television, I had to stay with my father-in-law.
Lolo's tooth was already wiggling (I joked that I could have pulled it out with pliers.) Dr. Gonzaga had the tooth extracted in less than a minute.
Lolo was a trooper. Didn't complain; didn't cause any problems at all. I was relieved as I'm sure my father-in-law was.
Here's a look at Lolo's first tooth that he ever had pulled by a dentist. My wife paid 450 pesos, a little over 8 US dollars for the extraction. The doctor prescribed Mefenamic acid for the pain (which my spouse had already been giving him.)
86-Yr-Old Lolo's 1st Dentist Visit
Lolo's first visit to the dentist had gone off without a hitch. My father-in-law did not exhibit any strange behavior. OK, while in the waiting room he did claim to see his estranged wife floating on the ceiling watching him, but that was about it.
I didn't see her.
Above all, a BIG THANKS to Dr. Gonzaga and her crew. Everyone was very patient and professional with Lolo. All in all, not a bad morning in "paradise."