We've haven't had a household assistant in our home since early June. Unfortunately our last domestic diva wasn't motivated to work too hard. Thankfully, our new dynamic domestic helper in the Philippines is as busy as a funeral home fan in July. She's done more work in one week than our previous helper did in three months.
Tough to Find Good Help
Finding a helper in our island province of Guimaras is tougher than finding an honest politician in election season. We talked to friends, families, the local police, and strangers in an effort to find a new domestic helper.
We appealed to God and his Son, Jesus Christ, the Great Intercessor, through nightly prayers for a good helper. Believe me, we would need a miracle to find a reliable, hardworking, household aide.
Our Answer to Prayer
It took the funeral of a good friend's father-in-law to set the stage for our answer to prayer.
An expat friend of ours and his faithful Filipina wife had been caring for "Papa" for at least four years. Our friend's wife, also a close comrade of my spouse, recently lost her Father. Her elderly "Tatay" had passed away and my wife and I attended the gentlemen's funeral mass.
It was the first funeral mass I had attended in over nine years of living in the Philippines.
Sitting behind us at St. Michael the Archangel's parish church was a good friend of ours, a spunky Canadian. Our female Canuck colleague was seated next to a Filipino lady, a caretaker for some property on our island province. Our Canadian comrade asked the caretaker if she knew of anyone looking for work as a domestic helper as she was aware my wife and I were desperately seeking a household assistant.
The caretaker knew of a neighbor who might be looking for employment. It was Saturday morning. I asked the Filipina that if the lady was interested in working for us, she could start on Monday.
The Text Message
After arriving home from the burial, my better half received a text message from the caretaker she had spoken to in church. The lady's neighbor was indeed interested in taking the job and would start on Monday.
My spouse picked up our new helper in nearby San Miguel, Jordan, Guimaras.
"Mi-Mi" turned out to be the same age as my wife, early 50's, and hasn't stopped working since she's arrived. She's extremely industrious and works circles around previous employees half her age.
The Lolo Factor
"Mi-Mi" gets along very well with my father-in-law, afflicted with Alzheimer's disease, and who lives behind us.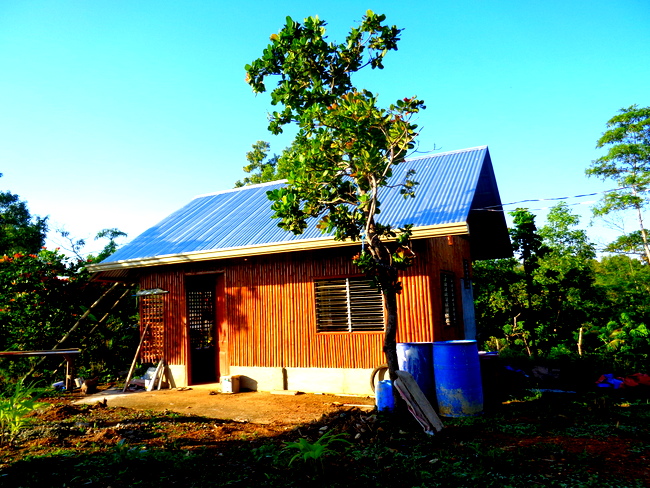 Lolo's pad
"Lolo," (Grandpa) was quite excited to see our new household assistant as he thought she was his new wife!
In fact, our new domestic helper in the Philippines has managed what no one else has ever accomplished in our household. Yesterday morning I was amazed to see "Mi-Mi" walking into our home with Lolo in tow.
It was the FIRST TIME since moving to our new home over three years ago that Lolo ever stepped foot into our house. He always told my wife that he did not want to go inside since he believed our home "belonged to the nuns." Lolo has probably confused our new home with our former domicile, "The Farm," which, indeed, was owned by a group of nuns.
No matter how many times my wife would try to encourage her Father to go inside our house, she was always unsuccessful. Our new helper accomplished this minor miracle in little more than a week.
Our New Dynamic Domestic Helper in the Philippines
A BIG THANKS to our Canadian friend and the Filipina caretaker. We couldn't be more pleased with our new dynamic domestic helper in the Philippines.
(Our new domestic helper is paid 4,000 pesos a month, 80 US Dollars, and has every Saturday afternoon off along with all day Sunday. She's also provided with room and board, a private room with her own television and an ABS CBN Plus cable box. 3,500 pesos is the recommended monthly salary for a domestic helper in our region of the Philippines.)