While waiting for my favorite Filipino television show, "Ang Probinsyano," to begin, I'll flip to TV Patrol news on ABS CBN so I don't miss the start of "The Provincial Man." Now if ABS CBN's shows would adhere to a strict schedule and time slot, I wouldn't have to switch to the network so I don't miss the start of Coco Martin's action show. However, this is the Philippines and even the network programs are on "Filipino Time."
Half-Naked Loafers
The Inquirer Net reports that the Philippine National Police (PNP) has rounded up "tambays" or "loafers" as it arrested more than 7,000 people for allegedly violating ordinances in Metro Manila during the past week.
From 5:00 a.m. of June 13 to 5:00 a.m. of June 20, 2018, the five districts of the National Capital Region Police Office (NCRPO) arrested as much as 7,291 "tambays" in the past week, its regional director Chief Supt. Guillermo Eleazar said.
This gives an average of 1,042 arrests per day.
Derived from "stand by," the term "istambay," or tambay, has over the years referred to bums who hang around street corners.
The loafers arrested were charged with the following offenses:
minors who violated the curfew
drinking in public
loitering without upper clothing or half naked
smoking in public places
traffic violations
littering, singing in videoke bars past 10 pm and urinating in public
Brother-in-law Joery taking a well-deserved nap at Raymen Beach, no loafer he
President Duterte Crackdown
Philippine President Duterte earlier ordered law enforcement officers to begin a crackdown on its anti-criminality operations by targeting street loiterers.
Republic Act 10158 decriminalized vagrancy, loitering, except for prostitutes. The measure, signed by former President B.S. Aquino III in 2012, amended Article 202 of the Revised Penal Code, which classified vagrancy as a criminal offense.
While loitering itself is no longer a crime in the Philippines, the loafers arrested were found violating the afore-mentioned local city ordinances. In effect, there is now "zero tolerance" for the bums.
Rudy Giuliani Playbook: Over 7,000 "Loafers" arrested in Metro Manila
During the 1990s, crime rates in New York City dropped dramatically, even more than in the United States as a whole. Violent crime declined by more than 56 percent in the City, compared to about 28 percent in the nation as whole. Property crimes tumbled by about 65 percent, but fell only 26 percent nationally.
According to the National Bureau of Economic Research, many attribute New York's crime reduction to specific "get-tough" policies carried out by former Mayor Rudolph Giuliani's administration. The most prominent of his policy changes was the aggressive policing of lower-level crimes such as jaywalking.
In this view, small disorders lead to larger ones and perhaps even to crime.
As Giuliani told the press in 1998, "Obviously murder and graffiti are two vastly different crimes. But they are part of the same continuum, and a climate that tolerates one is more likely to tolerate the other."
Is President Duterte in effect taking a page from Rudy's anti-crime page book by targeting the loafers?
Shocked by the Arrest of Public Pissers
Personally, I'm shocked by the arrest of public pissers in Metro Manila. If all the locals in Guimaras, the island province we call home, who urinated in public were arrested it would probably involve at least 75% of the male population or more.
While you might be thinking I'm exaggerating a mite, keep in mind I've lived in the Philippines for almost nine years and have witnesses a plethora of public pissers.
I don't have a problem with it and realize a majority of the rules and regulations in our province are seemingly never enforced. For example, with my informal survey on about 2,000 motorcyclists in Guimaras, less than 10% of them actually wear helmets, as required by law.
Nevertheless, if there ever was a crackdown on local public pee scofflaws, I imagine the local BJMP detention facilities would be filled to overflowing.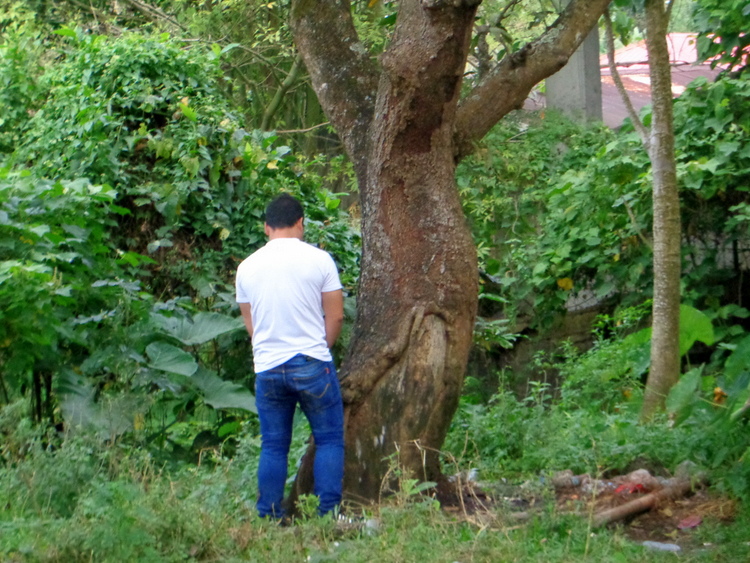 Local "pee tree" in Guimaras
What Harm are the Loafers Causing?
Now you might be wondering what harm these so-called loafers are causing. Some members of the opposition Liberal party are complaining that the civil rights of the "tambays" are being violated.
However, one of my favorite columnists in the Philippines, JoJo Robles, now with the Manila Times, offers his insight on the "tambay" issue in a recent editorial.
Robles responds to remarks from opposition Sen. Francis "Kiko" Pangilinan who is complaining about the tambay crackdown:
"…I don't know where Sen. Francis "Kiko" Pangilinan grew up. Perhaps in some tambay-free gated community, where no half-naked people drink liquor on the streets, cat-calling women and beating up, shaking down or robbing ordinary folk unfortunate enough to fail to avoid their impromptu sidewalk clubhouses?

But Pangilinan must have a very different idea of what tambays do and how they are really a menace to people like you and me who don't live in the exclusive subdivisions favored by our senators.

"… I'd like to remind Pangilinan that it is the ordinary, tax-paying and law-abiding citizen that needs protection from the tambays. And if the leader of the Liberal Party really wants to help, he should just encourage people not to loiter, even if they aren't doing anything illegal that could lead to their arrest.

Because it's true: Loitering itself is not a crime. It ceased to be so during the administration of the Great Tambay, Noynoy Aquino, who caused the repeal of the country's laws against vagrancy that gave the authorities enough reason to accost people 'hanging out' on our streets and sidewalks on a near-permanent basis even if a crime was not in the process of being committed."
And that, Dear Readers, is the rest of the story.