I've lived in the Philippines for over eight years. Aside from 18 months spent in Iloilo, my asawa and I have lived in Guimaras. My wife was born and raised in this island province known for the sweetest mangoes in the world. Occasionally, I'll witness events that boggle my fat "kano" head. This past Thursday evening, around 8:30 pm, was one such occasion I like to call the "Miracle at The Crossing."
Hunger Drive
My loving better half was driving our Ford Ranger over to "Oliva's Kitchen" in San Miguel, Jordan, Guimaras. "Oliva's" has the best food on the island, thanks in a large part to their talented top chef, Stewart. Stewart was professionally trained in a culinary school in Australia and also worked at a restaurant "Down Under."
We had spent Thursday afternoon at Guimaras State College where our niece, Shaina, would be participating in the university's Annual Recognition Day. The event started on time at 2:00 pm, which is a minor miracle in itself, considering "Filipino Time."
Nevertheless, by the time all the speakers had pontificated and all the medals and awards handed out, the event didn't end until 6:30 pm.
After my wife navigated our Ford Ranger around belch-smoking jeepneys that blocked the roads near the college, it took over an hour to finally reach San Miguel, Jordan, which is about 15 minutes from our home.
We had to drop off several relatives yet and it was now 8:30 pm. We were all tired and hungry so my spouse suggested we stop at "Oliva's Kitchen" nearby to grab some dinner. Visions of a delicious Island Brew Burger, one of Chef Stewart's specialties, danced through my fat head, and I quickly agreed with my wife's suggestion.
Our niece Shaina, who lives with us, was along, of course, and she never had been to "Oliva's" anyway, giving us another excuse to go there.
Mind-Boggling Miracle at The Crossing
As we approached "The Crossing," or "Round-About," I rubbed by eyes in disbelief and loudly proclaimed "Look at that! Workers are actually on the job at night pouring concrete!"
Road construction has been going on for about the past six months on the Guimaras Circumferential Road on a stretch of downtown San Miguel, Jordan, roughly between the "Old Site" and "New Site" Market areas. See the following map for the approximate location of this miracle.
What's really frustrating about the road construction is that the road being torn up was already replaced only  three-and-half- years ago when the road was widened. It's beyond my mere mortal comprehension as to why this new project was being undertaken.
The gentlemen who owns all the construction equipment involved in the undertaking is just doing "what's he told." There's been rumors that the former construction was shoddily done but those reports can neither be confirmed nor denied.
Now perhaps you might wonder why I consider workers actually doing their job at night amazes me. Well, it's just nothing I've ever seen in our region of the Philippines in the past eight years. Road construction, funded in a large part by the Australian and Japanese governments has been ongoing throughout the past eight years we moved to Guimaras. However, I've never seen anyone working at night before, although, we have seen and heard concrete mixer trucks rumbling through the island at night recently.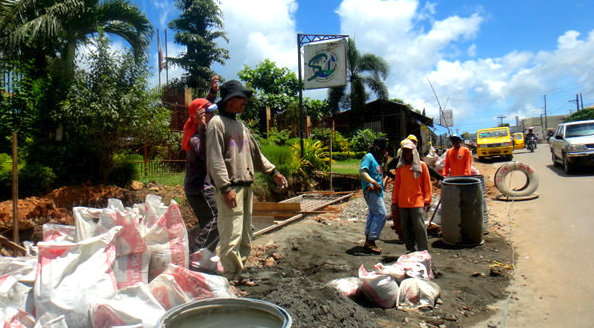 While this "miracle" doesn't rank up there with Jesus' first miracle, turning the water into wine at the wedding feast in Cana, it still astounds me.
However, while I've rarely done this since retiring to the Philippines, I couldn't help but note aloud to my wife and niece, that working on a construction site back in the States at nighttime is not that unusual. In other words, I was using the old "that's how we do it in the United States" argument. I live in a new country now, only a visitor, and hate when foreigners use that line.
However, that said, the road construction in Guimaras along the aforementioned stretch of road, could probably have been completed back in the States in a couple of weeks. Nevertheless, that's only between you and me. It's not something I'm going to repeat to the locals.
I'm well aware that the pay scale for the construction workers in our area may hover around 5 or 6 US dollars a day. Though that's probably not a major motivational level, they're still decent wages for our region of the Philippines, Western Visayas. Nevertheless, I'm hoping that some day in the near future, this latest road construction will be completed. However, that may take another miracle.