Sometimes it boggles even my thick, fat kano skull. Though my Filipina wife and I moved to the Philippines over eight years ago, some news still astonishes me. Take it from the crusty old expat, I've seen a lot, I've heard a lot, I've experienced a lot. But the following news report: "Trike Driver Could Get 8 Years in Jail for Using Chainsaw" completely baffles me.
Trike Driver Could Get 8 Years in Jail for Using Chainsaw
Arrested on Wednesday, January 24, 2018 was tricycle driver Nornel Erojo. It will cost Erojo 40,000 pesos, 800 US Dollars, for his bail bond. That's a lot of money for the average tricycle driver in the Philippines.
The trike driver's heinous crime? He violated the Chain Saw Act of 2002. No, you're not misreading this. Police in Panay, Capiz arrested Nornel Erojo for his abuse of Section 7 (a) (4) of Republic Act 9175 of the Philippines.[i]
The "Actual Unlawful Use of Chain Saw" Law
The "Actual Unlawful Use of Chain Saw" provision states the following: "Any person who is found to be in possession of a chain saw and uses the same to cut trees and timber in forest land or elsewhere except as authorized by the Department [of Environment and Natural Resources] shall be penalized with imprisonment of six years and one day to eight years, or a fine of not less than P30,000 but not more than P50,000, or both, at the discretion of the court."
To add insult to injury the law also states, "The chain saw unlawfully used shall be likewise confiscated in favor of the government."
Brother-in-law needed permit
My brother-in–law in Guimaras had to secure a permit for us when we had a licensed chainsaw operator cut down some mahogany trees on my father-in-law's OWN PROPERTY.
That's correct. We needed a permit to remove trees from land that belongs to my father-in-law. The trees were used in the building of the nipa hut that my father-in-law resides in. It's located right behind our home in the Philippines.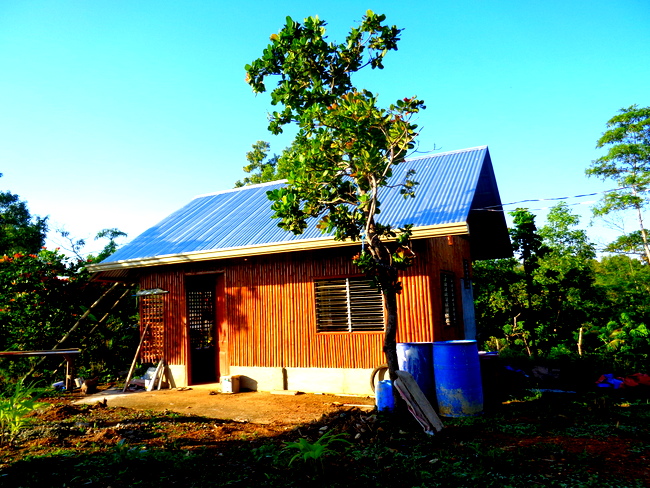 We purchased the majority of the wood used in the construction of our residence from lumber dealers in Guimaras to avoid the hassle of having to secure more permits. Plus, by the time we figured in the cost of hiring the chainsaw operator and the labor and permits needed to move the lumber across Guimaras, it would have been cheaper to buy our lumber from a dealer in the first place.
I can understand people being restricted from cutting down trees on public lands or property that doesn't belong to them. However, if you want to cut down trees on your own property, then you shouldn't need a permit.
Only in the Philippines.
[i] (2018, January 25) "Tricycle driver violates Chain Saw Act – police." Retrieved from Panay News. http://www.panaynews.net/tricycle-driver-violates-chain-saw-act-police/