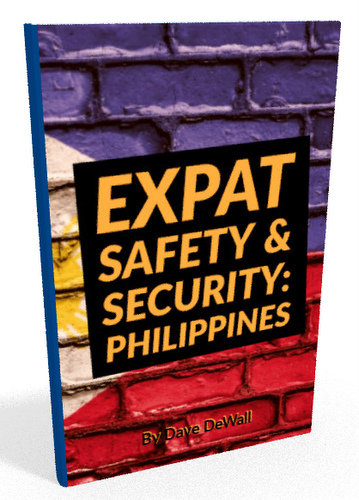 For you newcomers, I'm an American expat from Central Illinois who moved to the Philippines over eight years ago. I've been married to a loyal, loving Filipina for almost 18 years now. "EXPAT Safety & Security: PHILIPPINES" has never been more important.
INCREASING TERRORIST THREATS IN THE PHILIPPINES
The Communist insurgency group, New People's Army, NPA, is ramping up attacks in our area, Western Visayas. PNP Chief "Bato" Dela Rosa recently declared that the Communist thugs are targeting our region.
The threat of radical Islamic terrorism is continuing to grow in the Philippines with groups like ISIS stepping up recruitment efforts here. With promised cash bonuses of 100,000 pesos, $2,000, to anyone who joins their cause, their ranks are swelling. 100,000 pesos is a lot of money in the Philippines.
These recent threats prompted me to write a new book, "EXPAT Safety & Security: PHILIPPINES."
In addition to having lived in the Philippines full-time for over eight years, I've had prior experience as a Security Specialist in the United States Air Force, Strategic Air Command, SAC. I've also served as a Safety Committee member and Fire Warden at AT&T, the telecommunications giant.
In my new book I cover such topics as "Dogs, Guns, & Guards" and give you tips on the best breeds of canines to use for your own personal security at home.
Perhaps you want to ramp up your security and arm yourselves. I'm not talking about buying some Airsoft gun that won't kill some intruder, I'm talking about a real firearm.
Of course, your Filipina spouse can purchase a weapon, if she jumps through spools of red tape. But this book will tell you how to buy firearms in the Philippines without going through all the hassles of government bureaucracy.
Maybe you want to hire your own personal security guard? "EXPAT Safety & Security": PHILIPPINES" covers that topic.
"How Safe is it to Visit the Philippines" is another important topic covered in this book. What are the biggest risks? What are the overlooked risks? How can you lessen those risks?
I've woven personal accounts of our own security and safety issues in the Philippines throughout this book.
If you're planning a trip to the Philippines this guide will provide you with invaluable information and advice that will make your visit to the PH easier and safer.
Or maybe you're a future expat and are concerned about all the recent terrorist activity in the Philippines. "EXPAT Safety & Security: PHILIPPINES" will provide you with practical advice on how to protect you and your loved ones from terrorism and crime in the Philippines.
"EXPAT Safety & Security: PHILIPPINES"
Download this 80 page plus digital E-book now from a secure PayPal site for only $6.99:
Buy Now