Regular consumers of "Philippines Plus" know that I'm a crusty old expat. Sure, I could pretend that I never get irritated and that I'm always whistling "Zip-A-Dee-Doo-Dah." But sometimes that bluebird on my shoulder takes a crap. However, not today, O True Believers, for on this Sunday, October 15th, 2017, an 8-year goal has been realized. Yes, we are skipping Iloilo City and doing the bulk of our shopping on our island province of Guimaras.  My asawa can now take our Aurora Blue Ford Ranger into the local market on our island province since our Governor and his Provincial Engineering Office took care of repairing our former muddy, rut-ridden road.
8-Year Goal Realized: Skipping Iloilo and Shopping Local
We're thankful for a tip from one of our local expat friends, a female Canuck who rarely cries"Eh?" We would still be riding the pump boat to nearby Iloilo City a couple or more times a month to do the bulk of our shopping if not for the Canadian. Our friend advised us several months ago that there was a local bank in Guimaras that had an ATM where we could withdraw our funds. We wouldn't have to go to Iloilo City anymore to extract our money.
Well, when I heard that I was happier than a drunk in a Red Horse warehouse. But it took a few months after that tip before I finally convinced my wife that we could do the bulk of our shopping in Guimaras. Basically, here was my argument:
THE ADVANTAGES OF SHOPPING IN GUIMARAS OVER ILOILO CITY
1. We would save time. A round trip to our home from Iloilo City takes about three hours and that's only if you're doing something as simple as withdrawing money from an ATM. A shopping trip to Iloilo for us can start at 7:30 am and last until 5:30 pm when we arrive home.
2. We could save money. By doing our shopping in Guimaras we could save money on the following items:
That's an average savings of 1800 pesos, 35 US Dollars.
3. The Safety Factor. I feel much safer roaming around our island province than I do the big city of Iloilo which has over 400,000 inhabitants and much more crime. Plus, it takes a 15-minute pump boat ride to get to Ortiz Wharf in Iloilo. Sometimes the waves get a bit choppy. I can't swim. So when I finally convinced my asawa of over 17 years that we should do the bulk of our shopping in Guimaras, I was ecstatic.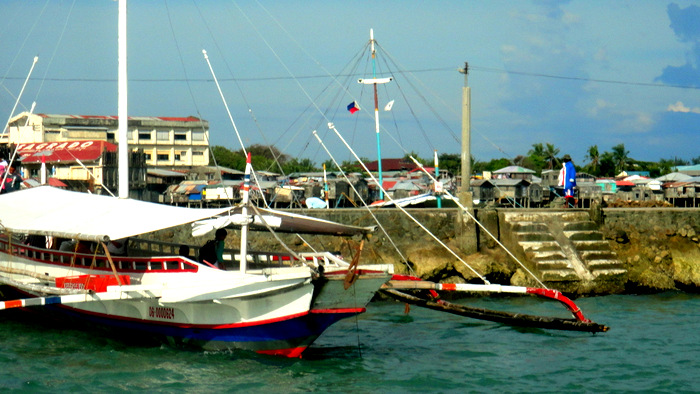 The S&R Experience
While our shopping options are more limited in Guimaras, we can purchase the majority of the grocery items we need on our island province. During our monthly shopping trips to Iloilo we used to kick off our shopping expedition with a stop at the S&R Warehouse.
We would purchase two 20 kilo bags of dog food for our eight mutts at a cost of around 1,000 pesos each, 20 bucks. S&R is a member's only shopping outlet and offers a variety of food that we can't find anywhere else. However, we would drop 15,000 pesos (300 US Dollars) and up every time we shopped there.
Guess what? We discovered we can buy our dog food locally in Guimaras for the same price at "Hog Cocker's" (yeah, that's really its name and it's not a a porno palace for pigs.) In fact, our most pampered pooch, "Squeak-Squeak," loves the new chow. While we've found some good buys at S&R over the past year, many of the items we once purchased are now out of stock. Also, we discovered that a lot of the food stuffs we bought were very near the expiration dates.
"Squeak"
So my spouse and I decided we didn't need to make a stop at S&R anymore. We're saving a ton of money. We survived the past seven years before the shopping club arrived and we'll manage without them.
Cost and Availability
While some items we used to purchase in Iloilo City are a few pesos cheaper than what we can get in Guimaras, the savings we acquire from doing our shopping locally don't justify shopping in the big city. Factor in the tremendous amount of time we save and it's not really not cost effective for us to go across the pond every month. Sure, we don't have any big shopping outlets like SM City but we've got Southern Trading.
I've head rumors for the past eight years that SM or Gaisano were going to build in Guimaras but thus far, that's all those reports are, rumors.
Regardless of that, the crusty old expat can stay at home now and save money to boot. I merely make a list and my loving, thoughtful wife merely purchases the items I request making life in "paradise" even better. Sometimes that bluebird on my shoulder doesn't take a dump!