I've resided in the Philippines for over eight years now. Thankfully, by the grace of God I met a beautiful Filipina through a pen pal service in June of 1999. We married in January 2000 upon my first trip to the Philippines. While I occasionally might complain about the power outages, brownouts, on our island province of Guimaras, I wouldn't trade living in "paradise" for anything. Let me present to you my "Top 5 Reasons for Moving to the Philippines."
Reason #5: Ease of Communication
Many people in this archipelago speak English. I can always find someone who knows enough of the English language to help me out. While some Filipinos might complain of a "nosebleed" while speaking to me, the majority of the locals are friendly and more than willing to help a "kano," "Amerikano."
"Nosebleed?" A term Filipinos use when they converse with someone speaking English. Some locals have difficulty conversing in English and thus jokingly claim they get a "nosebleed."
Yes, I could learn the local language in our region, Ilonggo, or Filipino, the national language of the Philippines, formerly called Tagalog. However, whenever I'm asked why I don't learn the local language, my standard reply is that "I'm too old and too lazy." Besides, my Filipina spouse is usually always with me and she is fluent in Ilonggo, Filipino and English and knows a smattering of Mandarin to boot.
While I do know a few phrases of the local language and Filipino, living in a foreign country where English is spoken made my adjustment to living in the Philippines much easier. Do I mind when I'm surrounded by a group of my wife's relatives and they're all chattering away in Ilonggo? Of course not! I'm the visitor here, not them, and I merely tune out the chatter.
Reason #4: More Relaxed Lifestyle
Many Filipinos have adopted a more relaxed style attributed by some to their previous status as a colony of Spain for over 300 years. Why bother about doing something today when it can be done the next day? Or the day after that.
"Filipino Time" can be maddening at times, especially to a foreigner like me. My work ethic at AT&T back in the States, where I spent almost 30 years, demanded being on time every single day. My job at the telecommunications giant also required tasks that had time-specific goals. Those tasks had to be completed in a certain time frame or our company would be penalized.
So imagine living in the Philippines, a country where no one seems to be in a hurry. Once you adapt to this lifestyle, you'll find that you'll probably lead a less stressful life. If you try to live your Western, goal-oriented, punctual, always-on-time, rat race lifestyle here, you might find yourself being miserable a lot of the time.
Relax.
Take a breath.
Do it tomorrow.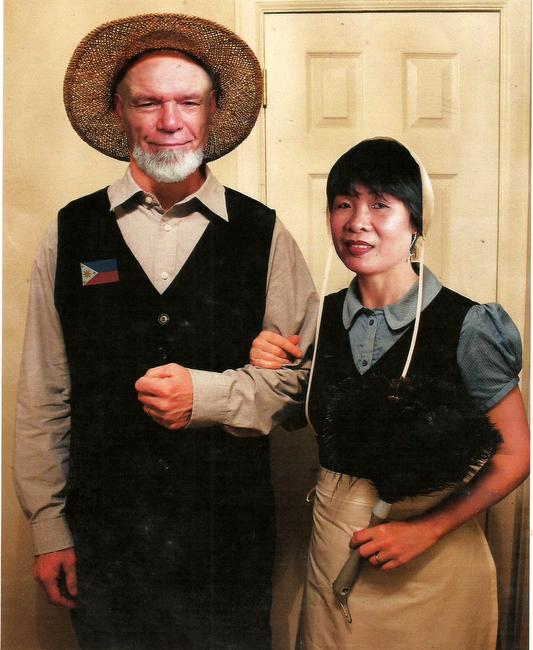 It's a simple life here in the Philippines
Reason #3: Freedom
I don't miss the rules and regulations that were being jammed down my throat back in the States. While I'm glad to hear President Trump has already cut a lot of the useless regulations that were choking the U.S. economy, here in the Philippines I already have all the freedom I want.
There are many laws on the books in the Philippines that are never or rarely enforced. Take the 2009 law requiring all motorcyclists to wear helmets. I've done an informal survey of 1300 motorcyclists in our province of Guimaras. How many wear helmets? Less than 10%.
The Philippines also recently passed a law prohibiting children under the age of seven from riding as passengers on motorcycles. That is another regulation that is being completely ignored in our province. (OK, now here's one law I can get behind. I actually wish our local cops would enforce this new law.)
I can burn what I want on our property without any local ordinances telling me what I can do or what days I can burn. It's an absolute pleasure to have the freedoms that I enjoy in the Philippines. Though some politicians in the PH are trying to institute asinine regulations telling restaurants how much rice they can serve, I relish the freedom I have here.
Reason #2: Cost of Living
When we first moved to the Philippines over eight years ago the Philippine Peso to US Dollar exchange rate was about 48 to 1. At one point it dropped to 41 to 1 but has been hovering at over 50 to 1 for several weeks now. Some forecasters are even predicting a 55 to 1 exchange by the end of 2018.
According to International Living's 2016 Annual Global Retirement Index – which measures, among other things, climate, healthcare, benefits and infrastructure – the Philippines ranks 10th (in a three-way tie with Portugal and the Dominican Republic) in cost of living for retirement destinations in the world. Cambodia was ranked the least expensive, followed by Nicaragua and Peru.
But since I was married to a beautiful Filipina, it made sense to move to the Philippines and not Cambodia, Nicaragua or Peru. And, since my wife already owned a home in the Philippines that was bought and paid for, it made even more sense to move to the archipelago.
In reality, however, your lifestyle and location can also impact how comfortably you can live in the Philippines. A single guy could probably live quite well in the province for a $1,000 US Dollars a month, but living in the Metro Manila area will certainly cost a person more.
Reason #1: It's an Adventure!
Finally, my number one reason I believe moving to the Philippines is a great idea, is the sense of adventure you can find here. I was tired of my same old boring lifestyle back in the States and was eager for a change in my life. My beloved wife, who had already been in the U.S. with me for nine years, gave up a very comfortable life to return to her home country.
In the Philippines, every day can be an adventure. While it might be challenging to deal with all the cultural differences you will encounter in the PH, it does make life interesting.
Plus, if you're a single guy moving to the Philippines, you'll have the opportunity to meet some of the most beautiful and loving women in the world. I've been married to my loving Filipina spouse for over 17 years now and consider myself one of the most fortunate and blessed guys on the whole earth.
So come on over to the Philippines! Start planning your move today. For help from an American living in the Philippines for over eight years, check out my E-book, "The Philippines Expat Advisor."