"How Safe is Boracay?" We're planning a return trip to the "best island" in the world, according to Condé Nast Traveler magazine. The Philippine National Police, along with local law enforcement officials, have beefed up security of this popular tourist destination. 50,000 visitors are expected this Holy Week alone. With the recent terrorist attack on the island resort of Bohol by Abu Sayyaf, one has to question if visiting Boracay at this time is wise.

Why Go Back to Boracay?
But aside from security issues, why go back to Boracay in the first place? It's too commercialized.  Reports of algae choking the white powdery beaches have been recently reported. Roaming bands of vendors nag you at every turn. The restaurants and resorts on the beach are over-priced.
So why would this frugal (cheap) crusty old expat return?
Promised Trip for our Nieces and Nephew
We promised two of our nieces and a nephew on our island province of Guimaras that we would take them to Boracay this summer if they maintained good grades in the school year.
Two of our nieces achieved honor awards during their recent graduation ceremonies. Our nephew, who has a propensity for spending too much time playing video games, improved his class ranking this year and only missed receiving honor awards by one percentage point. He made the cut. Barely.
Cheapest Transportation Costs for the Crusty Old Expat
Transportation costs also figured into the equation. While online reports stated there were no credible terrorist threats for Boracay, I still decided to weigh other travel options in the Philippines.
My asawa wondered if we could fly to Palawan and have our young charges visit the Underground River near Puerto Princesa in Palawan. We visited the Underground River site last year and enjoyed it.
But after a quick check of rates for five travelers via Cebu Pacific coming to around a total of 25,000 pesos, about 500 US Dollars, my spouse and I decided that was too pricey. Sure, rates at the hotels on Station 2 are probably going to be costly, but we're hoping Sir Willy, Our Guide to the Best Boracay Deals, will help us out.
I've already contacted Willy, who we met last year at the Caticlan Port, Aklan, the gateway to Boracay. He's promised to find us a family room at a reasonable rate. He knows I'm cheap.
Our round trip via air-con FX vans from Iloilo City for five people will only cost us less than 3,500 pesos, approximately 70 US Dollars. That's a whole bunch cheaper than flying round trip to Puerto Princesa.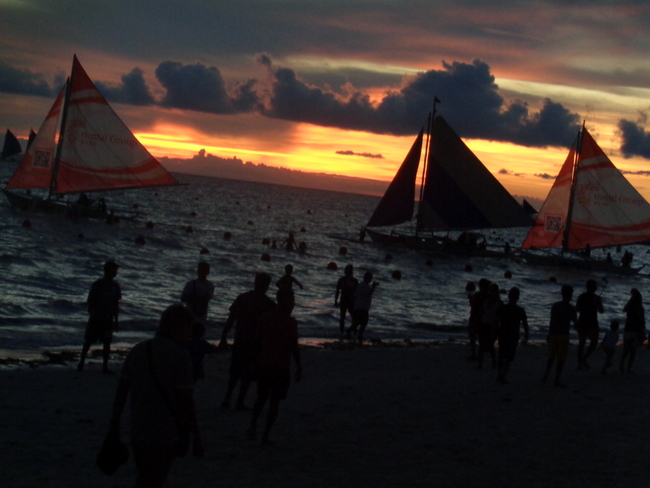 How Safe is Boracay?
So just how safe is Boracay? We never had one single security issue during our visit last year. Plus, The Panay News reports that Boracay has a new sheriff in town.
Security in Boracay Island during the summer is a pressing concern for the new director of the Aklan Police Provincial Office, Senior Superintendent Lope Manlapaz. It was one of the first things  Manlapaz discussed with his chiefs of police when he assumed his post.
Manlapaz considers his new assignment — particularly looking out for the world-famous island resort — a "big challenge."
Let's hope the new chief can handle his "big challenge" and keep Boracay, one of the best beaches in the world, safe.
My Biggest Concern?
My biggest concern involves the "little people" working as waiters and waiters at "The Hobbit House" located at Station 2 Boracay. We didn't visit this establishment last year, but I would love to check it out this time around.
I'm hoping I won't refer to the wee ones as midgets or dwarves and so offend one of them that they beat the living crap out of me! Sure the following photo from "Green Post" shows the undersized staff wearing t-shirts proclaiming they "Love Midgets" but you never know when you might piss one of them off.