My asawa and I were visiting Palawan. We had made a stop in Taytay to visit my wife's brother Amando and his family. Next up: "Eclectic Electric El Nido." Only an hour's drive from Taytay.
OUR GUIDE TO EL NIDO
Our niece, Amando's daughter, Aiza, would be our guide to El Nido. Because we only had a few hours to visit, we were not able to check out all the area has to offer. We had to be back in Puerto Princesa for a tour of the Underground River the next morning.
It's a six hour drive from El Nido to Puerto Princesa.
Though it was a rainy day we still enjoyed the beautiful scenery surrounding the beach.  Here's a few pictures of the beach.
My spouse had been in El Nido years ago. She remarked that the sand wasn't as white as she remembered it years ago. But since we didn't have time to take any island hopping tours, the beach Aiza showed us was still quite remarkable.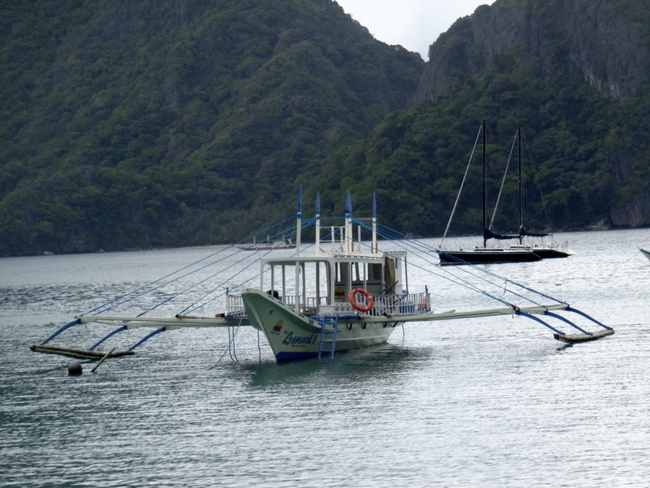 All along the road from Taytay to El Nido we saw mountains shrouded in clouds as seen in the photo above. If we had added another day to our trip to Palawan we could have stayed overnight in El Nido and spent the next day exploring the area.
But we already had our return tickets with Cebu Pacific booked. I didn't want to go through the hassle of changing our departure date at this point.
Our pretty niece and my lovely asawa on the beach in El Nido, Palawan.
Aiza and her Tito (Uncle) Dave
After walking around on the beach, we headed out to find a place to eat lunch. Our niece had to work at her resort job in about an hour so we made our way to a restaurant on the beach.
And the restaurant, owned and operated by a German, was one of the highlights of our trip to Palawan. More on that culinary adventure in the next post.
HAVE YOU BEEN TO EL NIDO? IF SO, WHAT DID WE MISS?