We left our starting point in Guimaras around 7:50 am on a cloudy, dreary Tuesday morning. We've been traveling by bus and ferry for almost 13 hours and it's now 9 pm. We're in Oriental Mindoro headed for the ferry at Calapan. Finally, here's the last leg of this extended journey. "The Dimple Star Road Trip from Hell: Guimaras to Manila. The Conclusion."
MY FRIGID SISTER-IN-LAW
It would only take two hours to reach the port city of Calapan. The cool night breeze refreshed my sagging spirits. But the brief respite from the heat and humidity did not last long.
My sister-in-law Marjorie, an OFW, Overseas Foreign Worker, was en route to Manila to catch a flight back to Kuwait. Marjorie has been toiling as a domestic helper for the past six years in Kuwait City where the average high temperature in July is 45° Celsius (113°).
You would think that my sister-in-law would appreciate some cooler temps but to my amazement, lowered her window. I quickly complained to my asawa who advised me Marjorie was getting cold! I was outvoted. Never mind I'm a crusty old expat who always has to have a fan or air con on at night, even after seven years in the Philippines.

Marjorie, in warmer climes, taking a photo of daughter Shaina
PLAYING BUS TAG
The Dimple Star Bus cruised along the two-lane highway dodging the few tricycles still on the road this late in the evening. We passed up other buses headed for Calapan and kept playing tag with one Dimple Star RORO bus.
The vehicle, with RORO, Roll On, Roll Off, emblazoned in huge letters on the bus's side, would stop and let out passengers. Minutes later, it would pass our bus. This continued all the way to our destination. It brought back memories of all night trips I had made back on Midwest interstates playing tag with semi-trailers.
THE OLD MAN ON THE ROAD
After about an hour into our trip to Calapan, our Dimple Star bus slowed down. There was an old man in a uniform standing by the road. Because his uniform's colors matched the colors of our bus, I thought he was an employee of the transport company catching a ride.
The senior walked to the back of the bus, returned, and then spoke to our conductor. The visitor checked some paperwork the conductor had given him and handed it back. Our bus then slowed to a stop after a few minutes and our late night hitchhiker headed off again into the night.
Turns out the man worked for the local government and was checking to make sure all the records on the bus were in order.
The man keeps some late hours for a lolo, grandpa. It was already 10 pm. I'm usually in bed by 9.
CALAPAN'S STORM TROOPER
We arrived at the port of Calapan around 11 pm. Our StarLite ferry would not leave until 12:30 am, 90 minutes later. As my wife and sister-in-law gathered some snacks inside the ferry terminal, I sat and waited. Around 11:45 the StarLite terminal dispatcher began calling out different bus numbers. We were getting ready to board our ferry.
Because the dispatcher called out about a dozen bus numbers at once, the line to the ferry stretched out for a considerable distance.
One man continually kept barking orders at everyone to form a single line. After about ten minutes of this, I said something to the man when he passed us.
"Sir, do you work for Starlite?" I politely inquired.
"Yes, sir," came the reply.
"You should be more respectful of your customers. You keep yelling at everyone to get into line." I informed him, my asawa pinching me in the thigh the entire time.
The man stood for a minute, dumbfounded. For a moment, I thought I was going to get kicked out of line.
"Thank you, sir," he finally replied.
"You're welcome!" I sarcastically responded.
I doubt he understood a word I said. Fellow passengers waiting in line, nodded in agreement to my rant.
THE RORO TO HELL
We finally boarded the Starlite Ferry to Batangas. The RORO to Hell. Unlike the ferry from Caticlan to Oriental Mindoro, this RORO did not offer any comfortable lounge or adequate air con. It was packed with passengers and had extremely few available seats.
We entered a crowded canteen area and a group of young Filipino graciously made room for us. Many of the travelers passed away the hours watching an outdated Fernando Poe, Jr., movie. Or slept.
Hot and miserable. It was the RORO to Hell.
Marjorie slept on the bench seat next to my wife and I. There was only room for one of us to stretch out. My wife put her head on my shoulder, trying to catch a little nap.
After a couple of hours, Marjorie finally woke up. It was 3 am. I couldn't keep my eyes open any longer and my loving spouse instructed me to take Marjorie's place. I did.
HALLELUJAH! WE REACH BATANGAS!
I woke up around 4:15 am, startled by a loud commotion. People were beginning to leave the ferry. Finally, we had reached Batangas. We boarded our Dimple Star Bus #784 and immediately hit a highway and a toll way. We must have stopped at seven or more toll ways on the road to the bus terminal at Pasay City, our destination.
Marjorie would travel further down the road to catch a bus to Novaliches where she would stay with her oldest sister before leaving for Kuwait.
We said our good-byes to Marjorie and transferred to an air con bus which would take us closer to our hotel, the Stone House Hotel in Pasay. We checked in early, around 7:30 am and began our adventures in Manila.
In all fairness to Dimple Star, the driver, conductor and porters on the trip were very helpful. It's just not an excursion I would recommend for everyone, though at 1,200 pesos, it's a good deal.
"The Dimple Star Road Trip from Hell: Guimaras to Manila. The Conclusion." It was a journey I will never forget nor repeat.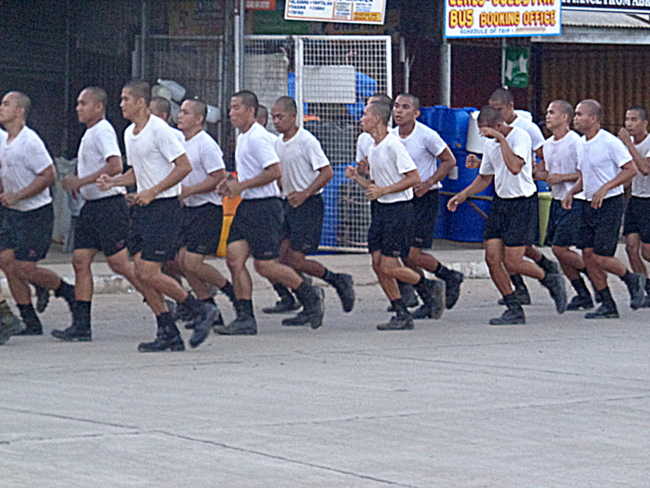 The Long March to Manila had finally ended almost 24 hours after it began.
The Dimple Star Road Trip from Hell: Guimaras to Manila, Part 1
The Dimple Star Road Trip from Hell: Guimaras to Manila, Part 2