Johnny Rockets is an American restaurant franchise whose themed decor is based upon 1950s diner-style restaurants. I'm here to testify, Brothers and Sisters, that great burgers can be found at Johnny Rockets in Boracay.

About Johnny Rockets
Johnny Rockets was founded on June 6, 1986, by Ronn Teitelbaum of Los Angeles, California, and "crafted as a 'nongimmicky' recreation of the 1940s-vintage malt shops of his childhood." The first restaurant was established as a 20-stool counter operation on Melrose Avenue in Los Angeles.
(Source: Wikipedia)
Johnny Rockets opened their first outlet in the Philippines in Quezon City, Philippines on Oct. 6, 2009. They currently have a total of four restaurants in the archipelago.
Johnny Rockets operates more than 340 franchise and corporate locations in 26 countries around the world.
Each year, Johnny Rockets serves 17 million Hamburgers, 11.3 million soda pops, 8.3 million Shakes and Malts, 8 million pounds of Fries, 2.1 million orders of Onion Rings and 815,000 gallons of ice cream.
(Source: Johnny Rockets website)
I had never heard of this burger joint before. They do have three locations in Illinois, where I retired from almost seven years ago, but all of them are located near Chicago, about 3 1/2 hours from where I worked in Springfield.
Our hotel in Boracay was located behind Johnny Rockets, making it a convenient place to have a good meal.  The Fifties-style diner decor caught my eye along with the fact that their menu featured burgers and fries.
My sister-in-law Marjorie can be seen here on the left, seated next to her daughter, Shaina, who lives with us in Guimaras at our new home in the Philippines.
Though it was around 6 pm, the place wasn't crowded. Aside from Andok's, which is extremely crowded at night, most of the eateries we saw in Boracay were not that busy. I was told by Willy, our guide from the Caticlan port, that April and May are the busiest times of the season for this island paradise. Our visit occurred the first of June.
We had breakfast at Andok's, located at D'Mall in Boracay, one morning at 6 am. My asawa, sister-in-law and niece ordered a typical Filipino breakfast for 69 pesos each, Langgonisa (sausage) with Rice and Egg.
I ordered a chicken filet burger for 79 pesos that took at least 20 minutes to be served. It was horrendous! Only half-cooked and the place wasn't crowded that early in the morning. Only a couple of tables with customers. It was one of the worst meals I've ever been served.
But I didn't complain about it, as I usually would. Wasn't worth the aggravation or rise in blood pressure. Plus, my crew wanted to take a swim and check out the mall.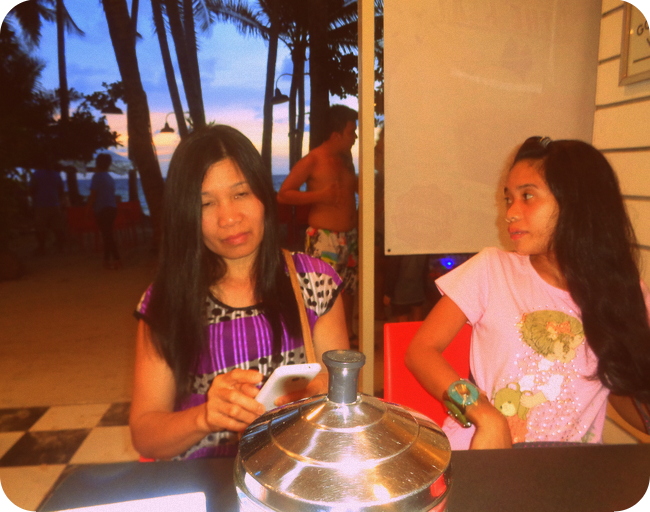 In the picture above, Marjorie is checking the text messages on her cell phone again, of course. Shaina is checking out the guy on the beach tweaking his nipples.
My lovely asawa poses by the miniature jukebox which only costs one peso per song. Trouble is, it doesn't work. Neither does the main jukebox located in front of Johnny Rockets in Boracay. It's only for display, per the manager.
Speaking of the manager, that's her in the blue top. When I asked the tall Filipina on the left if I could take some pictures, she had to ask permission from the manager. When the server informed her boss the request came from a "kano," foreigner, permission was granted. I even got the manager to pose for the photograph. Note the workers peering from behind the counter.
Here's a look at my "Original Burger" with cheese and fries which cost 280 pesos, six bucks. Absolutely fantastic! A great burger from Johnny Rockets in Boracay and one of the best burgers I have ever tasted in the Philippines. Tasty beef, juicy, cooked to perfection with crispy fries.
Another "kano" with a Western female companion, accompanied by a Filipino couple, walked by and looked inside. I had to walk over and invite the man in. He was from the States and wanted a good burger. I recommended the Original Burger which I had just polished off.
To the delight of the Johnny Rockets staff, the quartet came in. The American ordered the "Original Burger." Good choice, I told him.
Making a smiley face with ketchup on the plate when serving French fries is a Johnny Rockets trademark. I left with a smiley face, too, and a belly full of delicious junk food. My asawa, normally not a big burger fan, enjoyed the Double Bacon Cheeseburger she shared with our niece, Shaina.
Marjorie? She hates burgers and instead ordered a chicken dish.
Really? A chicken dish at a burger joint? But what can I say? Like my asawa, Marjorie also eats pizza with a knife and a fork. That's almost blasphemy, my friends!