After a recent event in "The Queen City of the South," my wife and I have to wonder: "Was Our Niece a Target of Kidnappers in Cebu?"
We had taken our elementary-school-aged niece and nephew to Cebu City with us a month after traveling there for a week-long vacation.  Since my asawa needed a (free) touch-up for her eyebrow tattoo done in Cebu, we decided to take our niece, Amiel,  and nephew, Jorreale,  along with us. The kids had never been to the Queen City and haven't  traveled on such a large ship as the one we used for our journey.
I had purchased several "prankster" items, such as the exploding snake in a Cheese Ball container and "squirting gum" that really had impressed the youngsters. I bought the items at a store called "Tickles" in Ayala Mall in Cebu City. This was the first time I had ever seen such gags for sale at any outlet in the almost past seven years I have lived in the Philippines.
Ayala, though not nearly as massive in size as the new SM Seaside Mall we visited, still has several shops, like ISIS, seen in the picture below, and a hardware store chain not available at SM Malls in the Philippines.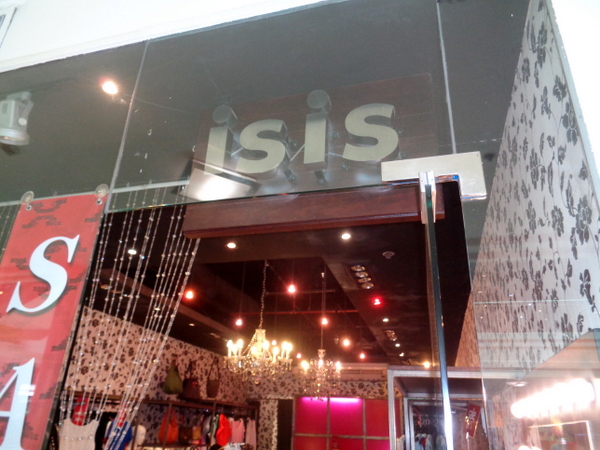 ("IN STORE, IN STYLE" not your neighborhood terrorist organization, and yes, everyone always comments on the store's name, yours truly included.)
At this American-based hardware outlet, I picked up several items not available at our local Ace Hardware joints in nearby Iloilo City, such as a motion-detector ceiling light we could use for my father-in-law's nipa hut. I soon noticed a young dark-skinned Filipina, maybe 10 years old, staring at me, standing at the end of the aisle.
I'm used to getting stared at the Philippines. If I had a peso for every time I got a look or was called "Hey, Joe!", I'd be richer than Donald Trump.
But the girl was starting to annoy me and kept following us. I was about ready to say something to the waif but we were done shopping and headed for the cashier. There was no apparent parent or guardian with the young girl.
"Did you know that girl put her hand on Amiel's shoulder, said 'hi,' and that she wanted to be Amiel's friend?" my wife asked. "She also kept following the kids everywhere and was motioning for Amiel to go with her."
As usual, I was clueless. I had gone to another part of the store leaving my asawa to watch our niece and nephew as we never let them out of our sight during our entire visit to Cebu City. If I had known this was going on, I would have certainly told the kid to hit the road in no uncertain terms.
"The girl saw you were an American. I believe she could have been working for a syndicate and was going to kidnap Amiel," my wife announced.
"You could be right," I replied.
Now before you think my spouse and I are both being too paranoid consider the fact that human trafficking is a huge problem in the Philippines.
The Philippines ranks fourth among nine nations with the most number of children trafficked for prostitution, according to the Consortium Against Trafficking of Children and Women for Sexual Exploitation.
In the Visayas, the region we reside in, Cebu has been the destination of international and domestic trafficking of children, aged from 11 to 17, who are from Samar, Bohol, Leyte, Negros and Bacolod. Cebu is now considered one of the top five areas for child prostitution and sex tourism. (Source: gvnet.com)

As with any port city, especially one with commercial ports of any size,  human trafficking is always a possibility and most often a distinct probability.
Paranoid? Maybe. But you can bet we continued to keep a close eye on our young charges the remainder of our trip to Cebu City.