After a recent trip to Bacolod, we arrived in Iloilo on our way back home to our home base,  the island province of Guimaras. We were desperately dodging Dinagyang , the annual Festival which recently plowed into Iloilo City with the force of the Great Galveston Hurricane of 1900. There is absolutely no way we wanted to be in town when the event hit.
Traffic in Iloilo City is bad enough. Add Dinagyang into the mix, and you've got a cantankerous concoction of noise, crowds and traffic which are too much to bear for this 63-year-old crusty expat.
Now I know of American expats who made the trip from Guimaras to Iloilo just to join in the festivities. I think they're the same kind of people that like to shop at SM Malls on Christmas Eve to be jostled by thousands of Christmas shoppers high on egg nog and Tanduay Rhum.
While I thoroughly enjoy the annual Manggahan Festival in Guimaras, I've never had the desire to join the raucous crowds at Iloilo's religious and cultural festival.
You see, dear reader, I put the "poop" in "party pooper."
A tidbit I saw online about male dancers in the festival being warned to cover their butts did nothing to encourage me to join the party.
Frankly, something about men's bare butts doesn't appeal to me. I've seen enough of those when our helper leaves our CR, Comfort Room, door open as my father-in-law is taking his daily dump.
But we decided to stop at SM City in Iloilo for our monthly grocery shopping. Guimaras doesn't have the variety of items available in Iloilo City so we travel to one of the big grocery chains, usually SM, to purchase our food staples,  usually at a cheaper price.
We do, however, also buy from our local grocery stores in Guimaras.
Athough Iloilo City venues generally have less expensive goods,  if you factor in the cost of making the trip and paying porters at both Ortiz Wharf in Iloilo and Jordan Wharf in Guimaras, you can save more money by purchasing certain items available in Guimaras.
After depositing our cache of Cheerios, Manwich and other assorted goodies from Metro Supermarket in Bacolod at the SM City Supermarket package counter, we took a stroll to nearby Plazuela de Iloilo and took the following photographs of my lovely asawa.
Hundreds of years ago, in a suburb of Madrid known as Atocha, many men were imprisoned due to their faith.
The Spaniards made a rule that only the children of the prisoners could bring food for them to eat. Even the jail guards were not allowed to feed the prisoners.
But what would happen to those prisoners without children? The women of Atocha asked helped from Our Lady of Atocha.
When the children of the prisoners came home that day, they shared a very strange story.
They saw a young boy who fed the other prisoners, holding a water gourd that seemed to have an endless supply of water and a basket that never ran out of bread. The local folks believed that this child was the Señor Santo Niño.
That child is honored every year at  Dinagyang.
(Source: Panay News)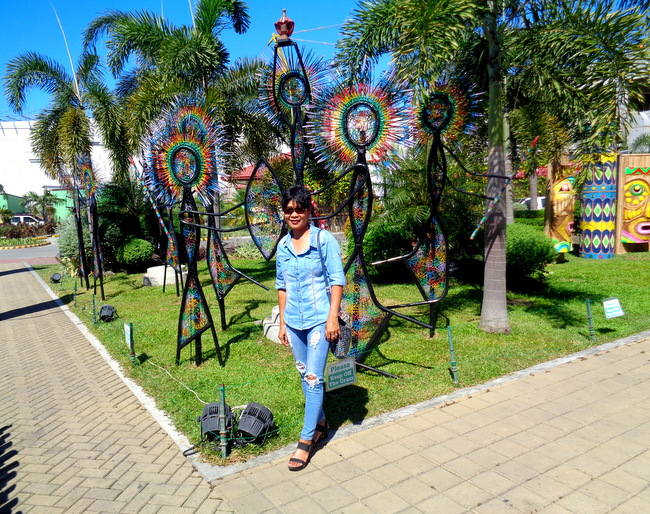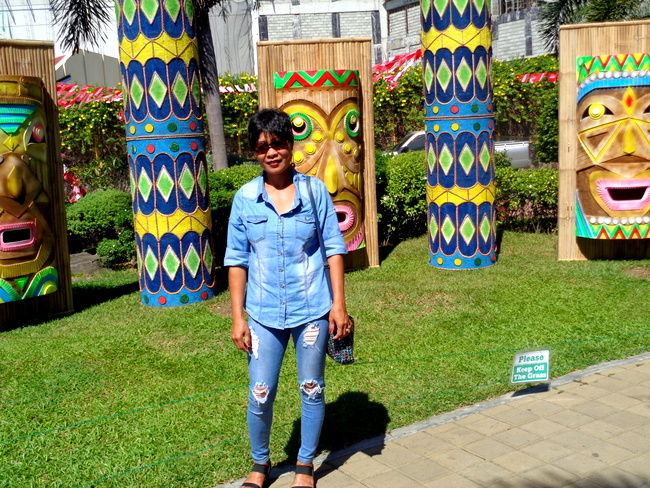 We made it home to Guimaras, our sweet mango province, but it took awhile for our taxi driver to weave through the congested streets of Iloilo, as many streets in the downtown area had already been closed for Dinagyang. It was good to be home, though when we did make our arrival it was saddened by the news of one of our workers, Melchor, shot to death by one of his own brothers.
Dinagyang was voted as the best Tourism Event for 2006, 2007 and 2008 by the Association of Tourism Officers in the Philippines. It is the first festival in the world to get the support of the United Nations for the promotion of the Millennium Development Goals, and cited by the Asian Development Bank as Best Practice on government, private sector & NGO cooperatives.
(Source: Wikipedia)