Angue stated that a group of lawyers sought an injunction against the mandatory wearing of life jackets from the court.
Lawyers riding the pump boats complained that the life jackets were crumpling their neatly pressed clothes.
"Lifejacket is a protection. Even if you are a good swimmer, without a lifejacket you may find yourself in trouble if something bad happens to the motorboat," Angue said.
He urged motorboat passengers to use life jackets.
In a separate interview, PCG regional director Leopoldo Laroya said station commanders were instructed to advise motorboat associations in Guimaras to strictly implement the policy on life jackets.
"Boats will not be allowed to sail if the passengers do not comply with it," he said.
And so far, from all reports I've been getting, the above statement from the regional director is true.
I've also been told that log manifests are returned to passengers if they omit their age. Some folks do not want to reveal their age on the log.
No one checks personal ID's against the ages on the manifest so I doubt that those individuals not wanting to admit their real age could have fudged on the actual log.
I've also been notified that a group of youngsters recently refused to wear their life jackets and the boat did not leave the wharf until they finally put them on. Ahhh, youth, always rebelling.

In memory of my amigo, Larry Abilla, one of the crew members that died in the tragedy
The Inquirer. Net reported that motor bancas fitted with outriggers are the main form of transportation between Guimaras Island and Iloilo City. From 14,000 to 20,000 passengers—mostly students, workers, shoppers and traders—travel to and from Guimaras daily.
Iloilo City Mayor Jed Patrick Mabilog said the Coast Guard erred in allowing the motorboat to travel.
"Even if Iloilo was not under any storm signal, big waves and strong winds were imminent," Mabilog said.
Three residents of Iloilo City were among the survivors.
Coast Guard officials earlier said the motorboat was allowed to travel based on weather conditions and because Iloilo and Guimaras were not under any storm signal.
The boat was a mile from Iloilo on its way to the Jordan port in Guimaras when it was suddenly hit by a squall, or a sudden and forceful gust of wind.
The squall lifted the boat and forced it to capsize, according to Coast Guard officials, citing accounts of crew members and survivors.
Several of the passengers were not wearing life jackets when the accident happened, according to the Coast Guard.
The Guimaras provincial government shouldered the hospital expenses of the victims and funeral costs of the fatalities. It also granted financial assistance amounting to P25,000 for the families of the fatalities and P5,000 to survivors.
But, Guimaras Governor Samuel Gumarin is suggesting that the wearing of life jackets aboard motorboats should not be made mandatory.
"Pero kon signal no. 1, indi kinanglan nga isuksok mo (there is no need to put on a) lifejacket," said Gumarin.
According to a recent article in the Panay News, Governor Gumarin said that while life jackets can save lives, they can kill, also. The governor was reacting to the Philippine Coast Guard's (PCG) complaint that a court in Guimaras issued an injunction against the mandatory use of life jackets on board the motorboats.
According to Gumarin, three of the nine persons who died when Guimaras-bound MB Tawash capsized last month in the Iloilo Strait were wearing lifejackets.
"The three were trapped under the capsized boat because their lifejackets hit a snag (nakasangit)," said Gumarin.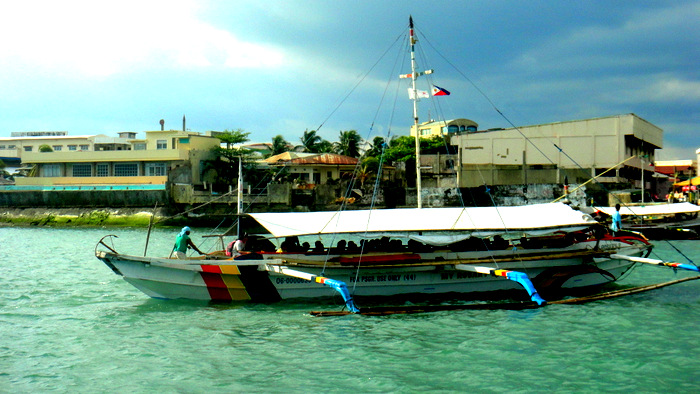 As noted earlier in this post, PCG-Iloilo Station commander Lieutenant Jomark Angue said the court order was depriving motorboat passengers of safety.
Gumarin suggested that the wearing of life vests be made mandatory only during storm signals No. 2 and above. Motorboat passengers may only hold their life jackets, he said.
Gumarin recalled that on the day MB Tawash capsized, Iloilo City and Guimaras were not placed under any storm signal by the state weather bureau. A gale warning was issued but it was made late.
Strong winds and big waves buffeted MB Tawash until it capsized less than two kilometers after leaving the Iloilo City wharf.
Gumarin said a marine inquiry should clarify what happened.
"Marina and the Coast Guard may be held accountable," said Gumarin.
He also wondered what protocol does the Philippine Atmospheric Geophysical and Astronomical Services Administration follow in issuing weather advisories.
"How do the Coast Guard and Marina get weather advisories and in turn make the necessary steps to protect sea travelers," he asked.
I thought I had heard the last of this story but upon reading today's online edition of the Panay News, I found it necessary to update it.
The people of Guimaras have no problem with the mandatory wearing of lifejackets
So says Station Commander Angue. Lieutenant Angue states that only Guimaras provincial officials appear to be against this national maritime policy.
Angue seeks to have a meeting with Guimaras officials specifically with the members of the group that passed the injunction in February 2010 (not 2012 as previously reported. That date is in line with what I previously had observed. We moved to Guimaras in July 2009 and the wearing of life jackets on the pump boats was mandatory. But I noticed that in the following year, the regulation was never enforced. Now I know why.)
"Our intention is to enlighten everybody," said Angue.
Angue said motorboat passengers from Guimaras were "happy" wearing lifejackets because these made them feel more secure.
In Feb. 26, 2010 the Regional Trial Court, Branch 24 in Guimaras issued an injunction against the mandatory wearing of life jackets. The petitioner was the Integrated Bar of the Philippines and the province of Guimaras.
From what PCG-Iloilo gathered, lawyers and functionaries from Guimaras complained that the life jackets were crumpling their neatly-pressed clothes.