It's two days before All Saints Day, or "Araw ng mgba Patay", the celebration of the Day of the Dead as it is called in the predominantly Catholic Philippines, and observed by Catholics worldwide. My wife, her Mother, sister Alida and our niece Michelle traveled to Jordan Municipal Cemetery in Guimaras to pay our respects to relatives that have long since left this earthly domain. 
Observed on November 1 every year All Saints Day is a cherished tradition among Filipinos, particularly Catholics. Filipinos nationwide pay honor and respect to the memories of their departed loved ones by going to memorial parks, mausoleums, and cemeteries to hold vigil, offer prayers, flowers, candles –and food, as they reunite with relatives.
In the Philippines,  All Saints' Day is an important holiday, next to Christmas and Holy Week.
Many Filipinos go home to their provinces where their loved ones are buried to meet with relatives and friends, share stories, and together pray for their dearly departed.
Tombs are cleaned, repaired, and repainted prior to this observance. That's my sister-in-law Alida in the hat buying some candles to light at her brother, Luis', grave site. My mother-in-law is holding the umbrella.
Of course our contingent had brought candles of their own but according to my mother-in-law, The Giant Lizard Killer, the candles we had were "dead."
Don't ask me what a "dead" candle looks like, the candles were brand new and never used before. It was better to appease Lolo, Grandma, and just buy some new ones.
Candles are lit and grave sites decorated with flowers, candles, and balloons. It's a way of letting the spirits of the dead know that even though they are gone, their memory stays in the hearts of those they left behind.
All Saints' Day observance in the country is similar to the Mexican tradition of "Dia de los Muertos" or "Day of the Dead," in which the focus is on families gathering before tombs of loved ones. It is also called All Hallows Tide, All-Hallomas, or All Hallows' Day. In many Western churches, it is held on November 1, while in many eastern churches it is on the first Sunday after Pentecost.
All Saints' Day may have originated in ancient Rome which observed on May 13, 609, the Feast of the Lemures, in which restless spirits of the dead were propitiated. It was observed on different dates until Pope Gregory III (731-741) instituted November 1 to be the official date of All Saints' Day. The church later declared All Saints' Day the feast for all Christian saints known and unknown.
(Source: Manila Bulletin)
Beloved brother Luisito S. Gange sacrificed his life for his family.
Luisito, or Luis, as he was called, left the Philippines at the age of 27 to work as an OCW (Overseas Contract Worker, now called OFW, Overseas Filipino Worker.) He was close to my wife's age and they were buddies.
The tag of "Hero" is being put on these over 11 million workers sacrificing years away from their loved ones in order to make sure there is pan de sal and some rice for the family back home.
Luis died at the age of 33, months after his marriage to Julie, a local schoolteacher, while working off the coast of Africa for an oil tanker.
The Philippine government called it an "accident." Luis' co-worker from nearby Iloilo told the family Luis was murdered.
His Filipino friend from Iloilo said there was a group on the tanker that wanted Luis' help to steal some of its oil. Luis refused and was murdered by the gang.
Two different autopsies were done on Luis, one said the cause of death was an accident, the other said foul play was involved.
Nothing was ever done to set the record straight even though my wife's family appealed for help from the Philippine government.
Luis' final resting place on earth is surrounded by bars. Lola is seen at the gate in the picture above supervising my asawa who is pulling weeds outside.
Niece Michelle and sister-in-law Alida are cleaning some of the bird poop off Luis' tomb. Lola is supervising the cleaning. Lola is good at supervising. I was only standing by taking pictures.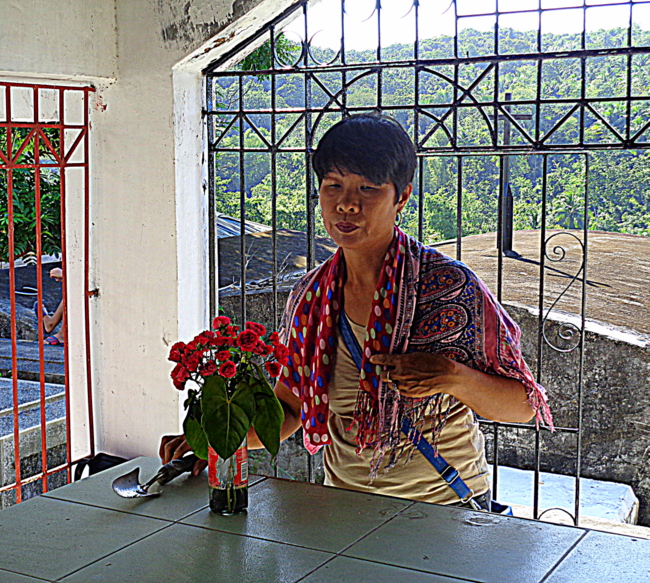 After pulling weeds my wife was busy making flower arrangements. I've seen on the news where flower prices have doubled in some places like Manila.
A candle is lit, standing vigil near Luis' grave site.
It's a fairly steep climb to reach the family's grave sites.
The sun began to set. We headed home. Another All Saints Day in the Philippines. We would return next year along with millions of other Filipinos across the country.