Living in "paradise," believe it or not, is not always the utopia you might think it is. After over six years of living in the Philippines I thought it would be a good time to compile my "Top 10 Stress-Busters for Living in the Philippines."
10. DON'T EXPECT A CALL BACK FROM BUSINESSES IN THE PHILIPPINES
In fact, don't expect the business you're trying to reach to even answer their phone. We tried countless times to reach Mandaue Foam to check on the delivery of a new mattress and wardrobe.
My asawa tried to call a number on our receipt for the furniture company but could not reach anyone.
When she pressed "Option 4" on the automated menu, she reached someone who said that they were not Mandaue but a different business.
I searched online for the contact numbers and found the same land line numbers my spouse had just called. There also was a mobile number for someone named"Bing." No one answered that phone, either.
The delivery was finally made.
We had a similar problem recently with Ford Iloilo. We were bringing in our new Ford Ranger XLT for it's first oil change and had to call to schedule an appointment with the service department.
I reached the operator on my first attempt and was told the service department scheduler was on break. I left my number and foolishly thought someone would call me back.
Three days later and I still hadn't heard from Ford.
I tried again and reached the operator. I asked why no one had returned my call and was advised that the number I was reaching was a call center in Cebu for the Ford dealership in Iloilo.
I explained I was tired of excuses and wanted to speak to someone directly in Iloilo. I was put in touch with a gentleman from customer service. I asked him why their scheduler had not returned my call. I informed him I was merely trying to schedule an oil change.
In the background I heard the man loudly ask "Why has no one called this customer back?"
A female voice came on the line and asked how she could help. I advised her that I was only trying to schedule an oil change for our Ford Ranger. She quickly gave me a date and time to bring our truck in and apologized.
For something that should be so simple, I put myself through some unnecessary stress in expecting a prompt call back.
This stress-buster can also apply to expecting a reply from e-mails you might send to businesses or officials in the Philippines, also. Though the staff of then Senator Manny Villar did respond the SAME DAY regarding a problem we had in Savannah Subdivision.
9. HANG OUT WITH EXPATS
Ichito Kawachi, Chair of the Department of Social and Behavioral Sciences at the Harvard Chan School states the following: "One of the most important things that you can do individually, if you retire, is to maintain social connections."
"Connecting with other people is as important as diet and exercise."
"When you socialize and converse with friends, you're exercising all your facilities and improving blood flow to the brain, which helps maintain cognitive function," says Kawachi. "There's exchange of information of different kinds, such as learning about the latest health tips or getting advice. And you receive affirmative messages and emotional support."
Dude, don't take my word for it. This guy is from Harvard. I only made it through high school. Having an occasional bottle of piss water like San Miguel Pale Pilsen with friends can't hurt. (Don't hate me, San Mig Lite drinkers, I quaff the stuff occasionally, too.)
The Big Dawg, Captain Tom, one of my best expat friends in the world.
8. DON'T HANG OUT WITH CERTAIN EXPATS
OK, Mr. Kawachi just gave you the benefits of hanging out with your buds. I'm here to tell you that hanging out with certain expats can increase your stress level.
I'm sure anyone that's met me in person can understand this stress-buster rule. Truth is, you're not going to get along with everyone.
Even Jesus got ticked off and drove the money-changers out of the temple.
Case in point, there's a certain foreigner that I used to drink a beer with every week along with some other expats. However, even hanging out at the same joint as this annoying, abusive individual raises my blood pressure. Why should I bother to drive somewhere to drink a warm, over-priced beer and raise my stress level in the Philippines? I don't anymore.
That said, there is a group of expats on our island that meet almost every Friday. I enjoy socializing with this group and though I don't meet with them every Friday, I try to make it out to this joint at least once a month.
7. DON'T CHECK USD TO PHP EXCHANGE RATE EVERY DAY
In 2011 I ran an article, "Wide Range of Predictions for Philippines Peso vs. USD Exchange Rate."
There were dire predictions back then of an exchange rate of PHP 37.50 to $1  in 2011 and PHP 35.50 in 2012 from HSBC (Hong Kong and Shanghai Banking Corp.) 
That never happened, boys and girls. At least, not to the U.S. Dollar. Currently, the rate stands at 46.73 to 1.
If you find that you have to check the USD to PHP exchange rate every day you are putting yourself through some unnecessary stress. You're not going to change the rate. You have no control over the rate. And if you have budgeted for the rate to be a certain amount and it falls below that rate, you should re-evaluate whether you have enough money to live in the Philippines in the first place.
6. USE PUBLIC TRANSPORTATION OR HIRE A DRIVER IF YOU OWN YOUR OWN VEHICLE.
This is a great stress-buster idea for living in the Philippines. Regular readers have heard me expound before on the fact that you don't need to own a vehicle in the Philippines.
Transportation costs were so cheap that it made no for us own a vehicle payment for the first five years we lived in the Philippines.
Jeepneys and tricycles  are the main modes of transportation on our island province.
For only 13 pesos each we took the jeepney for a 20-minute ride to the Jordan wharf where the pump boats are located to reach  Panay Island, where Iloilo City, our shopping mecca,  is located.  Local tricycles cost 10 pesos each for a short ride and seven pesos each if you have three or more passengers.
I never encountered any problems in five years a year of riding jeepneys, tricycles, or pump boats in Guimaras.
But if you do purchase your own vehicle in the Philippines, as we did earlier this year, you can hire a driver if you plan to drive in the big city. We hire a driver, at 500 pesos a day, when we do have to go to Iloilo City. I won't drive in the traffic there.
I don't even like driving that much in Guimaras, our island province home. The jeepney and tricycles stop in the middle of the road without warning, to load or unload passengers. Motorcyclists dangerously weave in and out of traffic. My wife drives most of the time. I've learned to stop being a "back seat driver" riding in the front seat.
5. LIVE AT LEAST 3 HOURS FROM RELATIVES
Regular readers of Philippines Plus have also heard the advice posted above many a time on this website.
Let me emphasize this nugget of wisdom again:
DO NOT LIVE NEAR YOUR WIFE'S RELATIVES. DO NOT LIVE NEAR YOUR FILIPINA GIRLFRIEND'S RELATIVES. 

I simply cannot emphasize this enough. Unless you want to become a personal ATM listen heed this stress-buster.
If your wife's relatives live nearby you will be subject to unwanted visits from said relatives in which they want to "borrow" money.
My own wife has "loaned" thousands (US dollars, and not just pesos) to relatives to never see one peso of it repaid.
She did it while working as an Overseas Filipino Worker before we were married and has done it since our move to the Philippines in July 2009.
While there are some expats destined for sainthood who get along great with their wife's relatives it has been my personal experience,  and the experience of other expats I know, who will tell you to follow the "three hour rule."
Too people think we are all "rich foreigners" and EXPECT us to give them money.
Some of your wife's relatives will not not be happy until you are as completely broke as they are. Take my word for it. My asawa and I both know this from personal experience.
4. HIRE A FIXER
Whoa, hold on now, "Kano," are you advising me that in order to relieve stress in the Philippines I should hire a fixer do my dirty work?
Well…..yes. In some instances you can legally hire someone to stand in line for you at Immigration and do other  chores for you that can free you up to have more time for drinking beer.
Fixers in the Philippines are as common as tricycle drivers driving at night without their headlights off.
"Fixer" refers to any individual whether or not officially involved in the operation of a government office or agency who has access to people working therein, and whether or not in collusion with them, facilitates speedy completion of transactions for pecuniary gain or any other advantage or consideration. (Republic Act 9485)
I've been living in the Philippines with my Filipina wife for over six years now.
I've seen fixers at the Immigration Office in Intramuros. They were thicker than fleas on a mangy mutt that's been rolling around in carabao crap.
I've  encountered employees at BI in Manila who were openly offering to "fix" my Permanent Resident Visa.
I've seen fixers at our local Land Transportation Office.
I've seen fixers everywhere, son.
But I'm not officially recommending that you hire one.
3. BUY A GENERATOR
Our new house in the Philippines is wired for a generator. All we have to do is flip a switch and "Presto, Abracadabra" we will have power. All we need is a generator.
And with the increasing number of brown outs we have been experiencing Guimaras, courtesy of our local utility company, Guimelco, I've been inclined to start start looking for an alternate power source such as a generator.
Six brown outs one day last week. Four brown outs in less than three hours yesterday afternoon. I'm  personally getting tired of the new rash of power outages. My blood pressure yesterday skyrocketed to 159/83. That's not good.
So if you want to relief stress in the Philippines and have a problem with the heat and the humidity, buying a generator might just be your ticket.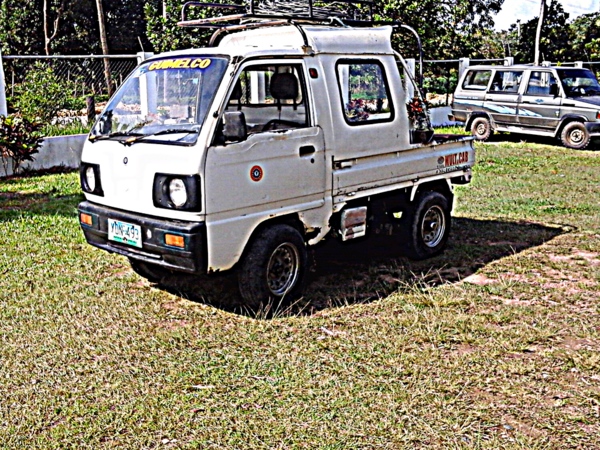 2. EXERCISE
Well, exercise can be done any place in the world, I suppose, unless you're locked up in some gulag in Siberia.
I used to walk any hour every morning but got lazy after the move to our new digs, and quit my walking routine. By the way, whenever any local saw me walking, they would invariably ask me if I was "jogging."
I used to tell them, that "no," I wasn't "jogging," only "walking," but since my "walks on the wild side" have resumed, I just nod my fat head and answer in the affirmative if I'm asked if I'm jogging. I haven't jogged in over 30 years.
But as you probably already know, dear reader, exercise is a great way to relieve stress.
Exercise and other physical activity produce endorphins—chemicals in the brain that act as natural painkillers—and also improve the ability to sleep, which in turn reduces stress.
Conventional wisdom holds that a workout of low to moderate intensity makes you feel energized and healthy.
Scientists have found that regular participation in aerobic exercise has been shown to decrease overall levels of tension, elevate and stabilize mood, improve sleep, and improve self-esteem. Even five minutes of aerobic exercise can stimulate anti-anxiety effects. (Source: adaa.org)
And now I present my Number 1 Top 10 Stress-Buster for Living in the Philippines: 
1. ADJUST TO "FILIPINO TIME"
If you let it, "Filipino Time" can increase your stress levels and your blood pressure. Take it from me, I've married to a wonderful Filipina for over 15 years and have lived in the Philippines for over six years.
The Urban Dictionary  defines this Filipino tradition as follows: "things get done whenever they get done. Official Time of The Philippines."
It's an excuse for arriving anywhere from 30 minutes to 3 hours late to any party, meeting, or hanging out.
You're never going to change this custom. So relax. Go with the flow. Save yourself a ton of stress and be reconciled to the fact that many Filipinos observe this tradition. You're not in Kansas anymore, sugar plum, so deal with it.
WHAT'S YOUR FAVORITE STRESS-BUSTER FOR LIVING IN THE PHILIPPINES? WHY NOT DROP ME A COMMENT AND SHARE YOUR WISDOM?