The Iloilo Coast Guard is now enforcing life jacket regulations and making sure passengers boarding any pump boat at Parola Wharf in Iloilo are wearing them. Nine people lost their lives aboard the Tawash this past Sunday afternoon when their motorized banca boat, battered by high winds and waves, capsized only minutes after taking off from Parola.
My wife and I went to Iloilo City this past Wednesday to do our monthly grocery shopping at SM City and to buy a new stainless steel, 2000 liter, water tank. When we boarded the Gebross Uno, seen below at Parola, not one single crew member or Coast Guard officer, demanded that any passenger wear their life jackets.
Nine people had just lost their lives a few days earlier but still no enforcement of the rule!
At Parola Dock, however, that afternoon, where ticket sales for the pump boat ride back to Guimaras were brisk, as seen in the photo above, the Coast Guard officer on duty was enforcing the life jacket regulation.
But I was wondering why no one on the Gebross Uno were still not wearing a life jacket.  I ratted out the Gebross to the Coast Guard officer seen below and informed him that the crew of the pump boat did not make anyone wear a life jacket when it left Jordan Wharf in Guimaras that morning.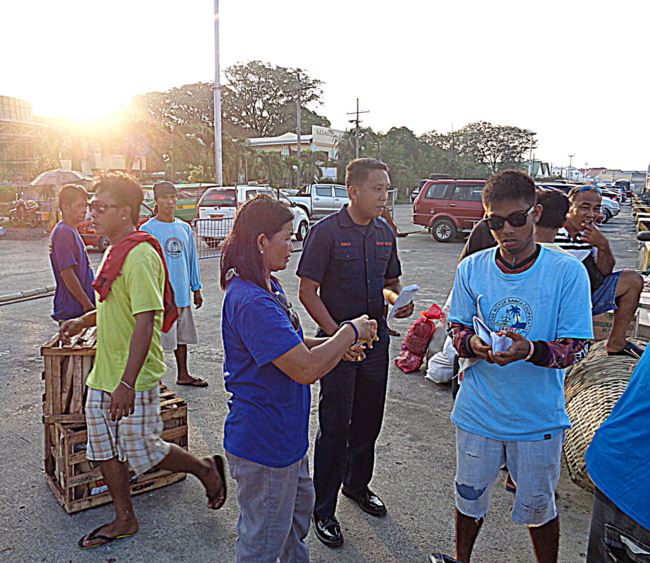 The Coast Guard official noted my concern and advised me that the passengers on the Gebross would be wearing their life jackets before they left the port. The lady taking tickets for the boat, seen above, was becoming annoyed with me and advised me that the capsizing of the Tawash "was just an accident."
"But if they had been wearing their life jackets," I loudly replied, "they probably would still be alive today."
She said nothing.
All the passengers on the Messiah were wearing their life jackets at Parola that afternoon.
All the passengers leaving Parola Dock in Iloilo that afternoon aboard the Kevin Lee were also wearing their life jackets. In the close-up shot below, you can see one of the passengers actually waving at me and the lady next to her was wearing a big smile on her face. In the States, everyone on board would have probably been giving me the middle-finger salute.
Coast Guard Officer Guray with "The Kano." When I commended the man for the work he was doing he replied: "I am only doing my job, sir."
In the meantime, while I was taking pictures, my asawa, seen above,  along with the ticket taker for the Gebross Uno, was becoming annoyed with me, also.
"DAVID!" she bellowed out to me. "Watch our stuff! I have to get the driver with our water tank over here!"
We were hiring a boat for a "special trip" to haul our new tank back to Guimaras. I was gone faster than a Twinkie at a Weight Watchers meeting and stood guard over our groceries.
My wife was concerned that I was causing a disturbance. She continually worries about me and always thinks someone is going to stab me in the gut if I cause a scene.
We took off for Jordan Wharf in Guimaras without me getting stabbed. I wore my life jacket.
I have since heard from other expats on our island that the pump boat passengers leaving Guimaras are now being required to wear their life jackets. How long that will last is anyone's guess. Maybe the pump boat operators should consider a comment left by "Jim" and actually build a "properly designed boat." Sounds like a good idea to me.