Department of Tourism, regional director, Helen  Catalbas,  downplayed Sunday's tragic loss of lives when a Guimaras-bound motorboat capsized in the Iloilo Strait, taking the lives of nine people.  According to the Panay News the DOT Director stated  "sea tragedies happen anywhere in the world."
Never mind that the latest victim's body to be recovered, Shine Matta, had two children who also died in the tragedy – five-year-old Mark Real and 10-year-old Luke Shile… "sea tragedies happen anywhere in the world."
Tell that to the families of the nine souls that lost their lives on the Tawash that fateful Sunday afternoon.
THE DEATH OF LARRY
My wife and I received word yesterday from one of our regular porters, Neil, at the Jordan Wharf, that Larry, my friend from the Tawash, was killed when an unsecured passenger bench, like the one depicted below, smashed Larry in the head and rendered him unconscious.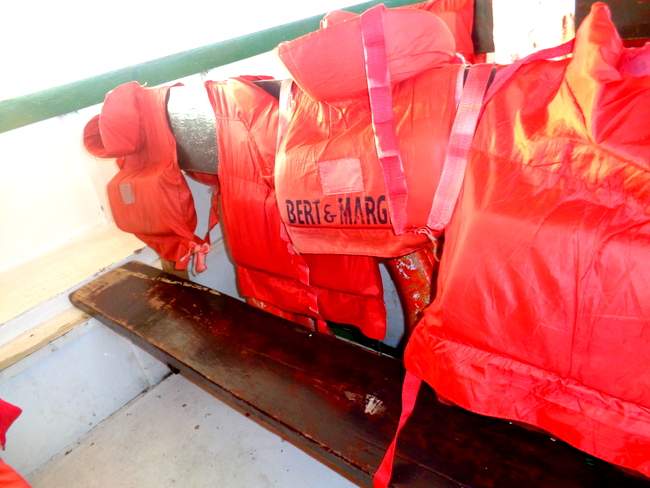 Larry was one of the crew members that drowned. He could not swim, according to Neil.
I asked my asawa why in the world Larry couldn't swim? He was on a pump boat crew.
"He's not from here," was her reply.
Meaning, I supposed, that if a person was born on Guimaras, he or she, would probably have learned to swim at an early age. I can't swim but I was born in a Central Illinois family where no, save my grandfather, knew how to swim. But I never worked on a banca boat crew, either.
And to correct some information that was posted from online sources earlier, Larry was 54, not 59. He also was not the owner, nor was he the captain of the Tawash. His father-in-law owns the Tawash along with another banca boat in Guimaras, the Elaine May.
Regardless,  Larry Abilla was a friend of mine. Always smiling. Always quick to greet me as his "amigo." Rest in peace, my amigo.
CREW MEMBER DIES TRYING TO SAVE PASSENGERS
Our porter, Neil, also brought us more troubling news. Larry, along with another crew member, the mechanic, Ruben Gania, also died during the capsizing of the Tawash.
Neil informed us that Ruben Ganian, 61,  was the father of our other regular porter, Joseph. Joseph was understandably not at the Jordan Wharf that day as his father's body was being transported to Guimaras that day.
It was reported that Ruben Ganian died while attempting to save other passengers. Sadly, Ruben drowned when some panic-stricken passengers held onto him and dragged him down before he could rescue them. My wife and I were deeply saddened to hear this terrible news and are attempting to find out when services for Joseph's father will be held.
ARE LIFE JACKET REGULATIONS NOW BEING ENFORCED IN GUIMARAS AND ILOILO?
But I have to wonder why, for the past five years, the Coast Guard and the motorized banca boat operators haven't been enforcing the regulation which requires all passengers to wear life jackets?
If the passengers on the ill-fated Tawash had been wearing their life jackets it's possible that all of them would still be alive today.
My wife and I were making our first trip to Iloilo City since the capsizing of the Tawash. There was no sign of rain and the wind didn't seem that blustery until we arrived at the Jordan Wharf where our porter Neil gave us the sad news about Larry and Rubin.
There was an extremely long line at the ticket office and as I headed to see if the local banca boat dispatcher was on duty (who always gave me two tickets), I passed by a Coast Guard official.
I wasn't surprised to see the local Coast Guard personnel. I was surprised, however, when we were allowed to board our pump boat, the Gebross Uno, and were not given a life jacket by a crew member.
Nine people had just died that past Sunday and still no enforcement of the life jacket rule?
There were life jackets on board but the majority of them were bundled up in plastic behind our seat (see following photo.)
Here' s look at the available life jackets on the Gebross Uno at Jordan Wharf in Guimaras.
I said nothing but wondered why the Coast Guard in Guimaras was allowing this to happen. We were seated behind the life jackets shown above but didn't put them on. I know. Big mistake especially when the wind kicked up. No water was splashing into the boat (see photo), as has been the case of many a trip down the Iloilo Strait, but I felt hypocritical not wearing a life jacket after complaining about the lack of enforcement of this law.
However, as we pulled away from Jordan Wharf in Guimaras, I spotted an incoming pump boat, the Inday Mar, coming in from Parola Dock in Iloilo. I was elated to see that every passenger on the banca was wearing a life jacket. Did this mean the Coast Guard in Iloilo was enforcing the life jacket regulation again? Find out in my next post.